| | |
| --- | --- |
| Published on 28 Oct 2010 | All rights reserved. |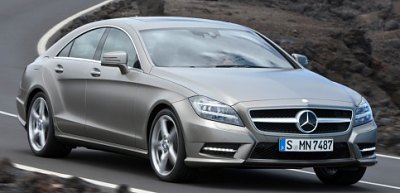 New CLS majors on styling and efficiency...


When Mercedes introduced the first CLS in 2004, it was a risky attempt. No one knew whether the market would receive a four-door sedan shaped like a coupe. It offered less headroom and poorer visibility than conventional sedans. It offered no more performance than the E-class on which it was based. It steered and maneuvered just marginally sharper. In fact, the CLS was all about looks. Mercedes was brave to approve a very radical exterior design that raised many eyebrows of traditionalists - including me. Swoopy roof line and banana-shape side profile differed it from anything on the road. It looked odd in the first set of official pictures, but once we saw it fresh on road, we could not help falling in love with it. You can't find any other four-door as striking as this one.

The bold attempt paid off. In the next 6 years, more than 170,000 units were sold. Rivals started realizing four-door coupe is a new way. Volkswagen was the first to copy its idea to Passat CC. Aston Martin followed with Rapide. Hyundai shaped its new Sonata like a coupe, too. However, the biggest threat to Mercedes – as well as the biggest recognition of its success – comes from its German neighbors. Audi has just launched A7 to compete head on with the Mercedes. BMW will also introduce a 6-series-based four-door coupe (as previewed by the Gran Coupe concept) very soon. After six dominating years, the trend-setter finally faces its first test. Can it fend off the competition and maintain its lead in this territory ? Not with the old car, of course. Fortunately, the second generation CLS arrives just in time.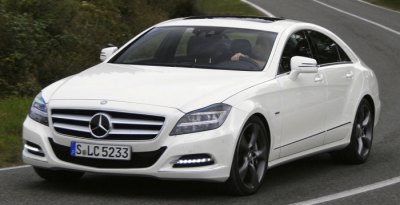 CLS500 has a different front grille


Confusingly, the second generation CLS has an "earlier" series name (W218) than the outgoing car (W219). This might have something to do with the fact that development of the old car was outsourced to German engineering firm IVM. Anyway, Mercedes reserved two earlier numbers (W217 and W218) for its own projects use. Now the latter is used by the second generation CLS.



The new car follows the formula set by the old car. It is again built on the E-class platform, though this time the latest W212 E-class. It shares the E-class' 2874 mm wheelbase in order to accommodate four adults comfortably. Copmare with the sedan, its overall length is increased by 70 mm for styling purpose. Front and rear tracks are widened by 10 mm and 20 mm respectively to improve cornering stability. Overall height is lowered by 55 mm, benefiting both styling and center of gravity. Furthermore, the driver sits 18 mm lower than in the sedan to give a sportier feel. All powertrains come straight from the E-class. Suspensions and steering are also borrowed from the sedan, though they get sportier tuning. In particular, the geometry of its 3-link strut front suspensions owes more to the AMG E63. Anyway, if you are familiar with the old CLS, you won't be surprised by the concept and execution of the new car.

What it changes the most are in two areas:

styling

and

efficiency

.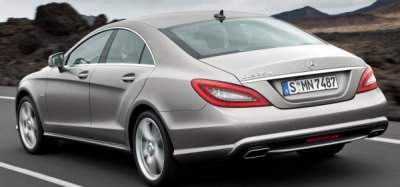 Heavy-handed styling loses the pureness of the original car...


The CLS is the first Mercedes new model to introduce Stuttgart's new corporate styling theme. Not only characterized by a new forward-facing grille, its whole body is more aggressively sculpted. Two powerful crease lines sweep upward and downward respectively across the side and meet the pronounced rear fenders. Full LED headlamps, angular front bumper and aggressive air intakes have strong flavors of Sci-Fi. Unfortunately, the styling gimmicks are probably too heavy handed. Although we still appreciate its teardrop roof line and banana-shape side windows, the new CLS has lost the pureness of the original car. Most motoring writers agree that it is not as beautiful as the old car. It is more about muscular than feminine beauty, especially the bulldog front end. That said, its attention to details is amazing. Unlike the old car, you can hardly pick a small detail not properly finished. This mean, if you spend more time on it, it may grow on you.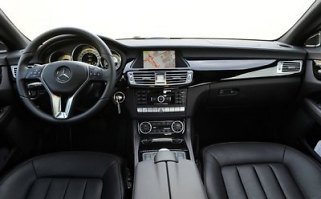 The interior design is similar to exterior. Build quality, functions, technology and ergonomics are unquestionably improved over the old car, but it no longer looks as special. While the old dashboard looked like those of Jaguar, the new one is unmistakably Mercedes. Even though it is cosmetically different from that of the E-class, you can see the basic architecture behind is the same.

As before, the low roof line does hamper headroom. 6-footers ave better to avoid the rear seats, even though they get slightly more leg and shoulder room than before and a larger door aperture for easier access. The rear seats are strictly for two, unlike Audi A7 which could accommodate 3 at a squeeze. However, that should not be a problem to its target customers, who are likely to have another limousine or SUV for use in family days. The more important front seats are better, as they can accommodate the majority of human being. Moreover, with a 520-liter trunk and foldable rear seats, you can hardly criticize its usability.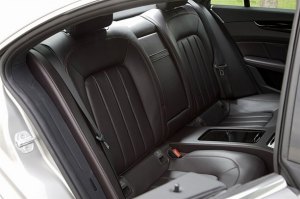 Although the new CLS is slightly larger and better built than the old car, its fuel efficiency is improved by 25 percent, believe or not. This is achieved by a variety of efficiency-enhancing measures. Let's start from the chassis. By using aluminum bonnet, trunk lid, front fenders and doors, its weight is kept unchanged even though torsional rigidity and bending stiffness have been increased by 6 and 28 percent respectively. More wind tunnel work reduced its coefficient of drag by 10 percent to 0.26. New electrical power steering saves 4 percent fuel. Furthermore, the new CLS employs a series of fuel efficient engines. Most telling of which is the 2.1-liter twin-turbo diesel. No one could have imagined Mercedes to install a four-cylinder diesel to a car of this class. This shows how serious Stuttgart is to raise its fleet average fuel economy figure. Anyway, the small diesel produces some 204 horsepower and an impressive 369 lb-ft of torque, enabling CLS250CDI to do 0-60 mph in a respectable 7.1 seconds. It is capable of 55.3 mpg (EU combined cycle) and emits only 135g/km of CO2.



The direct-injected 3.5-liter petrol V6 of CLS350CGI is all-new. It runs a 60-degree V-angle and many fuel saving features, such as the 3rd generation spray-guided direct injection with piezo injectors, dual-variable cam phasing, multi-spark technology (enables up to 4 sparks in 1ms for better controlling combustion), lower friction moving parts, on-demand oil pump and alternator and automatic start-stop. Output boosted to 306 hp while fuel consumption is reduced by 25 percent (EU combined cycle improved from 31 mpg to 41.5 mpg). CO2 emission is cut from 217g to merely 159g per 100km. For comparison, an Audi A7 3.0TFSI returns 34.4 mpg and 190g of CO2. One can see how green the Mercedes is.

However, the lack of low-down torque means the petrol V6 needs to be revved harder and therefore noisier than the updated 3.0-liter turbo diesel V6 of CLS350CDI. The latter has its output lifted from 231 hp to 265 hp, accompany with 457 lb-ft of torque. It takes identical time to go from zero to sixty, but in the real world it feels faster - more effortless to be fast - than the petrol V6. It also gets improved combustion and auto start-stop to boost fuel economy. This should be the pick of the range.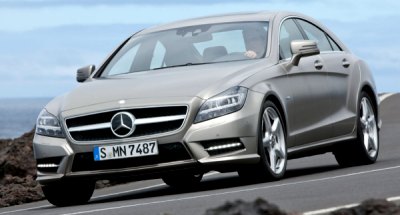 For a car so large, it is admirably agile.


Nevertheless, if budget is no constraint, we will definitely pick the range-topping CLS500. Its new 4.7-liter direct-injected twin-turbo V8 replaces the outgoing 5.5-liter naturally aspirated unit. Much the same fuel-saving technologies found in the new V6 and the addition of light-pressure turbocharging cuts fuel consumption and emission by 25 percent, while 408 horsepower and much improved low-down torque makes performance even more effortless. Better still, the addition of turbocharging did not mask its willingness and sound. It spins happily to redline and produces a melodious symphony.

The chassis might not have the same leap as the engines, but still a welcomed improvement from the old car. No matter with mechanical adaptive damping (on cheaper models) or Airmatic DC adaptive air springs and adaptive damping (on CLS500), the CLS rides smoothly and quietly – not in the league of E-class, but outstanding for its class. You can hardly criticize its handling, too. It grips well, controls its body roll tightly and stops reassuringly. For a car so large, it is admirably agile. Moreover, the electrical power steering technology it adopted is a very good one, offering consistent weighting, linear response and natural feel. However, if you ask for an interactive driving experience, the CLS may fail to satisfy you. Old-school power sliding is strictly ruled out by its intrusive ESP stability control. Its suspension setting could be sportier as well. Apparently, that room is left for the AMG version.

Being a crossover between sedan and coupe, the CLS is probably the best compromise. Although the second generation may not be as beautiful as the old one, it is better built, better to drive and far greener to run. Mercedes has raised the bar again. Audi and BMW will be difficult to beat it.
Verdict:





| | |
| --- | --- |
| Published on 20 Jan 2011 | All rights reserved. |
CLS63 AMG


In a bid to raise its price and image, Mercedes said the new CLS63 AMG should not be pitched against E-segment rivals like Jaguar XFR but the even pricier Porsche Panamera Turbo. That car is the highest performance sedan in the world today, combining a 3.9-second 0-60 mph sprint and 188 mph top speed. The new CLS63 is not that fast, but very close indeed. With optional performance pack equipped, it runs from stationary to 60 mph in 4.1 seconds and tops an electronically limited 186 mph on Autobahn. Taking the Porsche's 4-wheel-drive factor out of account, I would say their overall performance are closely matched.

The fact that the new AMG is able to deliver such performance – which is again slightly quicker than its predecessor – must thanks to the new M157 direct-injected twin-turbo V8. It's basically the same unit fitted to S63 and CL63 AMG, having a 5.5-liter capacity which contradicts to the car's name. Due to the more confined space in the engine compartment of CLS, its exhaust pipes have to be rerouted, causing a loss of about 20 hp. Still, no one can describe 525 horsepower and 516 pound-feet of torque as insufficient. Moreover, if you tick the optional performance pack, its ECU will dial up the boost limit from 1.0 to 1.3 bar, releasing 557 hp and 590 lbft. That easily eclipses the Panamera's 500 hp and 516 lbft.



Just as we have found out in S63 and CL63, the biturbo V8 here is amazingly torquey, much more so than the outgoing 6.2-liter naturally aspirated unit. Where the old torque delivery increased in function of rev, the new engine produces mountains of torque anywhere, anytime. This gives it superior real-world performance. The less demand for rev, in addition to auto stop-start, also helps the new car to reduce fuel consumption by a whopping 32 percent.

For a turbocharged motor, its throttle response is surprisingly sharp. Turbo lag is virtually non-existent. The only drawback is a slight loss of aural excitement, yet AMG has done an admirable job to keep the loss to minimum. This mean, if you have never heard the old V8, you are going to be thrilled with the new exhaust roar.

However, the biggest progress of the new CLS63 is not engine, but the sportier manner and sharper response built into the car. By replacing the old automatic transmission with 7-speed MCT unit, which uses a computer-controlled wet clutch instead of torque converter, its gearshift response is greatly speeded up. It even allows some very aggressive shift patterns, such as Sport+ and Race Start (which comes with launch control) to deliver a hardcore manner never heard of.



The steering is another area for amazement. It is sharp, quick and accurate like no other big AMG models before. It's not very weighty, but it telegraphs the road imperfection and camber into the driver's hands honestly, which is exactly what Panamera infamously lack of. What has AMG done ? Quite a lot. Apart from quickening the steering ratio by 22 percent compared with the regular CLS, it also overhauled the front suspensions. New control arms extend its front track by 25 mm and give it sportier geometry (more negative camber) to deal with high g-force. Most important is perhaps ditching the front suspensions' adaptive air springs for stiff steel springs, so to ensure a direct connection between the road and the driver. No wonder it offers more feedback to the driver than Panamera, no matter from the seat of the pants or the steering wheel.

Other chassis modifications are more predictable, including stiffer suspension setting, massive rubbers and brakes. On the road, the new CLS63 is so much more eager to turn-in, and far easier to place on winding mountain roads. It displays rock solid body control and immense braking, so cornering limit is extremely high – so high that you may need a race track to find out. On the flip side, once its limit of adhesion is exceeded, its traction control intervenes abruptly to correct things. Nevertheless, you will again need a race track to find out.

Traditional AMG customers may take some getting used to its new-found aggressive manner, especially its firmer ride. Fortunately, switch it to Comfort mode and it still preserves much of the good ride and transmission smoothness of the old car. This dual-character lifts it above all its rivals. Being more inspiring to drive than Porsche Panamera and much faster than Maserati Quattroporte, it has become the new benchmark for performance luxury cars.
Verdict:





| | |
| --- | --- |
| Published on 6 Oct 2014 | All rights reserved. |
CLS facelift 2014


When the second generation CLS-class made debut 4 years ago, I was a bit disappointed with its styling, especially concerning its "bulldog front end" (see the old review above). In fact, all Mercedes designed in that era were misguided, using too much angular features to express a message of aggression. Fortunately, Stuttgart has found a new direction recently. The 2012 A-class introduced a new corporate face that has since expanded to CLA-class, E-class, C-class and now also CLS-class. Its radial mesh grille, sculpted front bumper and stylish LED headlamps improve a lot the aesthetic of the front end, which is finally well matched to the rest of the body and makes the CLS the most beautiful 4-door on the market. The AMG model (pictured at the bottom) gets a different bumper again. The Shooting Brake gets the same treatment as the sedan. Offering more rear headroom and luggage space yet looking even more stylish than the 4-door, it is one of the very few estates I would recommend over their equivalent sedans.


Changes inside the cabin is more subtle. The infotainment screen, which used to be recessed in the center console, is now free-standing above the console, as in the new C-class. It is not only larger but also more ergonomically positioned. The controls and the infotainment system itself have been updated to be easier to navigate and to connect to smartphones or tablets.

On the mechanical side, the weakest link, CLS350 petrol, has been replaced with new model CLS400, whose 333 hp and 354 lbft output boosts performance significantly, i.e. 0-60 mph takes only 5 seconds flat. Note that its engine is not the 3.0-liter twin-turbo V6 found on SL400, but a 3.5-liter version of the same M276 family. Due to using lower turbo boost pressure, it has exactly the same output figures, but its maximum torque is available from 1200 rpm, 400 rpm earlier than the smaller engine. Another important change is the introduction of 9G-Tronic transmission, whose extra ratios improve both fuel economy and acceleration. Strangely, the new CLS400 is the only non-AMG model using the older 7G-Tronic Plus gearbox. Even the more powerful CLS500 has been upgraded to the new 9-speed unit. Mercedes' powertrain strategy is a mess!


The CLS can't quite match BMW 6-Series Gran Coupe for handling. It also trails Audi A7 for space and refinement. However, thanks to the latest update it is capable to topple its rivals in terms of styling and performance. Meanwhile, the AMG model CLS63 is still our top choice of the class thanks to its mighty engine, performance and character.

Verdict:













CLS350

2010

Front-engined, RWD

Steel monocoque
Mainly steel
4940 / 1881 / 1416 mm
2874 mm
V6, 60-degree

3498 cc
DOHC 24 valves, DVVT

VIM

DI
306 hp

273 lbft

7-speed automatic

F: 3-link strut
R: multi-link

Mechanical adaptive damping

245/45ZR17


1660 kg
155 mph (limited)
5.8 (c)

-

CLS400 (4matic)

2014

Front-engined, RWD (4WD)

Steel monocoque
Mainly steel
4937 / 1881 / 1418 mm
2874 mm
V6, 60-degree

3498 cc
DOHC 24 valves, DVVT

Twin-turbo

DI
333 hp

354 lbft

7-speed automatic

F: 3-link strut
R: multi-link

Mechanical adaptive damping

F: 255/35ZR19
R: 285/30ZR19

1700 kg (1760 kg)

155 mph (limited)
5.0 (c) (5.1*)

(12.9*)

CLS500

2010

Front-engined, RWD

Steel monocoque
Mainly steel
4940 / 1881 / 1416 mm
2874 mm
V8, 90-degree

4663 cc
DOHC 32 valves, DVVT

Twin-turbo

DI
408 hp

442 lbft

7-speed automatic

F: 3-link strut
R: multi-link

Adaptive air spring + damping

255/40ZR18


1815 kg
155 mph (limited)
5.0 (c) / 4.2*

10.2*









Performance tested by: *C&D










CLS500

2014

Front-engined, RWD

Steel monocoque
Mainly steel
4937 / 1881 / 1418 mm
2874 mm
V8, 90-degree

4663 cc
DOHC 32 valves, DVVT

Twin-turbo

DI
408 hp

442 lbft

9-speed automatic

F: 3-link strut
R: multi-link

Adaptive air spring + damping

255/40ZR18


1815 kg
155 mph (limited)
4.6 (c)

-

CLS63 AMG
(Performance pack)
2011

Front-engined, RWD

Steel monocoque
Mainly steel
4995 / 1881 / 1416 mm
2874 mm
V8, 90-degree

5461 cc
DOHC 32 valves, DVVT

Twin-turbo

DI
557 hp

590 lbft

7-speed MCT

F: 3-link strut
R: multi-link

Adaptive air spring + damping

F: 255/35ZR19
R: 285/30ZR19

1870 kg
186 mph (limited)
4.1 (c) / 3.8*

8.5*

CLS63 AMG S 4matic

2013

Front-engined, 4WD

Steel monocoque
Mainly steel
5000 / 1881 / 1412 mm
2874 mm
V8, 90-degree

5461 cc
DOHC 32 valves, DVVT

Twin-turbo

DI
585 hp

590 lbft

7-speed MCT

F: 3-link strut
R: multi-link

Adaptive air spring + damping

F: 255/35ZR19
R: 285/30ZR19

1950 kg
186 mph (limited)
3.6 (c) / 3.2* / 3.4** / 3.5***

7.7* / 8.0** / 7.8***










Performance tested by: *C&D, **MT, ***Auto Bild









Copyright© 1997-2014 by Mark Wan @ AutoZine