Mazda RX-8

Debut: 2003
Maker: Mazda
Predecessor: no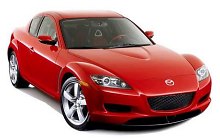 Introduction

This year is the 40th anniversary of the world's first production Wankel rotary engine car, NSU Spyder. Unlike what Dr. Wankel thought then, the rotary revolution did not happen. Worse still is that since Mazda RX-7 died last August (2002), the world no longer has any rotary-engined cars on sale. For many years, rotary engine was regarded as a dying breed of engines, blame to its heavy fuel consumption and poor emission which failed to comply with the latest regulations. At one stage, Mazda seemed to give up the development of its rotary engine and RX-7. However, in the 1999 Tokyo Motor Show, Mazda suddenly announced a new rotary concept car called RX EVOLV - which eventually becomes the production RX-8 - with a breakthrough in rotary technology. Calling RENESIS (stands for Rotary Engine Genesis), the new rotary engine adopts several new ideas to reduce fuel consumption and clean up emission. It complies with the tough Euro IV emission standard, ensuring a bright future for the rotary engine. RX-8 can therefore be sold worldwide, from Japan, USA to Europe.

The Chassis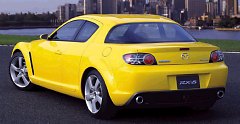 In my opinion, RX-8 is perhaps the most interesting new car in 2003, because it is so different from other cars. It might not be Pininfarina-beautiful, but I do love its unique shape. Not only look like no other cars, it doesn't have any resemblance to RX-7 too, with the exclusion of the wrap-around rear glass.

Inside, the RX-8 also gives you plenty of reasons to purchase it. Unlike Mazda 6, the dashboard and console is stylish and has a quality feel. The sports bucket seats look superb and feel just as good.

Now you can see the biggest difference between RX-8 and RX-7 and why the former is not a direct successor to the latter - RX-8 is a genuine 4-seater coupe instead of a 2-seater or 2+2 sports car. It also has a pair of tiny rear doors which is rear-hinged (so-called "suicide doors"). With the rear doors and lack of B-pillar, people can get into the rear seats easily. At the back, there is sufficient room for average-size adults, although a 6-footer will find space confined if he sit behind another 6-footer.



To compensate for the lack of B-pillars, RX-8 uses a backbone-type monocoque chassis which has a strong transmission tunnel to reinforce the chassis. In fact, it is twice as stiff as RX-7 in torsional rigidity, believe or not!

Not just that, the 4-seater also balances better than RX-7. By redesigning the oil pan under the engine, the new Wankel engine sits 4cm lower than RX-7's to lower center of gravity. The whole unit is located 14cm behind front axle, no wonder front-to-rear weight distribution is a perfect 50:50. At the rear, Mazda deleted the spare wheel and install the fuel tank under the rear seats so that now both the engine and the fuel tank are located within the wheelbase. In other words, it achieves a polar moment of inertia 5% lower than that of the RX-7.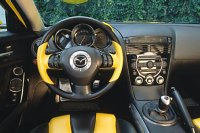 Low center of gravity, low polar moment of inertia and perfect weight distribution are what all sports car engineers dream for, but not many cars can achieve them. For example, Nissan 350Z with its big V6 engine achieves only 53:47 and a much higher polar moment of inertia because a portion of its V6 hangs over the front axle. Benefited by the weight and size advantage of Wankel engine, Mazda RX-8 can easily beat its opposition even though it is a 4-seater. Chassis engineers will love this car.

The rest of the chassis is also up to standard. Suspensions are double-wishbones up front and 5-link at the rear. Steering is by electric assistance to save weight. Brakes are also pretty big (323mm front, 302mm rear).

RX-8 weighs only 1300kg, about the same as RX-7, or undercutting a BMW 330Ci by 200kg. We must praise its attention to weight control.

The RENESIS Engine

We have mentioned that the new rotary engine made a breakthrough in fuel efficiency and emission level. How did it work out? in the past, rotary engines had their exhaust ports located at the face of the combustion chambers. This made packaging easier but there are 2 disadvantages: firstly, it creates overlapping between intake and exhaust phase, thus exhaust gas always contaminate fresh air and fuel mixture, reducing burning efficiency and worsening emission. Secondly, because the exhaust port is at the outer surface of the combustion chamber, any residual fuel failed to be burnt in combustion cycle will be pushed towards the exhaust port by rotor tips. As a result, the unburned fuel will emit from the engine directly and adds to the pollutants.


Unexpectedly, Mazda solved these problems easily by relocating the intake and exhaust ports to the side of the combustion chambers. As a result, overlapping between intake and exhaust phase no longer exist. Now fresh air and exhaust gas are separated. Besides, any unburned fuel will not enter the exhaust ports easily because the ports are distanced from the outer surface of combustion chambers. Instead, the residual fuel will be carried over to the next combustion cycle and burn out completely.

Furthermore, side intake and exhaust ports bring 2 more advantages. Firstly, the outer surface of combustion chamber is now smooth thus easier to lubricate. This reduce the wear on rotor tip sealing and eventually improve durability, which was a headache of older rotary engines. Secondly, by moving the ports to the side, Mazda find space to enlarge them considerably. For example, the intake ports are 30% larger than that of the old 13B engine used by RX-7. This of course improves breathing smoothness and lifts power output.

Unfortunately, the RENESIS used by RX-8 is normally aspirated only. It displaces the same as RX-7, that is, twin rotors with a total displacement of 1308 cc. Because a rotor chamber combusts once every revolution, compare with piston engine's once every 2 revolutions, its effective displacement is actually 2616 cc by the norm of piston engines. The RX-7 with twin-turbochargers generated 280 hp in its final phase of development. Without any forced induction, the RX-8 can still achieve 250 hp (240 hp for European version), very good for a 2.6-litre engine. Its power curve is peaky though - maximum power occurs at 8500rpm. The turbine-like engine can spin to a genuine 9000rpm, no joking.


This remind me another famously peaky engine - Honda S2000's F20C VTEC engine. Believe or not, despite of the vast differences in their design and architecture, these two engines are very close in their behaviour - the Honda reaches max power at 8300rpm, both cut-out at 9000rpm, both are rated at 250hp (JIS) and 240hp (DIN), and both have a weak torque curve. In the Honda case, it is 160 lbft at 7500rpm. Mazda is slightly better, 159 lbft at a more useable 5500rpm. But that's still not anything to be proud of.

The 250hp / 240hp RENESIS engine is equipped with a 3-stage variable intake manifold. Mazda also offers a cheaper version RX-8 (around 10% cheaper), whose engine has just a fixed intake manifold which is tuned for low-down torque rather than high-end power. The result is slightly higher maximum torque and is reached at slightly lower rev, but the engine cuts out at just 7500rpm and eventually deliver less power - 210hp at 7200rpm for Japanese version or 192hp for Europe version. The cheaper RX-8 also runs a cheaper gearbox - 5-speed manual instead of the high power version's 6-speed manual. Seems that it is not cheap enough to justify the loss in performance.

On the Road

As before, the rotary engine is incredibly smooth. Its power is produced linearly across the sky-high rev range. Perhaps too linear, you need at least 4000rpm to get sufficient performance. Due to the lack of torque, RX-8 doesn't feel as fire-breathing as other 250-horsepower cars, say, Audi TT V6. Luckily, its 6-speed gearbox is low geared and has close ratios to keep the engine boiling, and the shift is super-slick to encourage frequent changes, which is a must in order to extract the performance it deserves. Mazda claims a top speed of 150mph and 0-60mph taking 6 seconds flat. Considering the 40kg lighter Honda S2000 does that in 5.6 seconds, Mazda's figure is totally believable.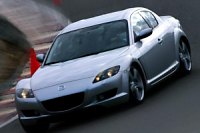 Around town, the Wankel engine is pretty tractable. On motorway, 60mph in 6th gear, it runs at a quiet 3000rpm, so cruising refinement is good.

Well, this normally-aspirated version of Wankel engine may not match a proper big capacity V6, but its packaging advantage is shown in handling. In the world of 4-seater coupe, no one else can match it in chassis balance - not even BMW 3-series Coupe. This car is so composed, so smooth and so agile in corners. No matter how hard you abuse it, it remains safe and neutral. There is just not enough torque to induce dramatic oversteer or slide at the rear wheels. Therefore the high-threshold traction control is rarely used.

The steering is another delight. Turn-in is instantaneous and precise, because there is so little weight at the nose. The steering also transfers good road feel to the driver's hands, despite of its electrical assistance.

Suspension is well sorted, delivering a firm but well-damped ride in the same way as BMW M3. As a result, RX-8 remains stable in cornering.

Verdict

Priced at US$27,000 in the USA or £22,000 in the UK, the RX-8 is around 10% cheaper than a comparable equipped Nissan 350Z, 15-20% cheaper than Audi TT 225hp, 25% below Audi TT V6 and undercut BMW 330Ci by 30%. Unquestionably, it is a bargain. No wonder Mazda sets an ambitious target of selling 30,000 cars a year.

Comparing RX-8 with others is not easy, because it is so unique in all area. It is a full 4-seater coupe, it has sports car performance and handling while it is priced at the same level as super hot hatches. If we compare it with Alfa 147GTA or Golf R32, the Mazda will definitely run away with its superior handling and sophisticated image. If we compare it with BMW 330Ci, it will also beat the German car by handling and impress people by its unusual character and bargain price. Nissan 350Z is faster, but it offers 2 seats only thus is not a direct competitor to RX-8. Maybe the next generation RX-7, if Mazda greenlight it, can rival it. Both Audi TT 225 and V6 are actually 2+2. The 225 is outpaced, outhandled and undercut in price by the Mazda. It's also an old car, so you can forget it. The TT V6 has a remarkable engine and transmission combo, but it is also a lazy driver's car. In contrast, Mazda RX-8 is the real driver's car. Its precision and feel inspires you to drive faster and faster, and eventually reward you with higher level of satisfaction. A new class leader has been born.
The above report was last updated on 28 Feb 2003. All Rights Reserved.
RX-8 2008 facelift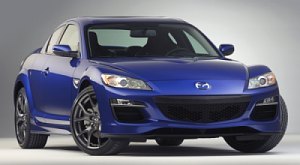 Firstly, AutoZine wish you a happy 2009. During the long holiday I am clearing the debt remained last year. One of them is Mazda RX-8, which received a facelift earlier in 2008.

RX-8 had been around for 5 years without any significant revisions. This was the first time it got a facelift and mechanical upgrade. The exterior of the car was refreshed with new diamond shape grille, sportier-looking brake intakes and fog lamps and a more aggressive air dam. It looks far sharper than the old car, especially if you choose the Type RS model (or R3 for overseas markets) which adds rear spoiler, extended skirts and a set of stylish 19-inch forged alloy wheels. This model also include 225/40 low-profile tires, Bilstein dampers, Recaro leather bucket seats and an upgraded Hi-Fi. Meanwhile, all RX-8 got a stronger front suspension tower bar to increase chassis rigidity by 5 percent.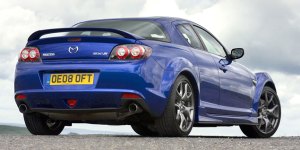 On the road, these modifications result in sharper handling. Body control, cornering stability and turn-in response are improved, making the RX-8 even more exciting to drive than the past. You can more lean on its perfect chassis balance and delicious gearchange to attack corners. What a pity the aging Wankel engine was not improved apart from using a larger sump and new oil pump. Its lack of torque and heavy fuel consumption remain its biggest weaknesses. During the past 5 years, the RX-8 gained about 50 kg while its power rating dropped by 10-15 hp. Now it needs around 6 and a half seconds to accelerate from rest to 60 mph, no better than many hot hatches.

To the fans of RX-8, top of the 2009 wish list must be a stronger and more efficient Wankel engine.
The above report was last updated on 1 Jan 2009. All Rights Reserved.