The term Barchetta means "little boat" in Italian. It usually refers to lightweight open-top sports cars. Maserati used to sell quite a lot of barchetta race cars to private racing drivers in the 1950s. In the early 1990s, it resurrected the name and the business format with a mid-engined race car. The new Barchettas were sold to customers who wanted to race the cars in a one-make series organized by Maserati. After a handful of race cars (Barchetta Corsa) had been built, Maserati also produced a street version (Barchetta Stradale), which is the one we are more interested.
Although street-legal, the Barchetta Stradale was the closest thing to a race car you could purchase in 1992. Its open cockpit had neither a meaningful windscreen nor a hood, so occupants had to wear helmets and avoid to drive in rain. The body was very very low - just 36 inches from ground to the roll-over bar (not shown in the prototype pictured), well below other supercars (Lamborghini Countach was 42.1 inches, for instance). A steel backbone chassis held the mid-mounted engine and suspensions via tubular steel and alloy subframes. Outer skin comprised of 8 pieces of composites, which helped keeping the weight light at 905 kg. Suspensions were racing-style double-wishbones with inboard springs and dampers operated by pushrods.
The bi-turbo 24-valve V6 engine came from the Italian version of Ghilbli, displacing only 1996 c.c. but produced an eye-popping 306 horsepower with catalytic convertors and silencer already installed. Coupling to the lightweight and small frontal area, Maserati might be right that it could top 186 mph (300km/h) and sprint from rest to 0-62 mph in 4.5 sec. Ignoring the Ferrari-built MC12, this is still the fastest Maserati road car ever produced.
Then how did it perform on public road ? British magazine Complete Car (dead now) found it to be as exciting and as raw as a race car. Stiff suspensions sent shocks directly into the cabin when running on bumpy surfaces. Well, the Barchetta had never meant to be a King of mountain roads. Instead, it was designed to be driven on open and smooth highway, where it felt alive. The twin-turbo V6 was free-revving, eager-sounding and explosive from mid-range rpm. It begged you to rev it beyond 7000 rpm. Steering was quick and precise. Feedback was just as sharp as a racing cars. The handling was rock steady, thanks to low center of gravity and great deal of downforce.
Unfortunately, the Barchetta project was not as well received as Maserati hoped for. Only 13 Corsas and 1 Stradale were completed before the project came to the end. The unique Stradale is now owned by an Italian collector, so I suppose it would be difficult to see it on road again.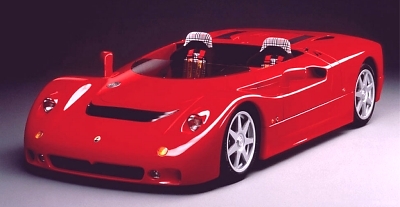 Note:
the look of Stradale has always been a mystery. Most sources feature pictures of the original prototype (see the first two pictures above), whose small headlights and mirrors were apparently illegal for road use. The car shown in the last picture was probably closer to the final specification, but is it the actual one ? Probably not. The May 1996 issue of Complete Car magazine tested the real Stradale. It differed from the above cars in several ways - firstly, it employed the double-bubble headlights from
FIAT Coupe
. Secondly, it had rollover bar behind the cockpit to protect against rollover, thus it should satisfy safety regulations. Thirdly, it had a more elegant chromed front grille and a set of more stylish alloy wheels, both looked set for road use. Lastly, it employed the big rear spoiler from Corsa to maintain downforce.