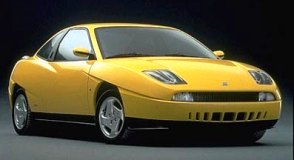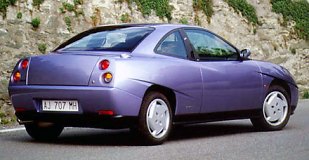 After the decline in the 1970s, Fiat concentrated back on building bread-and-butter cheap cars in the whole 1980s. The successful launch of Uno and Panda helped it revived gradually. By the turn of the decade, Fiat was back to shape and now new CEO Paolo Cantarella wanted to bring back more interesting products. This resulted in Coupe, Barchetta and Multipla MPV for Fiat and GTV / Spider for Alfa Romeo. They brought the group a colorful 1990s.

From 1994 to 2000, Fiat sold 72,698 units of Coupe. All were built by Pininfarina in its Turin factory using Fiat's components. Thanks to the Pininfarina signature badge, a dramatic design and strong performance, the Coupe was usually referred to the "Poor man's Ferrari". However, the Coupe was actually designed by Fiat Style Center as it won the competition against Pininfarina's proposal (hence Pininfarina was only responsible for the interior design and production). Its unusual appearance with double-bubble headlamp covers, short tail, muscular fenders and signature grooves over the wheel arches was conceived by Fiat's rising American designer Chris Bangle. His original drawings showed an even weirder design but, luckily, it was toned down by his boss Nevio de Giusto and became the production car we saw later. Before that happened, Bangle had already jumped to Munich and prepared to ruin BMW… When the Coupe was unveiled to the public in late 1993, I remember it raised many eyebrows due to its unusual shape – even though the production car was already much more comfortable to eyes than Bangle's original sketches. Nevertheless, it was abundant of classical design details, such as the Ferrari-style quad-circular taillights, the exposed polished filler cap and a classy clamp shell bonnet. The combination of these details and the unusual shape make it looks surprisingly timeless today.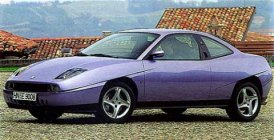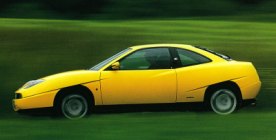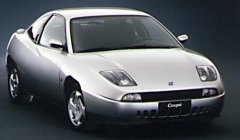 Comparatively, the Pininfarina-designed interior was well received right from the beginning. The architecture was every bit conventional, but Pininfarina cleverly inserted a body-colored stripe running from one door, across the dashboard to another door and lifted the style a lot. The cabin was bigger than you would imagine. Despite of a short wheelbase, it provided decent space for 4 average-sized people.

The Coupe's chassis was built on a modified Tipo platform, employing MacPherson struts as front suspensions and trailing arms as rear suspensions. It wasn't as sophisticated as its cousin Alfa GTV, which was upgraded to multi-link for rear suspensions. Its handling was generally good, with limited body roll, plenty of grip, excellent brakes and fine steering feedback. But the combination of powerful turbocharged engine and front-wheel-drive chassis resulted in torque steer and wheel spin if it was pressed too hard in corners. As a driving machine it wasn't as ideal as the RWD Nissan Silvia S15 or the better tuned Volkswagen Corrado VR6, two of its key rivals at the time.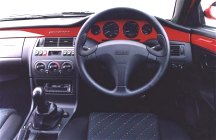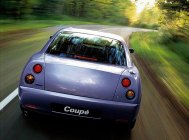 Nevertheless, what it lacked in handling was compensated in performance. In the beginning, the Coupe offered two engines: 142hp 2.0-liter 16V and 195hp 2.0 16V turbo. The former was taken straight from Tipo 16V and the latter was adapted from Lancia Delta Integrale 16V, but both of them were the last evolutions of the long-serving Lampredi twin-cam. The Coupe Turbo was especially impressive - it topped 140 mph, did 0-60 in only 6.8 seconds and was Europe's fastest coupe for under £20,000. For the same money, people could only buy a 150hp Alfa Romeo GTV 2.0ts or a BMW 318i Coupe. The Pininfarina-produced Fiat became famous as a performance bargain.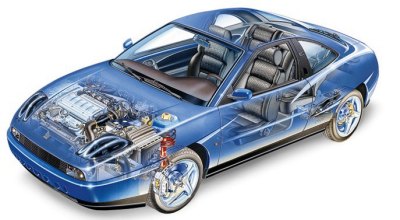 However, even better things came 2 years after its launch. In 1996, both four-pot engines were replaced by Fiat's new Super FIRE 2.0-liter inline 5-cylinder engines with aluminum block and variable intake valve timing. The extra cylinder enhanced smoothness and brought a musical rhythm never heard in the old four-pot. The normally aspirated version produced 147hp (later increased to 155hp) while the turbocharged version surged to 220 horses, accompany with 228 lbft of torque. Autocar magazine recorded 149mph for the 20V Turbo in the banked Millbrook track, confirming its 155 mph potential. 0-60 mph was done in 6 seconds flat and, more impressive, 0-100 mph in 14.5 seconds, almost 4 seconds ahead of the previous car !

Such storming performance strengthened its image as a Poor-man's Ferrari. Today, many car enthusiasts still remember its speed and its unique design. Unquestionably, Fiat Coupe will join the like of Dino, 124 Spider / Coupe and X1/9 to be a Fiat classic.