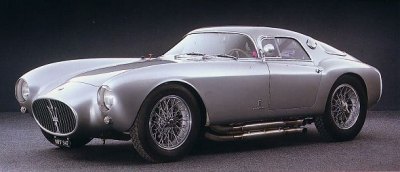 A6GCS/53 Pininfarina
The definitive road and track GT car in the 1950s was unquestionably the 1958
Ferrari 250GT SWB
. However, a few years back Maserati produced a car nearly as great. Were it not designed for the 2-liter class, it could have achieved more racing success hence more recognition today. It was the A6G 2000 series running from 1953.
It must be said that not all A6 series cars were good ones. The early 1500cc cars were slow and ugly. The 2000cc cars from 1951 were better, but great ones did not appear until 1953. Dubbed A6GCS/53, in which CS stands for Corsa (Race) Sport and the number refers to its year of introduction, the new car got a completely new engine - basically a detuned version of Maserati's successful Formula 2 engine. The 1986 cc straight-six produced wonderful sound. If it looked like half of a Ferrari V12, that was because it was designed by the same person, Gioacchino Colombo. The motor got twin-cam and two spark plugs per cylinder, producing an incredible 170 horsepower at 7300 rpm for gentleman racing drivers to explore on roads and tracks. Moreover, all-aluminum and dry-sump construction ensured low weight and center of gravity, hence good performance and handling. As the car had a short wheelbase of 2310mm and a striped out interior designed very much for racing, it weighed only 740 kg. Top speed was claimed to be 146 mph, probably a little bit overstated despite of its small frontal area. As for chassis, the car was not very innovative, but so was contemporary Ferraris. A tubular chassis was suspended by double-wishbone suspensions up front and at the back by live axle and leaf springs. Brakes were drums all round.
A6GCS/53 Pininfarina

Maserati produced only 56 units of A6GCS/53, most of them were completed in Barchetta (open top) or Spider (roadster) form with bodyworks from various coachbuilders. However, the greatest of all were the remaining four Berlinettas (coupes) bodied by Pininfarina. At the time, Pininfarina had just entered an exclusive working agreement with Ferrari, so Maserati had to send the chassis to one of its dealers and let the latter to commission Pininfarina to body them. Eventually, this turned out to be probably the most beautiful GT car of its days, one that might make Enzo Ferrari jealous. Today, the Pininfarina Berlinetta becomes one of the most wanted classics.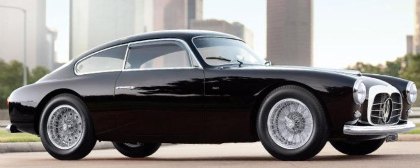 A6G/54 Zagato
Next year, Maserati developed the car into a more road-friendly version, A6G/54. Wheelbase was stretched to 2550 mm to give more interior space, along with (relatively) luxury interior. 60 chassis were built, and again, they were bodied by various coachbuilders in coupe and spider form. Most remarkable of them was the 20 units of coupe built by Zagato. Zagato once again applied its light-alloy know-how to build an all-aluminum body, keeping the whole car light at 840kg. For better road use, Maserati detuned the straight-six to (a still remarkable) 150hp. Top speed dropped to 130mph. The Zagato model was used extensively in motor racing and usually won its category. Nevertheless, the world rarely remember those not competing at the top league, so its fame did not match Ferrari 250GT SWB, or to lesser extent Aston Martin DB4GT Zagato.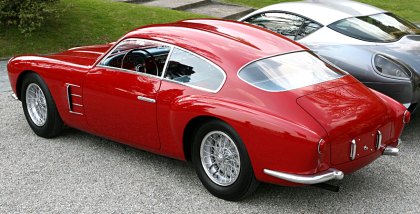 A6G/54 Zagato