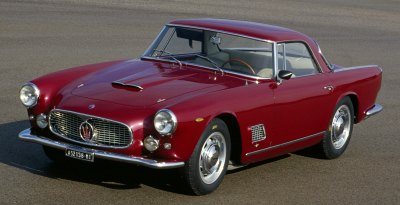 Prior to 3500GT, Maserati was primarily a race car maker. Its dedication to motor racing resulted in some glory, most notably the F1 championship won by J.M. Fangio and Maserati 250F in 1957. However, it also resulted in poor finance. By the mid-1950s, the Orsi family owning the company found selling limited number of race cars and A6G series semi-race cars could no longer sustain the business. It needed to build proper road cars, especially luxury and expensive ones, to earn profit for the racing activities. Coincidence or not, this view was shared with Enzo Ferrari.
In 1957, Ferrari produced the landmark
250GT California
, whereas Maserati introduced the equally important 3500GT. It was the firm's first luxury 2+2, which was designed to appeal to rich people. It was also the first production car of Maserati, with 2200 units built in 7 years. This saved Maserati from bankruptcy, thus was seen as the turning point of its fortune. Since then the company became a luxury GT manufacturer in the same league of Ferrari and Aston Martin.
Technically, the 3500GT did not introduce many breakthroughs over the previous A6G/54, which was still considered to be modern. Its chassis was again made of lightweight tubular spaceframe, covered with hand-fashioned aluminum bodywork. Suspension layout was more or less the same as before, i.e. double-wishbones up front and live axle on leaf springs at the rear. However, higher quality components were employed, such as ZF 4-speed gearbox. The famous all-alloy twin-cam straight-six with dual plug ignition evolved to 3485 cc. Fitted with a trio of twin-choke Webers it pumped out a respectable 225 hp. Thanks to a long stroke of 100mm (against 86mm bore), torque delivery was better than the peaky Ferrari 3-liter V12 it competed with. Consequently, what it lost in straight line speed was compensated with better tractability.

The strength of 3500GT was its elegant style and luxury interior. Coachbuilder Touring of Milan (which also styled Aston DB4) penned a well proportioned design with plenty of fine details and elegant chrome. It was one of the last "classic" GT designs in prior to the futuristic 1960s. The interior was more luxury than contemporary Ferraris, with power windows as standard, room for two adults and their children and a large trunk at the back. Car collectors must be grateful that the Maserati was born before the arrival of polymer, as its cabin was made purely of metal and leather.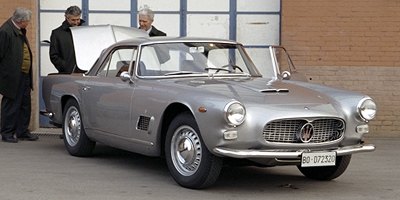 During its seven years life, 3500GT received some minor updates. Eventually, it got an ZF 5-speed gearbox, all-wheel disc brakes and Lucas mechanical fuel injection. The latter boosted its power to 235hp, but accompanied with reliability problems. Among the 2,226 cars built, 251 were Spyder model, which was bodied by Vignale and ran a shorter wheelbase. Production of both versions ended in 1964, though its basic design continued to live under the skin of Sebring and Mistral.