| | |
| --- | --- |
| Published on 6 Jan 2008 | All rights reserved. |
| | |
| --- | --- |
| | Launched at a critical time, XF is probably the most important Jaguar in history. |

The new Jaguar XF is not only the last Jaguar developed under the ownership of Ford but it is also the most important Jaguar in history. Because X-Type is set to enter graveyard in one to two year's time, while the low volume XJ and XK are unlikely to earn profit, the future of Jaguar will rely on the middle-size XF, which is replacing S-Type as a British fighter to Mercedes E-class, BMW 5-Series, Audi A6 and Lexus GS etc. If it is well received by the market, Jaguar will be out of danger zone for the next 5 years. Otherwise, not even its new owner (expected to be Tata at the time of writing) could save it.

Some background information first. Because Jaguar is short of cash, it builds the XF on the same platform as the outgoing S-Type, which means the same hard point positions (such as the same 2909 mm wheelbase) and some common steel pressings. This saved development time and costs. Another cost saving measure is to use conventional steel monocoque chassis instead of the aluminum spaceframe originally planned. This sounds disappointing to car lovers, but in my opinion it is probably a correct decision. Remember, even the pricier Mercedes and BMW could not afford the extra costs of aluminum spaceframe technology.


| | |
| --- | --- |
| | Ian Callum bravely reinvented Jaguar's design language. It is the first Jaguar breaking away from William Lyon's theme. |

Using conventional steel chassis means it does not have any advantage in weight compare with its rivals. In fact, being longer and wider than others, it is also the heaviest in the class. For example, a 3.0-liter XF tips the scale at 1679 kg, some 150 kg more than BMW 530i or 60 kg more than Lexus GS300. However, it still undercuts its precedessor by 30 kg, thanks to the use of more high-strength steel in the chassis.

Looking from these photos, we can see Ian Callum's new design is surprisingly pleasing. At first, you might find difficulties to accept its thoroughly modernized looks. Traditional Jaguars penned by William Lyon and Geoff Lawson were slim and classical. In contrast, Callum's XF is sporty, muscular and sophisticated. Like most modern rivals, it surrenders to the laws of physics and reshaped its waistline to rise gradually towards a high-set tail in order to reduce aerodynamic lift. From some angles it looks quite similar to Lexus GS – which is not a bad thing – but with a steeply raked fastback, it looks even more like a 4-door coupe. In fact, Callum wants it to look like a 4-door version of XK. Also like the XK, it adopts a bonnet which pops up automatically in the event of collision to provide enough clearance from the engine hard points. This allows a sleek front end design while meeting European pedestrian safety regulations. A smooth roofline and raised tail contribute to a drag coefficient of 0.29.


| | |
| --- | --- |
| | The "4-door coupe" look fits the image of Jaguar very much. It's not a copy of Mercedes CLS either. |

However, the highlight should be the interior design instead. It gives up the old-fashioned leather-and-wood approach and pursues a modern feeling by using metallic effect as the main theme. This leaves woods and leather as supporting roles. The materials and build quality is perfect, matching the high standard set by Audi and easily leaving BMW behind. When you enter the cabin, you may be surprised by its simplicity – where are the air vents ? where is the gear lever ? Once you press the START button on the transmission tunnel... A-ha ! Those small covers on the fascia suddenly rotate to reveal the air vents, while a rotary gear mode selector rises from the transmission tunnel. At the same time, the dials on the dash illuminate, the trip computer's LCD screen (located between the dials) turns on and the touch screen on the center console comes into live. These gimmicks show a very different Jaguar from what we used to know: it says modern, it says high-tech, it says user friendly.


Space is a critical issue to the XF. The S-Type was infamous for a cramped cabin even though it had the longest wheelbase in class. The new XF is a little more generous, thanks to the use of thinner seats. On paper, it even offers space comparable to its best rivals. However, in reality most road testers still reported that the rear seats are more cramped than others, especially headroom is limited by the sloping roofline. Four 6-footers will be tight fit. The fifth passenger will find his legs blocked by the large transmission tunnel.


| | |
| --- | --- |
| | The biggest problem lies on here: lack of rear headroom. |

The mechanical side is perhaps the least surprising, because XF shares all major components with XK coupe, XJ sedan as well as its predecessor S-Type - engines, gearbox, differential, subframes and suspensions. There are four familiar engines: 2.7-liter twin-turbo diesel V6 (207 hp), 3.0-liter petrol V6 with dual-VVT and variable induction (240 hp), 4.2-liter V8 (300 hp) and 4.2-liter supercharged V8 (420 hp). All engines mate with the excellent ZF paddle-shift 6-speed automatic with Jaguar's shift program. As before, the suspensions consist of double-wishbones up front and a multi-link setup at the rear. Although they are basically the same as XJ and XK's, they have unique anti-roll bars, knuckles and bushings. Again, CATS adaptive damping is standard on the V8 models.


| | |
| --- | --- |
| | XF is a good high-speed cruiser, thanks to superb mechanical refinement. |



On the Road



No cars in this segment are perfect. Some suffer from firm ride (e.g. BMW 5-Series on run-flat tires). Some suffer from mediocre dynamics (e.g. Audi A6 and Volvo S80). Some suffer from lifeless steering (e.g. Lexus GS). Some suffer from aging cabin (e.g. Mercedes E-class). Perhaps the biggest problem is, most of them can hardly stir your soul. Having seen so many executive sedans, you started feeling they are just business as usual. To be different, you need to seek help from Italian or British. If you cannot afford a Maserati Quattroporte, then Jaguar XF could be the best answer.

We are not talking about figures. If we are, we shall find the Jaguar very normal. It is neither the quickest nor the slowest in the class. It provides neither the sharpest handling nor the softest ride. However, if you combine all subjective aspects together, you will find it unusually desirable.

Sitting in the driver's chair gives you the first unusual experience - the view over the low dashboard and the sloping rear screen, cocooned in a supportive seat, wide transmission tunnel, a sea of aluminum, wood and leather and the interesting rotary gear lever... Jaguar successfully lets you believe you are driving a premium coupe rather than a mass market sedan. If Bentley Continental GT has a little brother, then this could be it !


| | |
| --- | --- |
| | Very few cars combine good ride and handling as good as this one |

Start the motor - we are talking about the 4.2-liter normally aspirated V8 - you will find a near-silent idle. Yes, this motor might be 12 years old, but it is still free-revving and refined by today's standard. While it lacks bottom-end torque, it is compensated with the best automatic gearbox in the world. As shown in the XK coupe, Jaguar's own programming makes its gearshift slicker and quicker than other ZF 6-speeders being used by its competitors. The result is a perfectly refined and responsive power delivery.

The chassis of XF is another source of joy. Jaguar's chassis tuning maestro, Mike Cross, succeeded to bring a smooth ride and good handling simultaneously. It feels like the sedan version of XK coupe - more nimble than its size and weight suggested. Its cornering attitude is neutral until a nice stabilizing understeer intervenes near the limit. The suspensions (with CATS or not) keep the car stable in cornering. The steering is precise, well weighted and, most important, the most feelsome in this class. Therefore driving the big cat in tight mountain roads is confidence inspiring. Overall, the handling lacks the sharpness of BMW, but in return the Jaguar delivers better ride quality, especially more absorbent than the German cars on B-roads. Its cabin is also better insulated from suspension noise, tire noise and wind noise. The XF is one of the few cars that is fun to drive hard and relaxing for the rest of the time.


| | |
| --- | --- |
| | Desirable ? Yes. But it needs better base engines to drive sales. |

But the new Jag has its worry too. Among the four engines it offers, only the aforementioned normally aspirated V8 excels. The 420-horsepower supercharged V8 might provide strong performance (say, 0-60 mph in 5.1 seconds) and stronger handling, but it can't match the smaller engines' smoothness, quietness (consider that supercharger whine) and steering feel. It is also very expensive. Most customers in this class buy a 6-cylinder engine because it is cheaper to buy and more economical to run. Unfortunately, the XF's Ford Cleverland V6 is the weakest link. Just as in S-Type, it lacks both torque and refinement. What a pity Ford could not invest more money into the project.

This leaves the 2.7-liter twin-turbo diesel V6 to be the only credible choice to most buyers. As shown in the XJ 2.7D, it is a remarkable diesel engine, being gusty, frugal and especially refined. However, the aluminum XJ 2.7D is 110 kg lighter than the XF 2.7D. Will this engine pull the XF as well as its brother ? We can't tell until it go on sale later this year. However, one thing is for sure: the diesel engine will not be qualified for the USA market, so it is not going to be a savior Jaguar would like.

Although we like the XF very much, it seems that its fate is already decided. I hope I am wrong, but my sixth sense tell me even this good car cannot save Jaguar. Good luck!

Verdict:





| | |
| --- | --- |
| Published on 26 May 2009 | All rights reserved. |
XF 3.0 diesel

| | |
| --- | --- |
| | The best selling XF used to be diesel. With the new 3.0D, it could get only more popular... |
In Europe, the best selling Jaguar XF is actually the least powerful 2.7 V6 diesel. This engine is undeniably smooth and refined, but its 207hp output is way below class standard. For example, BMW's 3.0-liter diesel straight six produces 245hp in single turbo form and 286hp in twin-turbo form. Audi's 3.0TDI V6 produces 240hp. Even the weakest Mercedes 3.0 V6 makes some 224 horses. Remember, the steel body Jaguar XF is a heavy car. It surely needs a more powerful engine to increase sales.

Now Ford has upgraded the V6 to 3.0 liters. The engine block is still made of compact graphite cast iron, but common-rail direct injection has been upgraded to the 3rd generation, which utilizes high-precision piezo injectors and 2000 bar fuel pressure to implement up to 5 injections in each combustion cycle. It complies with the next EU5 emission standard due 2011.

Two states of tuning are offered for the 3.0 V6. The base version employs conventional VTG twin-turbochargers in parallel arrangement, just like the old 2.7-liter unit. It produces 240 hp and 369 lb-ft of torque. However, our focus is the high-power version, which uses an innovative "parallel sequential turbocharger system" - Yes, both parallel and sequential. What does that mean ?
| | |
| --- | --- |
| | 600 Nm of torque and 42 mpg economy... do you still need petrol engines ? |
The system has a big VTG (variable geometry) turbocharger and a small, fast-reacting fixed geometry turbocharger. The big turbo basically operates all the time. The small turbo joins it (thus works in parallel to the big turbo) from 2800 rpm all the way to top end to provide full boost. This arrangement is contrary to the two-stage twin-turbo system of BMW, which uses a small turbo for low rpm and a big turbo for high rpm (during which the small turbo gradually shuts down). Jaguar says its system is superior to BMW's because the bigger turbo with its larger diameter manifolds generates less back pressure than small turbo, hence less pumping loss and lower fuel consumption. A big turbo would have needed higher rpm to get into operation, so Jaguar opts for a variable geometry turbine to solve this problem.

The result of this arrangement is 275 horsepower and an astonishing 600Nm, or 442 lb-ft of torque. This enables Jaguar to claim 5.9 seconds for 0-60 mph. Yes, that means it is actually faster than the outgoing 4.2-liter V8 ! It is also the first performance diesel car built by a British car maker. More amazing, at 42 mpg combined fuel consumption, it is actually 12 percent more frugal than the old 2.7D. It sounds like a dream come true !

On the road, however, the XF 3.0D S does not feel as fast as BMW 535d. We suspect its 0-60 acceleration could actually take 6.5 seconds, considering the lighter BMW claims 6.1. Nevertheless, this is still very good for a diesel.

More impressive is how effortless its acceleration is. The parallel sequential turbocharging system does not display any hint of turbo lag at all. From a little higher than idle, it responds instantly to your throttle input with mountains of torque, like a large capacity normally aspirated V8. Furthermore, its power is delivered with a smooth and quiet manner, just as refined as the old 2.7-liter engine. With this marvelous engine, who still need others ?
Verdict:





| | |
| --- | --- |
| Published on 26 May 2009 | All rights reserved. |
XF 5.0 V8

2009 can be called "Year of Engines" to Jaguar as two of its most important engine families have been renewed. We have examined the entry-level 3-liter diesel V6. Now let us go through the new 5.0-liter gasoline V8, an engine that accounts for most XF, XJ and XK sold in America.

Jaguar's AJ-V8 was born in 1996 in the first generation XK coupe. In the beginning, the 4.0-liter unit already employed many advanced features of the time, such as an all-alloy construction, Nikasil-coated combustion chambers, quad-cam 4 valves per cylinder, intake variable cam phasing and drive-by-wire throttles. This mean in the following 12 years it didn't need any upgrade bar a 200cc boost in 2002.

However, when it was installed in the new XF, which topped the scale at some 1.8 ton, the 4.2-liter AJ-V8 started looking underpowered. More precisely, it lacked the bottom-end torque of its larger capacity rivals, such as the 4.8-liter BMW V8 and 5.5-liter Mercedes V8, so that it needs to be worked harder to get the same pace. This hurt its effortless manner. Therefore in early 2009 Jaguar finally introduced a significant upgrade to the engine.

| | |
| --- | --- |
| | Maximum output increases from 300 to 385hp... |

The 3rd generation AJ-V8 has its capacity enlarged to exactly 5000cc, thanks to both larger bore (from 86 to 92.5mm) and longer stroke (from 90.3 to 93mm). Despite that, its efficiency is raised by adopting direct fuel injection, dual continuous variable cam phasing, 2-stage intake cam profile switching (which uses hydraulic-controlled 2-piece tappets like Porsche's VarioCam Plus) and a 2-stage variable length intake manifolds. As a result, maximum output increases from 300hp to 385hp, while maximum torque is lifted from 303 to 390 lb-ft. Torque curve is also flattened. At the same time, fuel consumption is virtually unchanged.

With the new V8, XF finally delivers a combination of effortless performance and impeccable smoothness that we expected for a Jaguar. 0-60 mph now takes 5.5 seconds instead of the previous 6.2 sec. Good enough for the company to abandon the supercharged SV8 model. Of course, the 5-liter engine also gives birth to a supercharged version, but now that engine will be reserved for the high-performance XFR.

Together with the new engine, Jaguar introduced a new generation continuous variable adaptive damping system to replace its long-serving CATS adaptive suspensions, which used to vary damping between hard and soft setting only. All these improvements make a desirable car even more desirable.

Next, we shall look into the flagship XFR.
Verdict:





| | |
| --- | --- |
| Published on 30 May 2009 | All rights reserved. |
XFR

| | |
| --- | --- |
| | The new Jaguar motor suddenly makes our favourite AMG 6.2-liter V8 almost too faint, too rev-hungry, let alone BMW's V10... |
The world of performance saloons has changed a lot during the past few years. BMW M5, the long-standing champion of the class, has been seriously challenged by its ever rising rivals, namely Audi RS6, AMG E63 and CLS63 and Cadillac CTS-V. Each of them can be described as a masterpiece in its own right. Unless you insist traditional qualities like a high-revving power delivery, manual gearshift or endless power slide, you are very likely to appreciate these cars over the M5.

The latest headache to BMW comes from Jaguar XFR. This is the successor of S-Type R, which came close to beat the contemporary M5 seven years ago. Compare with S-Type R, XFR is a vast improvement, of course, just like any new cars compared with their predecessors. But let me make it clear: XFR is in a better position than ever to challenge the top spot of performance saloon league. There are a couple of reasons to support my claim. On the one hand, the standard XF is already the most desirable premium saloon in E-segment, as we have talked before. It provides a solid basis that the S-Type just couldn't match. On the other hand, Jaguar has done a lot of development to the engine, suspensions and running gears of the XFR, more so than its predecessor.

In my opinion, XFR is the most beautiful performance saloon currently on sale. Unless Alfa Romeo decide to build one, I doubt anyone could produce a design combining this level of taste and elegance, or achieving a balance between sportiness and understated luxury so right. Compare with it, Audi RS6 looks just too civilized, Mercedes E63 too conservative, CLS63 too flamboyant and Cadillac CTS-V too rough, not to mention the odd-looking M5. Because the regular XF is already so beautiful, the R version needed only some functional tweaks to its styling, i.e. larger air intakes, bonnet air scoops, a tiny rear spoiler, slightly extended sills, quad-tailpipes and 20-inch wheels. The only styling gimmicks are the chromed surrounds of brake intakes, yet they only echo the style of center front grille.

Even fewer changes can be spotted in the cabin – apart from the deeper bucket seats and a few additional switches on the dashboard, it is basically the same as the standard XF. Which is not a bad thing indeed. We still enjoy its clean design and fine build quality, and of course, the sensational emergence of air vents and gear selector from sleep. Even the cramped rear headroom appears to be more bearable for a car with sporting intention.

The point of the car, however, is performance. Its power comes from Jaguar's new Gen III AJ-V8. Key features include a full 5 liters of capacity (up from 4.2), dual-continuous variable valve timing (instead of intake only) and the first direct fuel injection for Jaguar. On the top of this, XFR added an Eaton twin-vortex roots-type supercharger, whose aluminum rotors have 4 lobes to boost efficiency and reduce supercharger whine, like Chevrolet Corvette ZR1. Thanks to the presence of supercharger, it does not need variable cam profile switching and variable length intake manifolds like the normally aspirated version of AJ-V8. At 6500 rpm, it produces 510 horsepower – matching BMW's 5-liter V10 and AMG's 6.2-liter V8, if not Audi's twin-turbo 5.2 V10 or GM's supercharged 6.2 small block. Equally impressive is the torque curve, which tops 461 lb-ft from 2000 to 5000 rpm. Moreover, at merely 1000 rpm there is already some 331 lb-ft of torque available for your disposal. This mean it has bottom-end tractability to insult not only the rev-hungry BMW M5, but also the naturally aspirated AMG cars. If it can't beat Audi and Cadillac, it won't be far off.

For this application, the ZF six-speed automatic gearbox has been programmed to make gearchanges 10 percent quicker than the standard car. Other aspects of the car get similar shifts towards the sporting side: 10 percent quicker steering rack, 27mm lower ride height, 30% stiffer suspension springs and 1mm thicker anti-roll bars. XFR is also benefited from the new continuous adaptive damping just introduced to other XF. However, our favourite addition is ADC, or Active Differential Control. This electronic limited slip differential utilizes electric motors and multi-plate clutches to alter torque distribution between the two rear wheels. For what ? To eliminate understeer when you don't want and induce oversteer when you provoke the XFR into a power slide. By the way, among its rivals only M5 has an active differential.
| | |
| --- | --- |
| | The broad dynamic talents of XFR is rare in the automotive world... |
On the Road



The Jaguar motor does not impress initially. Although supercharger whine is largely absent, it lacks both volume and sound quality to match its rivals. However, this is also the only weakness of its powertrain. Despite of weighing some 1.9 ton, the XFR's gigantic low-end grunt overcomes its mass without the slightest hesitation. Its 0-60 mph claim of 4.7 seconds is proved to be conservative - Car and Driver took only 4.3 seconds to do the same benchmark. If our experience is anything to go by, European magazines should return around 4.5 seconds including initial tire slip. C&D also timed 9.6 seconds to reach 100 mph. These figures proved that the big cat is on a par with its German rivals, if not ultimately as quick as the more powerful Cadillac CTS-V.

However, what figures can't tell is how effortless such performance is attained. Press the throttle pedal at just over idle speed, a strong stream of torque is built up instantaneously as if it doesn't need any rev to realize. The new Jaguar motor suddenly makes our favourite AMG 6.2-liter V8 almost too faint, too rev-hungry, let alone BMW's V10. As a result, in the real world the Jaguar feels significantly faster than both rivals. Both in-gear acceleration and overtaking surge are superior. The smooth yet responsive ZF transmission works closely with the supercharged engine to guarantee overtaking at minimum fuss.

The chassis of XFR is equally impressive. At first, you may be surprised by the firmness in its ride compared with previous Jaguar R cars. But with the aid of electronic adaptive damping, the XFR is well damped and composed on undulation, far more supple than M5 and RS6. It is nonetheless a good companion for everyday driving as well as cross-country blast.

What really surprises is not its ride comfort or refinement, but its handling. For a starter, the XFR has the best steering in its class, being quick, precise and faithful. Then you will discover its chassis is very well balanced, tightly controlled and composed when attacking corners. Neutrality is its inherent merit, thanks to the endless grip at front wheels. But once you are prepared to have fun, switched off its DSC stability control and let its clever active differential to take control, you can have access to a heroic, progressive powerslide in M5 fashion - just easier to manage.

The broad dynamic talents of XFR is rare in the automotive world. Compare with it, BMW M5 looks slow yet uncompromising and difficult to live with. Audi RS6 seems dull to drive and seriously compromised in the way it rides and handles. Mercedes' AMG duo appears to have outdated chassis. Only Cadillac CTS-V stands a chance to match its dynamic ability, which awaits a comparison test. However, the Cadillac possesses neither the mechanical refinement nor the quality of Jaguar, which is understandable for its lower price point. In terms of E-segment luxury performance saloons, nothing comes close to XFR at the moment.
Verdict:





| | |
| --- | --- |
| Published on 29 Jun 2011 | All rights reserved. |
XF 2.2 diesel and 2011 facelift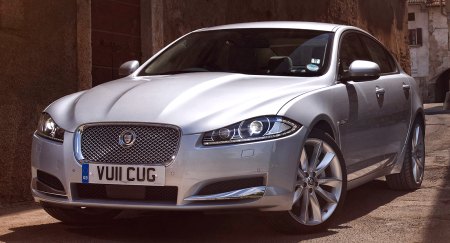 Motoring journalists love to drive the most powerful versons of cars, but the majority of buyers actually look for bread-and-butter models. This is especially true in the executive car segment where a lot of sales go to cost-conscious company cars. In Europe, the best selling BMW 5-series is not its traditional straight-six models but the entry-level diesel 520d. Similarly, Audi's best selling A6 is powered by 2.0TDI engine. If Jaguar XF wants to have a larger slice of the market, offering a four-cylinder diesel engine is a must.

So here comes the new XF 2.2D, the first four-cylinder XF. It is expected to take as much as 60 percent of all XF sales in Europe and 43 percent globally. Small engine, big ambition.

The 2179cc iron-block common-rail turbo diesel motor is not a stranger to us. In similar forms it has been serving Ford Mondeo, Peugeot 508, Citroen C5, Land Rover Freelander and Range Rover Evoque. Jaguar did not alter much its output, which peaks at 190 horses and 332 pound-foot, but it modified the engine to longitudinal mounting in order to fit the XF's rear-drive layout. This necessitates a new engine mount, oil pan and modified sound insulation. The engine produces some old-fashioned vibration at cold start, but once it gets into life the operation is pretty smooth and quiet, especially in cruising. The good amount of torque gives it satisfying overtaking power. 0-60 mph is done in a decent 8 seconds while top speed approaches 140 mph. The new ZF 8-speed automatic – replacing the outgoing 6-speed unit – adds to the fuss-free experience.


Facelifed XFR


However, compare to its German rivals, the Ford-PSA motor is a little less refined. No matter at the top end of its rev range or at each automatic restart during traffic jam, you will aware that you are being propelled by a four-cylinder diesel. The gap is probably not large enough to change your purchasing decision, but when you take into account its higher fuel consumption and CO2 emission – 149 g/km versus 129 g/km on both BMW 520d and Audi A6 2.0TDI, it won't be an easy decision to choose the Jaguar over its German rivals. At least, it takes more heart than head to do so.

Handling and ride is just the same as its siblings with larger motors. The XF 2.2D still excels in handling and steering. Its major setback is still a stiff suspension which translates to firm low-speed ride.

The 2.2 diesel motor is not the only news for 2011. The whole XF range has received a mild facelift to keep sales momentum as it is approaching mid age. Visual changes include slimmer headlamps (like XJ), a slightly enlarged grille, reshaped bonnet and new front intakes with chromed fins. They combine to make the XF slightly more elegant than before. XFR gets a similar restyle, as the red car above shows. Inside, the cabin gets more supportive seats, a more user-friendly new touch screen and higher quality rubberized switches.
Verdict:




| | |
| --- | --- |
| Published on 15 Aug 2013 | All rights reserved. |
XFR-S


This is not the usual Jaguar. It has some aggressive intakes, an eye-catching rear spoiler and is finished in Bugatti-blue paint work, i.e. features that would be familiar to the fans of fast FPV Falcons but totally irrelevant to traditional Jaguars. The XFR-S is not just a slightly more powerful derivative of XFR, but it is designed to appeal to hardcore drivers, even more so than its German rivals with M, RS or AMG badges. If we have to make comparison, only AMG's Black series is made with the same philosophy.

The 550 hp and 502 lbft version of the 5-liter supercharged V8 comes straight from the XKR-S that was introduced a couple of years ago. Being supercharged (by an Eaton TVS supercharger) instead of turbocharged, it is not as strong at the top end as AMG's twin-turbo 5.5-liter V8, of course, but it is still capable of propelling the near-2-ton Jaguar from rest to 60 mph in 4.4 seconds and hit the speed regulator at 186 mph with ease. The new ZF 8-speed transmission keeps the acceleration seamless, and is clever enough to hold gears in corners, so even though it can't quite match German rivals for speed, it still feels plenty explosive, and guarantees great fun to access its performance. The new exhaust system offers pops and crackles on overrun to delight your ears, but at more leisure pace it is just as quiet as the XFR. In other words, refinement or excitement is up to your choice.


The modification from XFR to XFR-S is quite extensive. Starting from the bodywork, the deeper front spoiler, vertical blades, side skirts, diffusers and rear spoiler reduces aerodynamic lift by 68 percent. The new design alloy wheels have wider rims to accommodate 10 mm wider front and rear Pirelli P-Zeros. The latter were specially developed to reduce deflection at higher cornering forces. The suspension setting is far more aggressive than XFR, with 30 percent stiffer springs and sportier adaptive damper setting at each of the driving mode. New front suspension knuckles increase camber and castor – the former enhances front-end grip and the latter improves steering feedback. A new rear subframe and stiffer bushings reduce slack and speed up chassis response. The active differential is recalibrated, as is the dynamic stability control. They allow more slip in Dynamic mode to delight keen drivers. Meanwhile, the XFR's hydraulic power steering gets reduced assistance by using F-type's valving. The only important hardware doesn't need upgrading are brakes, which continue to employ 380 mm front and 376 mm rear ventilated discs. Even so, extra cooling ducts should keep them from fading in extended abuse.

On the road, the extra power of XFR-S over the XFR is undetectable until you rev the V8 passes 3000 rpm. It gets more obvious approaching the top end, but even then it is not exactly a higher league. If you focus on engine performance, you might be a little disappointed. Jaguar claims it can do 0-100 mph under 9 seconds, which is about half a tick slower than BMW M5 and probably more than 1 full second behind the best of the class, i.e. Mercedes E63 AMG S 4matic and Audi RS6 Avant. The German cars also produces purer soundtracks as they are free of supercharger vane. No one can beat the German for engines.


However, if what you focus is pure driving fun coming from the chassis, the XFR-S is highly recommendable. In fact, it is easily more entertaining to drive than M5 and RS6. This fun begins with the hydraulic steering. It is noticeably heavier than traditional Jaguar's, but it is feelsome and very direct, more confidence inspiring than the slightly numb electrical helms of BMW and Audi. With the retuned suspension, new tires and electronics, the chassis feels sharper and more alert. It turns in more responsively. Its cornering limit is higher, of course, but you can feel the tail is also more interactive with throttle. Oversteer can be induced easily. The handling balance sits right on the knife edge. Yes, this is a 2-ton saloon with a sports car heart. It demands your skill and concentration to use its performance to the optimum. It is not the kind of computer-guided super saloons that rivaling manufacturers are making. Those cars can cover ground at enormous speed with monkeys on driver seats. Instead, the Jaguar is a true driver's car, a rare hardcore machine in this class. Although it doesn't ride as crashy as it sounds, it is not designed for ordinary drivers, who would be better catered by XFR. For this reason, Jaguar plans to build only a few hundred examples per year.

Ultimately, I would say E63 AMG S 4matic is a better car. Not only it is faster, but also with a better engine, more space and higher quality interior (the XF's is getting old). What the Jaguar can strike back soundly is only the styling, which is still the most beautiful E-segment car in my eyes. However, the fact that Jaguar builds such a hardcore machine is highly worth praising, because it breaks the class norm and arouses the evil in our hearts.

Verdict:













XF 2.7D



2007

Front-engined, RWD

Steel monocoque
Mainly steel
4961 / 1877 / 1460 mm
2909 mm
V6, 60-degree, diesel

2721 cc
DOHC 24 valves

VTG turbo

CDI
207 hp / 4000 rpm

321 lbft / 1900 rpm

6-speed automatic

F: double-wishbones
R: wishbone + upper link

-
235/55ZR17
1771 kg

143 mph (c)

7.7 (c) / 8.4*

23.4*

XF 3.0 V6



2007

Front-engined, RWD

Steel monocoque
Mainly steel
4961 / 1877 / 1460 mm
2909 mm
V6, 60-degree

2967 cc
DOHC 24 valves, DVVT

VIM

-
240 hp / 6800 rpm

216 lbft / 4100 rpm

6-speed automatic

F: double-wishbones
R: wishbone + upper link

-
235/55ZR17
1679 kg

148 mph (c)

7.9 (c)

-

XF 4.2 V8



2007

Front-engined, RWD

Steel monocoque
Mainly steel
4961 / 1877 / 1460 mm
2909 mm
V8, 90-degree

4196 cc
DOHC 32 valves, VVT

-

-
300 hp / 6000 rpm

303 lbft / 4100 rpm

6-speed automatic

F: double-wishbones
R: wishbone + upper link

Adaptive damping

245/45ZR18
1749 kg

155 mph (limited)

6.2 (c) / 6.2**

15.4**









Performance tested by: *Autocar, **C&D










XF SV8



2007

Front-engined, RWD

Steel monocoque
Mainly steel
4961 / 1877 / 1460 mm
2909 mm
V8, 90-degree

4196 cc
DOHC 32 valves, VVT

Supercharger

-
420 hp / 6250 rpm

413 lbft / 3500 rpm

6-speed automatic

F: double-wishbones
R: wishbone + upper link

Adaptive damping

F: 255/35ZR20
R: 285/30ZR20

1842 kg

155 mph (limited)

5.0* / 4.9** / 5.0***

11.4* / 11.6** / 11.7***


XF 3.0D S



2009

Front-engined, RWD

Steel monocoque
Mainly steel
4961 / 1877 / 1460 mm
2909 mm
V6, 60-degree, diesel

2993 cc
DOHC 24 valves

Sequential VTG twin-turbo

CDI
275 hp / 4000 rpm

442 lbft / 2000 rpm

6-speed auto (8A from 2012)

F: double-wishbones
R: wishbone + upper link

-
245/45ZR18


1820 kg

155 mph (limited)

5.9 (c)

-

XF 5.0 V8



2009

Front-engined, RWD

Steel monocoque
Mainly steel
4961 / 1877 / 1460 mm
2909 mm
V8, 90-degree

5000 cc
DOHC 32 valves, DVVT, VVL

VIM

DI
385 hp / 6500 rpm

390 lbft / 3500 rpm

6-speed auto (8A from 2012)
F: double-wishbones
R: wishbone + upper link

Adaptive damping

245/40ZR19


1780 kg

155 mph (limited)

5.5 (c) / 5.1***

12.0***









Performance tested by: *R&T, **MT, ***C&D









XFR



2009

Front-engined, RWD

Steel monocoque
Mainly steel
4961 / 1877 / 1433 mm
2909 mm
V8, 90-degree

5000 cc
DOHC 32 valves, DVVT

Supercharger

DI
510 hp / 6500 rpm

461 lbft / 2500-5500 rpm

6-speed auto (8A from 2012)

F: double-wishbones
R: wishbone + upper link

Adaptive damping

F: 255/35ZR20
R: 285/30ZR20

1891 kg

155 mph (limited)

4.7 (c) / 4.7* / 4.4** / 4.3*** /
4.8****

10.2* / 9.8** / 9.6*** / 10.2****

XF 2.2D



2011

Front-engined, RWD

Steel monocoque
Mainly steel
4961 / 1877 / 1460 mm
2909 mm
Inline-4, diesel

2179 cc
DOHC 16 valves

VTG turbo

CDI
190 hp (200 hp from 2012)

332 lbft

8-speed automatic

F: double-wishbones
R: wishbone + upper link

-
245/45ZR18


1745 kg

140 mph (c)

8.0 (c) / 7.6*


22.9*

XF 3.0 V6 SC (AWD)



2012

Front-engined, RWD (AWD)

Steel monocoque
Mainly steel
4961 / 1877 / 1460 mm
2909 mm
V6, 60-degree

2995 cc
DOHC 24 valves, DVVT

Supercharger

DI
340 hp

332 lbft

8-speed automatic

F: double-wishbones
R: wishbone + upper link

Adaptive damping
245/45ZR18


1770 kg (1805 kg)

155 mph (limited)

5.7 (c)
(AWD: 5.3**)

(AWD: 13.2**)










Performance tested by: *Autocar, **C&D, ***R&T, **** Evo










XFR-S



2013

Front-engined, RWD

Steel monocoque
Mainly steel
4961 / 1877 / 1433 mm
2909 mm
V8, 90-degree

5000 cc
DOHC 32 valves, DVVT

Supercharger

DI
550 hp / 6500 rpm

502 lbft / 2500-5500 rpm

6-speed automatic

F: double-wishbones
R: wishbone + upper link

Adaptive damping

F: 265/35ZR20
R: 295/30ZR20

1987 kg

186 mph (limited)

4.4 (c) / 3.9* / 3.7** / 4.2***

9.1* / 8.8** / 9.3***










Performance tested by: *C&D, **R&T, ***Sport Auto









Copyright© 1997-2013 by Mark Wan @ AutoZine