| | |
| --- | --- |
| Published on 17 Jan 2005 | All rights reserved. |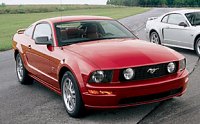 Mustang has been around us for 40 years. Most people still remember its golden days from the mid-60s to the late 70s, but since 1979 it has never received any major revision. Unbelievably, Ford let its Fox platform soldiered on for 25 years, let it became tired and outdated, only relied on low low price to get sales. More unbelievably, although it was always rated by AutoZine as the poorest car in its segment, the Mustang still caught 140,000 buyers in 2003. It still has a lot of loyal fans.

Thanks God, in 2004 Ford finally gave Mustang what it deserved - a new generation. The new Mustang has its styling going back to its glorious days, resembling the finest Mustang design in the 60s and 70s. But it is also interpreted in a modern way, not just a retro car. Most people seems happy with its styling.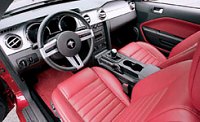 The new Mustang has grown a lot in all dimensions. It is 20mm wider, 60mm taller and 120mm longer overall, while the wheelbase is stretched by a massive 150mm to improve cabin space. Inside, there is plenty of room for front passengers. The rear also gets more, much-needed legroom, although headroom is still tight for 6-footers. Like the exterior, the cabin is decorated like a classic of the 60s, especially with the optional chrome bezel covering the dashboard. The visual effect is undoubtedly delicious, but a closer look will immediately find the plastics are actually nasty and cheap, while build quality is as low as its price suggests.

What is the price then? in the United States, the new Mustang is sold for an amazing US$20,000 for the V6 model and US$25,000 for V8 model. In terms of performance per dollar, nothing can beat it.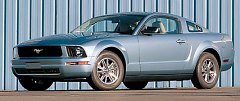 The new Mustang is built on an all-new platform - some said it is based on the DEW98 platform of Lincoln LS / Ford Thunderbird / Jaguar S-Type, but in fact they have little in common, probably only the MacPherson struts front suspension and the 5-speed automatic gearbox are shared. The DEW98 platform is too sophisticated and expensive for the use in Mustang. As Ford wants to continue selling it as the cheapest performance car on the market, any advanced technologies are ruled out, even including independent rear suspensions. This means it continues to ride on a solid live axle rear suspension, a thing disappeared in European and Japanese production cars for at least 20 years!

Of course, this live axle is a new design instead of carry over from the outgoing car. It incorporates 3 links and a Panhard rod for better control, but you can forget what the press release said, as it would have led you believe live axles were the best suspensions in the world. The point is, using the non-independent suspension saves US$300 production cost on each Mustang, which is crucial to its keen pricing and profitability. In the down side, as every automotive text book tells, live axle suspensions have higher unsprung weight thus can never achieve the same ride quality as a properly tuned independent suspension. Moreover, as both wheels are solidly attached together, its handling is easier to be upset by bumps.

Apart from rear suspensions, the new chassis has nothing outdated. It is 31% stronger in torsion, taking the absolute value to a world-class 20,300 Nm/degree. That's not far behind Lamborghini Gallardo's 23,000 Nm/degree. The stronger bodyshell relieves the burden on the suspension setting, improves both handling and ride. On the other hand, the new Stang has modernized its old-fashion proportion, pushing the front axle forward and pushing the left and right wheels closer to the body boundary. The former improves front-to-rear weight distribution to 54:46, the latter increases tracks by 61mm (while body width increased by only 20mm). These modifications help improving its handling balance.

The Mustang is a straightforward machine, powered by a torquey engine and drive the rear wheels via a 5-speed manual or 5-speed automatic gearbox. There is no trickery suspensions, while electronic aids are limited to the basic ABS and TC.



As before, the Mustang is offered with a V6 and a V8, the former especially attracts a lot of female buyers. The 4.0-litre V6 is naturally the budget choice. It is a simple sohc and 2 valves per cylinder design, lifting straight from Ford's trucks. It develops 210 horsepower and a useful 240 lbft of torque. Compare with the outgoing 3.8-litre push-rod V6, it is not only more punchy but also noticeably smoother and quieter.

The outgoing Mustang GT was powered by a 260-horsepower, 4.6-litre V8 with sohc and 2 valves per cylinder. The new V8 is still a member of this Modular V8 family, but it is nearly another story. Firstly, its block and pistons are converted to aluminum alloy to save 34 valuable kilograms from the front axle. Secondly, the sohc cylinder heads now drive 3 valves per cylinder for faster breathing. In addition, it is equipped with VCT variable cam timing, enabling the engine to run at higher compression ratio without resorting to higher Octane fuel. The V8 produces 300 horsepower (40hp up from the outgoing V8) and 320 lbft of torque.

So how does it perform on the road?

Subjectively, at the bottom end the V8 does not feel as torquey as traditional Detroit V8s, needing more rev to get into sweet zone. This is just because it lacks cubic inches compare with other American V8s. However, once it is on rev, it has enough power to propel the Mustang GT from zero to 60mph in 5.3 seconds. Then the ton is arrived at 13.5 seconds. This put it at the same pace of Pontiac GTO (the rebadged Holden Monaro) and ahead of all other rivals. Remember, the Mustang undercuts the GTO in price by some margin.


Surprisingly, the live axle suspensions is more refined than expected. Just like GM already proved in its push-rod V8s, modern engineering can sometimes improve old technologies to the extent that you couldn't believe. On really broken surfaces, the Mustang's non-independent rear suspension does show its age, where it cannot filter the shock as well as modern multi-link or double-wishbones suspensions. However, on better road you will be hard to tell what kind of suspensions it uses. The ride is firm and controlled, decent for a performance car.

At the limit, where the old car would get nervous, the new Mustang keeps its rear wheels firmly planted on the road, thanks to the Panhard rod and the rock-solid chassis. In this way, it corners with great confidence. This is also helped by the high level of grip and stability it displays.

The new Stang is an inherent understeerer. It has sufficient power and chassis adjustability to play throttle oversteer, but this doesn't mean it can match the agility of Nissan 350Z. In most aspects, the Fairlady beats the Mustang convincingly. The only area Mustang scores higher is styling (which is rather subjective) and straight-line performance.

To launch the Mustang at the lowest price, Ford sacrificed not only IRS but also cabin quality (and durability, I suspect) and most important, vision. The New Mustang might be all-new, but it brings no new idea. Has it move forward? I don't think so. It is a very conservative car, just try to repeat what it predecessors did in the past 40 years.

* VCT (Variable Cam Timing): You might wonder how Ford can use VCT in a single-cam cylinder head. Ford calls it "dual-equal" variable cam timing, implying the phase shift angle of intake cam mirrors to the exhaust cam. For example, if the intake cam shift forward by 25 degrees, the exhaust timing is delayed by 25 degrees. This is of course not an optimized design in engineering point of view, but it does add little cost compare with engines with twin-cam and individual VCT actuator for each camshaft.
Verdict:


| | |
| --- | --- |
| Published on 17 Jan 2005 | All rights reserved. |
Mustang - the first pony car

In the 60's, Ford's top executive Lee Iacocca created a new kind of cars called "Pony cars" by launching the first generation Ford Mustang. The idea was to make a cheap sports coupe by using mass-production V8s and other shared components. Besides, a long lists of options including engines, equipments and decorations were available so that the customers could tailor-make their cars according to their taste.

Mustang became a huge success, not only earned Iacocca a CEO position in Chrysler, but also made itself the first and only sports car exceeding 1 million units production. Meanwhile, General Motor responded with Pontiac Firebird and Chevrolet Camaro, which rivalled with Mustang for 3 decades.
| | |
| --- | --- |
| Published on 17 Jun 2006 | All rights reserved. |
Mustang Shelby GT500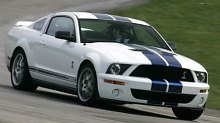 Fast Mustangs have never been our cup of tea. To appreciate them, we need to recalibrate our taste, forgetting all the indicators we used to assess cars, namely, technology, refinement and handling. We have to put 100% weighting on power and performance, and remind you, the latter had better to be expressed in the form of quarter-mile time. Hot rod / muscle car / pony car lovers never listen to other people. They have their own way to evaluate a car good or bad. Sadly, Mustang GT500 was designed to please these people.

The car takes its name from the 1967 Mustang Shelby GT500, a car modified by Carroll Shelby using a 355hp 7.0-litre (428cid) V8. The new version also borrows Carroll Shelby's name for marketing purpose, but it was developed entirely by the now defunct SVT (Special Vehicle Team) of Ford under the chief engineer of Mustang, Hau Tai-Tang. After all, the 83-year-old legendary tuner no longer involves car development.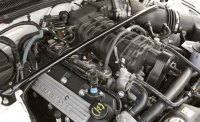 Hau Tai-Tang's approach has been controversial. Last time he bet on solid live axle suspensions for the new Mustang, and now from sales figures we all know he has won. This time he put his money on a truck engine. Well, some said the 5.4-litre DOHC 32-valve supercharged V8 was derived from the one serving Ford GT supercar. However, we should note that it has replaced the GT's aluminum block and dry sump with a cast-iron block and wet sump like Ford's heavy duty truck engines. It saves money, but adds dozens of kilogram to the nose of the car and raise the center of gravity a lot. The taller engine needs a power dome on the bonnet to house.

Another change is the supercharger. Hau found the GT's Lysholm (screw-type) supercharger too expensive, thus replaced it with a Root-type supercharger. The cheaper supercharger produces both more and less – more unpleasant supercharger whine, and less boost pressure, dropping from 13.5 psi to 9.0 psi. As a result, the engine produces 500 horsepower and 480 lbft of torque, down from the GT's 550hp and 500lbft.


Nevertheless, no one expect a Mustang to boost Five Hundred Horsepower (just like no one expected Ford Five Hundred so underpowered, by the way). It is hard to believe the Mustang can be more powerful than Ferrari F40, the world's fastest car 15 years ago. Moreover, at US$42,000, the GT500 must be the world's cheapest 500-horsepower car. For the same money, you cannot even buy a base Corvette !

Naturally, the supercharged V8 feels immensely torquey right from bottom end, but it doesn't feel as powerful as its horsepower figure suggested. Blame must go to the 1778 kg kerb weight. That cast-iron block, supercharger kits, gearbox and bigger brakes put nearly 200 more kilograms to the car compare with the 4.6-litre Mustang GT. Road test result by Car & Driver confirmed this: it took 4.5 seconds to do 0-60mph, over 10 seconds to 100mph. Plus, top speed is regulated at 155 mph to avoid embarrassed by the 0.38 drag coefficient. The GT500 breaks no speed record. If there is any, it must be "the world's slowest 500-horsepower performance car".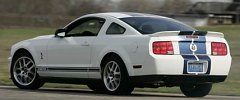 Admittedly, such performance level is still outstanding for the price. Moreover, it delivers such performance more easily than any previous fast Mustangs, thanks to the adoption of electronic launch and traction control. Plus, the clutch is smooth and progressive, a vast improvement from the old SVT Cobra. Unfortunately, the heavy duty Tremec 6-speed gearbox is far from slick.

Chassis modifications include stronger springs and thicker anti-roll bars, wider tires, new alloy wheels (though remains 18-inch) and Brembo front brakes with 4-pot calipers and 355mm ventilated discs. On the downside, the heavyweight engine and transmission worsens front-rear balance from 54:46 to 57:43, while the solid live axle rear suspension of the regular Mustang is retained (note: the previous SVT Cobra employed independent suspensions).

On the road, the GT500 never handles like a 500-horsepower performance car should. You can feel its high center of gravity as well as the weight at the nose. Hit the brake pedal and the nose dive. This explain why no other performance cars opt for iron-block engines and wet sump lubrication. The only area you feel it goes like a 500hp performance car is the way it rides – very hard, or even harsh on rough surfaces.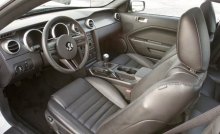 The setting of the chassis bias towards mild understeer, which is understandable considering how much torque transfer to the rear tires. On glass smooth race tracks, you can throttle steer it from understeer to oversteer. The smooth and honest steering encourages you to play it. However, on normal roads the scene is vastly different. Bumps and road irregularities can easily upset the ancient solid axle rear suspension. Hit a bump mid-corner will cause the rear end jump and side way, blame to that horrible unsprung weight. Even on motorway, you need constant steering correction to keep it running straight.

Hau Tai-Ting tried very hard to bring super performance into his affordable Mustang. But frankly speaking, the current Mustang is not the right car for so much power. It needs a more sophisticated suspension and engine, but then the car won't be cheap enough to justify its cheap packaging. There is no magic in the performance car field.
Verdict:


| | |
| --- | --- |
| Published on 9 May 2008 | All rights reserved. |
Shelby GT500KR

Pricier than BMW M3, Nissan GT-R and Corvette Z06, is it too expensive for a pony car ?
40 years ago Ford built a limited edition Mustang called GT500KR, where KR stands for "King of the Road". It was the most powerful and fearsome Mustang ever made. 40 years later, Ford wants to repeat history by introducing a car with the same name. The new GT500KR is derived from the production GT500, but it is a limited edition - only 1700 or so units will be built in a 2 year production run. Each car is priced at US$80,000, in contrast to the GT500's US$45,000. This make it pricier than BMW M3, Nissan GT-R, Chevrolet Corvette Z06 and nearly matches Dodge Viper ! Isn't it too expensive for a pony car ?

To answer this question, let us go through the list of modifications it got. First of all, the 5.4-liter supercharged V8 got revised programming, a cooler intake system and freer exhaust to deliberate another 40 horsepower. That means a total of 540 hp. Maximum torque also increases by 30 pound-feet to 510 lb-ft. The 6-speed manual transmission remains intact, but it gets a shorter-throw shifter to make it feel less industrial. In addition to a shorter final drive ratio (3.73 instead of 3.31:1), the car is more responsive in acceleration. 0-60 mph is reduced by 0.2 seconds to 4.3 seconds. 0-100 mph should be under 10 seconds for the first time. Nevertheless, GT500KR is still significantly slower than Viper and Corvette Z06, both could go from 0-60 in less than 4 seconds and 0-100 in around 8 seconds. Despite of a powerful engine, the Mustang has some 1770 kilograms to haul.

This car is anything but King of the Road
The regular GT500 was notorious for poor handling. GT500KR tries to regain some respect by adopting a stiffer suspension tuning, lower ride height (by 20mm up front and 15mm at the back), a carbon-fiber bonnet (which saves 7kg from the front axle) and stickier Goodyear Eagle F1 tires. Aerodynamics are also improved by new air splitters (also made of carbon-fiber) and diffusers, although no one would assume it match the standard of European cars. Compare with GT500, the KR is better balanced and more tied down to the road. Its handling characteristic is more predictable. Its chassis appears to be less overwhelmed by the tremendous torque. That said, you won't forget the weight at its nose and its unsophisticated suspension. After all, the Mustang is not a dedicated sports car, therefore it is hopeless to follow a GT-R, M3, Z06 or Viper in twisties.

Coming back to our question: is GT500KR overpriced ? Yes, seriously. Worse still, losing battles in both straight line and corners to its cheaper rivals, this car is anything but King of the Road.
Verdict:


| | |
| --- | --- |
| Published on 21 Dec 2008 | All rights reserved. |
Mustang facelift CY2009

Refreshed American icon tries to fend off new competition...
The 2009 (2010 model year) Mustang facelift is business as usual. Its appearance has been refreshed a little bit - curvier body panels, more rounded front and rear design, more pronounced bonnet, new head and tail lights etc. Aerodynamics of the V8 GT is claimed to return 7 percent lower drag and 23 percent lower front end lift, but you get no absolute figures because they are still too poor to reveal. More noticeable change is the larger 18-inch wheels wearing lower profile Pirelli.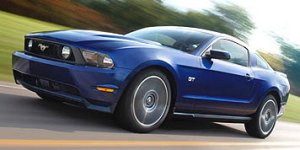 Inside, the nasty hard plastic dashboard has been replaced with a new design made of soft thermoplastic. Higher quality metallic trim raises the game. Fit and finish are also slightly better than before, so there are less creaks and rattles on the road. It has a higher quality feel than Dodge Challenger. Just don't compare with the imports.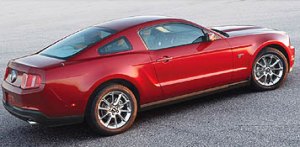 The base 4.0-liter V6 is untouched in this facelift. The 4.6-liter SOHC V8 gets a cold air intake under the bonnet - a trick carried over from Mustang Bullit - so that it produces 15 more horsepower and 5 lb-ft more torque than the past. Taking into account the slightly increased kerb weight, the new Mustang GT should be marginally quicker, if not as quick as Nissan 370Z and Chevrolet Camaro V8.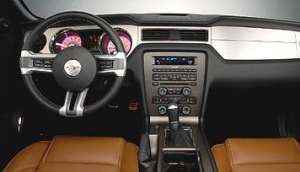 The chassis is basically unchanged. Suspensions get 17 percent stiffer springs at the rear and recalibrated shock absorbers. Road testers found its roll resistance and ride quality are both improved from the old car, but the outdated live axle rear suspension still ruins its handling once hitting a bump mid-corner. Steering feel remains poor and braking remains below class standard.

This mean the facelift cannot stop its sales decline. With the much better 370Z, Camaro and Hyundai Genesis Coupe to choose from, who still need the outdated Mustang ?
Verdict:


| | |
| --- | --- |
| Published on 23 May 2009 | All rights reserved. |
Mustang GT500 (CY2009)


Had the buyers of yesterday's GT500KR known that their "King of the Road" would become today's production GT500, would they have spent US$80,000 for the so-called "limited edition" ? Now, for less than US$50,000, you can get a GT500 that is essentially the same car as KR. This not only include the 540-horsepower version of supercharged V8 but also the suspension modifications that made KR more tie down to the road. Owners of KR must be regret that they did not listen to our advice last year.

Ford likes to describe GT500 as the most powerful and the fastest car you can have under US$50,000. Straight line acceleration proves that it can get from rest to 60 mph in 4.3 seconds, and then hit the ton in merely 10 seconds, virtually identical to the previous KR. Nevertheless, a similarly fast BMW M3 or Mercedes C63 AMG costs only US$8,000 more, while a slightly slower Chevrolet Camaro SS asks for US$15,000 less. From this view, the super Mustang seems overpriced.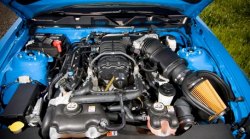 Like KR, the car gets the same suspension treatment such as stiffer springs and dampers, increased negative camber and lower ride height. The Goodyear Eagle F1 tires might not be as sticky, but still more grippy than the old GT500's. Some money is saved by using aluminum instead of carbon-fiber bonnet. That might deteriorate balance, but using a wet-sump iron-block V8 proves that Ford doesn't care about balance anyway.

On the road, the new GT500 handles far more tidy than the old car, just like the KR. Grip, body control, steering feel and precision are all improved to the extent that you no longer feel its power overwhelms chassis. The only problem remains is the live axle suspension, which still prevents the car from matching a modern coupe when the road gets difficult.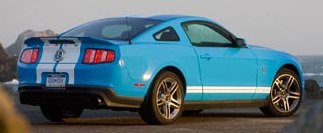 Unsurprisingly, the new GT500 is easier to live with than the King of the Road. Its ride is a little calmer. Its twin-plate clutch greatly reduces pedal effort. Its lower final drive ratio (3.55 vs 3.73) and taller 5th and 6th gear boost highway refinement as well as 2 mpg. The new tires also generate less NVH in rolling. The facelifted front end cuts aerodynamic lift and improves high-speed stability. Patriots can go on to praise its higher quality new cabin, refresh styling... but the bottom line is, we should have expected all these refinement and handling for a car costing $25,000, let alone $50,000. The days for pony cars are numbered.
Verdict:


| | |
| --- | --- |
| Published on 14 Apr 2010 | All rights reserved. |
Mustang update (CY2010)

Olddie Mustang finally gets modern engines
Last year, sales of Ford Mustang crashed to a historic low of 67,000 units, i.e. half the number it sold a year ago. The main cause was economy depression, of course, but the strong challenge from Chevrolet Camaro also had some contribution. Although the Stang eventually edged out the Chevy by a slim margin of 5,000 units, and therefore retained its uninterrupted run as America's best selling pony car, this year the trend could be reversed. Fortunately, Ford has given the car a boost just in time. For 2010 (or MY2011), Mustang gets an engine overhaul - both the outdated 4.0-liter V6 and 4.6-liter V8 have been replaced with much more modern units.

We start with the new V6. Displacing 3.7 liters, the new engine is a tuned version of the one serving Ford Edge and Lincoln MKS. This is an all-alloy Duratec V6 with DOHC 24 valves and twin-continuous variable valve timing. It's a day and night difference from the outgoing SOHC 2-valve-per-cylinder engine (whose history could be traced back to 1960s). Its output is very impressive at 305 horsepower @ 6500 rpm and 280 lb-ft of torque @ 4250 rpm. It can propel the car from rest to 60 mph in the mid-5-seconds range (though some American magazines always manage to record better figures). Fuel economy is also improved to the top of the class.

The V6 (as well as the V8) mates with new manual and automatic transmissions, both get an extra cog to a total of 6. Gearshift of the Getrag manual box is shorter and smoother than the previous one, though it still takes a heavy hand to operate.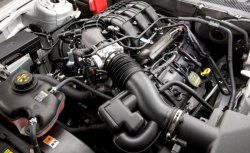 3.7 V6 is high-tech and 305hp strong, though no match with V8...
The rest of the car has received minor revisions here and there. The exterior styling has touched a little, but I suppose few people could spot the difference. Thanks to a smoother underbody and revised air dam, aerodynamic drag is lowered by 4 percent. The chassis gets extra bracings to increase torsional rigidity by 15 percent. This also allows a 4-percent stiffer suspension setup. Springs, dampers, anti-roll bars, bushings and mounting points have all been altered. The suspension basic is still that MacPherson struts up front and rigid live axle at the rear. However, through continuous improvement over the years, it is now good enough to match Camaro in handling, at least on smooth surfaces. On really rough roads, of course, the rigid rear axle may still be upset by mid corner bumps. But frankly speaking, it is much calmer than the original car launched in 2005, and most American pony car buyers will find that tolerable. Coupling to the fact that Mustang is a smaller and lighter package than Camaro (and even more so than Dodge Challenger), it is actually the easiest to handle.

The new steering is a small surprise. Ford has replaced the old hydraulic steering with a pure electrical assisted rack in the attempt to save money and fuel. Normally, this could accompany with degrade in steering feel and consistency. No, the new steering is actually better than the old one. It offers good communication, precision and linearity. Different versions of Mustang - V6 or V8, coupe or convertible, sport package or not - get different calibration of steering. The V6's is a little light but the V8's is spot-on.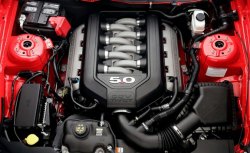 If you can afford, 5.0 GT is always the recommended choice.
The problem is, the V6 does not feel especially powerful on the road. Despite of its 300hp-plus output and sporty exhaust note, its maximum torque is so-so, and does not arrive until 4250 rpm. Below 3000 rpm, it feels as ordinary as a family car engine. This mean, if you can afford, the 5.0 GT is always the recommended choice. Its 4951cc V8, also comes with all-alloy construction, DOHC 4 valves each cylinder and twin-continuous VVT, feels as powerful as its output figures suggested - 412 hp @ 6500 rpm and 390 lb-ft @ 4250 rpm. That is a full 100 horsepower more than the outgoing V8 ! You can expect 4.5 seconds to go from zero to sixty and 11 seconds to the ton. In other words, it is just marginally slower than the supercharged GT500, making the latter superfluous. Furthermore, the new V8 is just as smooth and free-revving as any European V8s, which is not something you can said to any previous Ford V8s, let alone the ancient pushrod V8s of GM and Chrysler.

Compare with the V6, the V8 Mustang feels a little bit heavier at the nose, but with its sportier tires, suspensions and brakes, its cornering prowess is stronger. Compare with the supercharged and iron-block GT500, unsurprisingly, it balances better and steers with extra enthusiasm.

I still think Nissan 370Z a better performance car. However, if you decide to buy a Mustang GT, I guess for the first time ever I would not laugh at you. Looking around, there is no other performance cars that offer comparable performance and four seats at the region of US$30,000. While its handling and refinement are not yet perfect, they are no longer poor to the extent of changing your purchasing decision. The Stang has finally evolved into a world class vehicle.
Verdict:



(V6) /




(V8 GT)
| | |
| --- | --- |
| Published on 29 May 2010 | All rights reserved. |
Mustang GT500 (CY2010)

Few cars get update as frequently as Ford Mustang. When Detroit experiences its worst crisis ever and has most product plans scrapped or delayed, it is Mustang that keeps American cars alive in motor shows and on magazine covers. In the last couple of years, Mustang made headline with its special edition GT500KR, late-2008 facelift and upgraded GT500. Earlier this year, we saw the vastly modernized V6 and V8 GT models. Now the range-topping GT500 is updated again.

You know GT500, or just any traditional American muscle cars, has never been my cup of tea. It puts an oversized V8 over the front axle of an unsophisticated chassis, ruining balance in pursuit of rubber-burning acceleration. It's a kind of malady. When the naturally aspirated Mustang GT is upgraded to 5-liter, 32 valves and 412 horsepower, I think it is time for the GT500 to retire. Somehow, the Shelby-badged machine has plenty of followers. Ford would not let it die as long as it continues making profit.


The new GT500 still fails to impress me, but at least it is migrating towards the right direction. It no longer pursues more firepower – max output only inches up by 10hp to 550hp, while max torque is unchanged at 510 lb-ft. Instead, the reengineering focuses on better chassis balance. Gone is the old cast iron engine block, replaced by an aluminum equivalent. It also forgoes conventional cast-iron cylinder liners for a thin coating made by plasma transferred wire arc, a technology similar to the TWAS used in AMG's 6.3 V8. Needless to say, this cuts weight as well as friction. Overall, the supercharged V8 is 46 kg lighter than before, reducing the front axle load from 57.4 percent of the whole car's weight to a more manageable 55.7 percent. The result is less understeer.


Another change to the engine is a 40 percent higher capacity intercooler, which reduces power decay during extended use.

Apart from engine, the new car saves weight by switching to electric power steering (like the rest of the Mustang range) and adopting lighter forged alloy wheels. Overall, the whole car undercuts its predecessor by 54 kg.

Hardcore drivers may opt for the SVT performance pack, which brings stickier Goodyear asymmetric tires, larger wheels, lower ride height, stiffer springs and shorter final drive. Mind you, it makes the ride really harsh.

The new GT500 is undeniably better to drive. Its chassis feels better balanced. It offers more grip and it turns into corner more crisply. Its tail is less easy to unsettle. When it does that, it slides more progressively. In other words, it gives you more confidence. However, it is still hard to see it as a cut-price M3. Apart from the cheap look and sub-standard build quality, the Mustang still has plenty of flaws. Its gearshift is notchy. Its steering is too slow, too light and still not feelsome enough. The lack of reach adjustment on the steering wheel is another unforgivable sin. Of course, it still cannot match the BMW for ride and handling. Moreover, the price gap between the two is slimmer than ever. If you insist to have an American muscle car, the 412hp GT will be more sensible. That car offers the same American style and much of the performance of GT500 at 20,000 bucks less. It replaces GT500 at the top of our performance bargain list.
Verdict:



| | |
| --- | --- |
| Published on 28 Feb 2011 | All rights reserved. |
Mustang Boss 302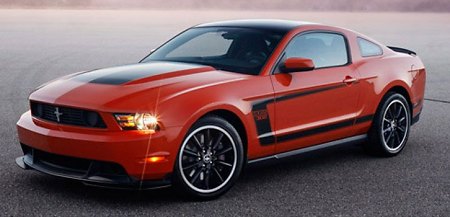 40 years ago Ford produced Boss 302 Mustang to compete in Trans Am. Now the name is resurrected with a similar, track-oriented car. The new Boss 302 is derived from the Mustang 5.0 GT, so its engine displacement stays true to the name (302 cubic inches or 4.95 liters). Among the cosmetic mods, the most obvious is the black power bulge on the bonnet and the aggressive front splitter, which helps lowering drag and upping downforce. The black alloy wheels, side graphics, exhaust pipes and interior decoration are also different. Recaro bucket seats are must-have options.

The 32-valve DVVT V8 has received quite extensive modifications. Breathing is enhanced by high-flow intake manifolds, new cylinder heads with CNC-machined ports, faster cams and revised ECU. Main bearings and oil pan have also been upgraded to take on the higher stress. As a result, its output is lifted by 32 hp to 444 hp, and it is released at an incredible 7500 rpm. Have we ever heard an American V8 so high-revving ?

The exhaust system is also different. While the standard car gets twin-exhaust pipes, Boss 302 added two more underbody exhaust outlets located just ahead of the rear wheels. Actually very little exhaust gas goes through them, but they do enhance the exhaust note a lot.

The 6-speed manual gearbox is basically unchanged except with a shorter throw shifter. The limited-slip differential is upgraded with carbon-fiber plates. Higher 3.73 final drive ratio is made standard to improve acceleration. Predictably, the suspensions have been beefed up with stiffer springs, bushings and rear anti-roll bars. Ride height has been lowered by 11mm up front and 1mm at the back. Racing-style dampers are adjustable to 5 levels of stiffness. They are not modern electronic adaptive dampers, so you will need to use a screwdriver to make the adjustment at each suspension top mount. Once set, you cannot make changes on board. Other chassis modifications include a 3-mode electric power steering (Comfort, Sport and Race), Pirelli P-Zero tires, upgraded brake pads and upgraded traction control and stability control. The latter two offer full OFF mode.



All these mods make the Boss 302 far more capable on track. The chassis feels much more agile than the standard GT. The sense of nose-heaviness has disappeared, replaced with good balance and minimal understeer. The front end grips harder and the tail is more resistant to oversteer in corner exit. In short, its handling is completely transformed. Our only disappointment is braking, which could fade after a few hot laps.

On the streets, however, you are unlikely to encounter the brake issues. Ride quality is also easily livable if you set its dampers to the softest setting. Nevertheless, mid-corner bumps can still upset its live-axle suspension, so the Boss 302 will never be King of B-roads.

The new V8 might have sacrificed 10 pound-foot, but it never feels short of torque. On the contrary, the Boss 302 feels significantly stronger than the standard GT. This comes from not only the shorter gearing but also the engine's new-found throttle response and enthusiasm for rev. It feels much more like a Maserati V8, although its melodious exhaust note is completely different.

Unquestionably, Boss 302 is the best Mustang yet. It answered our criticisms on traditional American muscle cars with European-style engine and handling. Yes, you may still dislike its crude styling, cheap interior and outdated suspension. See that in a positive way, the Mustang won't be a Mustang without those flaws. They are part of its unique character. We would rather let them live on and continue to make the Mustang different.
Verdict:




| | |
| --- | --- |
| Published on 10 Jun 2012 | All rights reserved. |
Mustang GT500 (CY2012)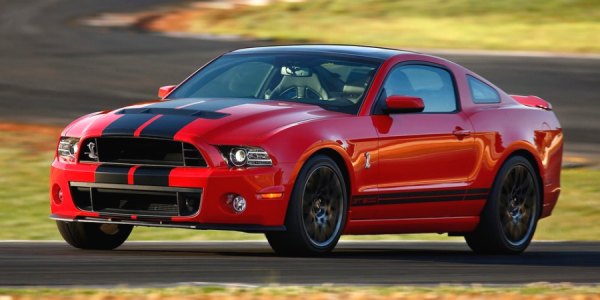 Owing to its stone-age look and live-axle suspension, Ford Mustang is never something you would expect to challenge 200 mph. So the newly updated Shelby GT500 must be one of the biggest surprises in the automotive world this year. This car has recorded 202 mph in Italy's Nardo high-speed track, putting it just behind Chevrolet Corvette ZR1 (205 mph) in the current rank of American performance cars. Most important, it ruins the celebration party of Camaro ZL1 (180 mph with manual or 184 mph with auto) and regains the title of America's fastest pony car. The winning margin is so big that its arch-rival is unlikely to strike back any time soon. SVT must be proud of its own work.

Despite of revised front splitter, the super Mustang is not especially slippery, so its extra performance is mostly down to a super-powerful engine. If you think the outgoing 5.4-liter supercharged V8 with 550 hp and 510 lbft is already very powerful, you had better to recalibrate your brain. The new GT500 lifts the bar to an astonishing 662 hp and 631 lbft. How come it does that? First of all, the all-aluminum V8 with plasma-transferred wire-arc cylinder coating is bored out to 5812 cc. The old Eaton supercharger is replaced with a 4-lobe TVS 2300 supercharger, i.e. the same one powering Corvette ZR1. Its higher flow allows the maximum boost pressure to be increased from 0.6 to 1.0 bar. Other enhancements include larger intercoolers, a higher compression ratio (up from 8.4 to 9.0:1), faster cams and beefed up fuel, cooling and lubrication system.

Predictably, the drivetrain is strengthened to take on the extra torque. These include a larger-diameter clutch, a reinforced version of Tremec 6-speed manual and a carbon-fiber drive shaft. The Brembo brakes are larger front and rear. Launch control has been added from Boss 302. Opt for Performance package, you will get a Torsen LSD and Bilstein adaptive dampers. The latter offers 2 levels of hardness for the driver to select from the cockpit. Normal mode is destined to roads, whereas Sport mode is better reserved to tracks.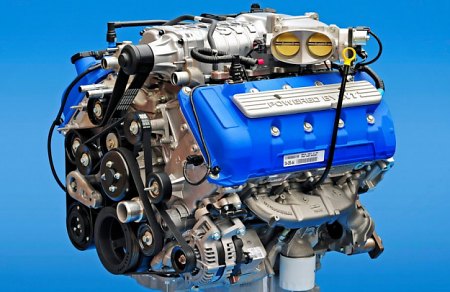 With so much power, the new car not only shines in top speed but also acceleration. 0-60 mph is accomplished in only 3.7 seconds – some even managed 3.5 seconds – thanks in part to the launch control and a 1st gear that is geared to reach 62 mph. The ton is reached in an equally jaw-dropping 8 seconds. Judging from these figures, it is right in the league of supercars!

Nevertheless, in the real world the GT500 does not feel as quick. Its power delivery feels long-legged like a luxury GT instead of a dragstrip hero. This is because of inadequate gearing. In order to reduce fuel consumption and avoid gas guzzler tax, the SVT team installed a tall, 3.31:1 final drive ratio instead of the previous 3.73:1. This leads to lower engine rev at any given gears thus tame the sensation of power a little. Moreover, the car uses only 5 gears across a speed range of 200 mph (note: the 6th is an overdrive to register good EPA figures), so the gears are widely spaced and partially offsets the effect of increased power.

The chassis feels noticeably improved over the old GT500. The adjustable dampers allow a more forgiving ride for road use yet better control on track. The upgraded brakes are finally powerful enough to match the performance. The LSD and specially developed Goodyear tires result in a more progressive power slide which is easier to manage. That said, you still need to respect its power. Despite of the more friendliness we talk, the GT500 is still an old-school muscle car after all. Slow in, slow out is the way to handle it. It does not feel as balanced, tidy or composed as Camaro ZL1 on mountain roads, so it has no hope to match the latter for Nurburgring lap time. It is neither as sharp nor as agile as the lighter Boss 302. Therefore it is not the first choice for driving pleasure – unless your greatest pleasure is to set 0-60 or 1/4 mile records.

Some said the 200 mph Mustang is the best tribute to the late Carroll Shelby who died last month. Perhaps not so. Mr. Shelby's GT40 consistently did 210 mph-plus in the Mulsanne straight of Le Mans, and that was 45 years ago. To a legendary man with racing in his blood, I suppose he would agree that the GT500 is a cash cow and headline grabber rather than an ideal driver's car.

Verdict: