| | |
| --- | --- |
| Published on 21 Apr 2012 | All rights reserved. |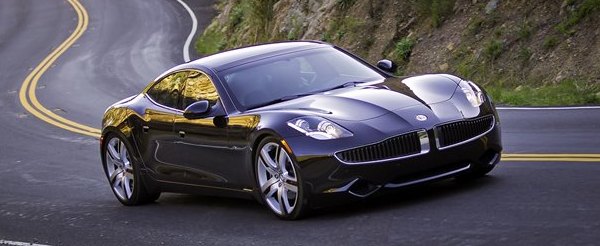 A sky-blue Nissan Leaf parks downstairs just outside my office. It looks cool, not only in terms of design but also the green philosophy it brings. Electric cars achieve zero emission on the road and substantially lower well-to-wheel emission than conventional internal combustion cars. It is the greenest automobile technology available today – forget the unrealistic hydrogen or solar-powered cars – but when it comes to cost, range and convenience it is just not good enough to rock the domination of conventional motors. Even being subsidized by government incentives, EVs are still far too expensive to purchase. What if our cash-strapped governments stop subsidizing? That could be a nightmare to Nissan-Renault.

If EVs have yet to come to prime time, what about hybrids? Toyota makes a lot of money with Prius. Hybrid technology is relatively matured, practical and affordable, but on the flip side its carbon footprint is not small enough – sometimes diesel engines can achieve lower emission in the real world. To bridge the gap between hybrids and pure EVs, clever engineers invented

plug-in hybrids

. Its concept is simple: by adopting a larger battery and allow it to be recharged through our home sockets, the car can offer dozen miles of zero-emission ride, suitable for commute between home and workplace. In case it runs out of battery during longer journey, an on-board gas (or diesel) engine fires up and acts as generator, supplying the electric motor and recharging the battery. This allows the car to be refilled at gas stations and extend its range like conventional cars. Therefore the engine is also called "range extender".

The first production plug-in hybrid is BYD F3DM, born in 2008. It has the engine and electric motor arranged to work in parallel so that each can propel the car independently. In contrast, a

series plug-in hybrid

has the engine arranged to supply the electric system rather than to drive the wheels. This mean propulsion is always provided by the electric motor. Not only mechanically simpler, it is also considered to be more energy efficient as the engine is no longer relevant to vehicle speed thus it can be configured to spin at its most efficient rev. Chevrolet Volt is the first production example of such systems.



Fisker Karma is also a series plug-in hybrid. When it made world debut in the 2008 Detroit motor show, it arouse quite a sensation with its stylish looks, innovative concept as well as state-of-the-art technology. At that time, Chevrolet Volt was no more than a sketchy concept, but the Karma was already close to final production form – production was scheduled in late 2009. It could have beaten Volt to the market if Fisker had the resources and established expertise of General Motors. As it did not have, the production delayed until late 2011.

The Karma is absolutely a beauty. It is a Panamera-size 4-door 4-seater yet it possesses a shape rivaling the best Italian sports cars. This is hardly a surprise because Henrik Fisker, the company owner and its designer, is renowned for styling Aston Martin DB9, V8 Vantage and BMW Z8 before founding his coachbuild business and eventually Fisker Automotive. Its coke-bottle shape and huge, 22-inch wheels help hiding its bulk very well, leading to an impression of a much smaller car. In fact, this car measures a full 5 meters from nose to tail and 2 meters across its shoulders. It tips the scale at a Bentley-rivaling 2400 kg! Can you believe?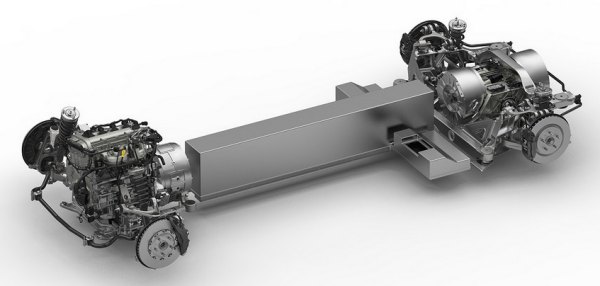 The massive weight is not without reasons. The aluminum spaceframe chassis is not only large but also engineered to be very stiff, with a torsional rigidity of 35,000 Nm per degree. The transmission tunnel carries 20kWh of lithium-ion batteries that weigh some 300 kilograms. As you can see from the picture above, there are two large electric motors located fore and aft of the rear differential respectively. Each of them is capable to deliver 201 horsepower and 480 pound-foot of torque to the rear wheels. Up front, there is a GM-sourced 2-liter four-cylinder direct-injection turbo engine mounted longitudinally. It used to serve under the bonnet of Pontiac Solstice GXP, and is now the only trace left for that car. Still produces 260 horsepower, but now all those horses are used to spin a powerful generator located just behind the engine. On the roof, there are solar cells to deliver a green message. All these components contribute to its immense weight. Have I mention the 36-liter fuel tank?

Consequently, the Karma is not as fast as it looks. Despite of a total of 403 horsepower and a staggering 959 pound-foot of torque – the latter rivals Bugatti actually – it takes 6.1 seconds to accelerate from zero to sixty, and that is achieved with Sport mode engaged, in which both battery and generator supply the electric motors. In "Stealth" mode, where only battery power is available, the same acceleration takes a leisurely 8 seconds, whereas top speed is limited to 95 mph. Sport mode is slightly better, raising the electronic limiter to 125 mph. Theoretically, the combination of 400 horsepower and 0.31 drag coefficient should enable a terminal velocity of over 170 mph, but at that speed battery level would be draining at alarming rate. No wonder Karma refuses to be an Autobahn rocket. In normal driving, it has enough instant torque to pass slower traffic, but at no point it feels brisk enough to chase a hot hatch, say, Renault Clio RS or Golf GTI, let alone the premium performance saloons that cost comparable money.



Comparatively, its handling is better than expected. As the heavy battery pack is mounted low in the chassis and close to the roll center, the Fisker corners flatly at fast bends. Its 47:53 weight distribution leads to a fairly neutral attitude, although it understeers gently when it approaches the limit of adhesion. Its old-school electrohydraulic steering – an odd companion with a green car it might be – could shame many modern sports cars for feel. However, the Karma is not to be confused with a sports saloon. Its low-speed handling is handicapped by its sheer size and weight. It runs out of grip early, as Car and Driver found it managed only 0.87g on skid-pad, blame to the weight again. Despite of large Brembo brakes, its regenerative braking is non-linear and hard to modulate. Ditto the on-off switch-like throttle, which makes it difficult to drive smoothly in the twisty or in traffic. It seems like the tremendous electric torque and immense weight are fighting with each other rather than working in harmony.

Ride quality from the fixed-rate dampers and low-profile tires is unexpectedly comfortable on motorway, although low-speed ride on bumpy surfaces is not so good. The cabin remains silent when the car cruises in Stealth mode, but once the old Ecotec engine fires up you will hear a coarse soundtrack – no wonder Fisker decided to switch to BMW N20 engine for its next car.

The BMW engine will also bring better fuel economy. The Ecotec might mean eco-technology, but that was the technology of six years ago. EPA said the car returns only 20 mpg when the Ecotec engine is spinning, hardly to be called green. You had better to use plug-in charging as much as possible, but EPA found its electric range is only 32 miles (51 km), far shorter than the claimed 50 miles. Conclusion: its green credential is limited.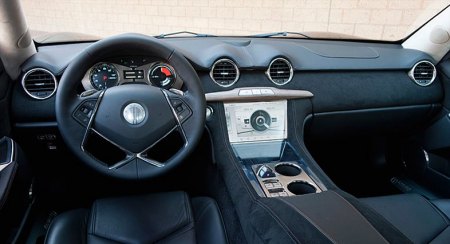 The cabin is a mixed bag. For the first attempt of a low-volume manufacturer, its build quality isn't bad. It also packs plenty of high-tech gadgets, such as color LCD instrument dials and a 10.2-inch touch screen through which you can control the audio, air-con, sat-nav and phone etc. On the downside, the interior design is less attractive than the exterior, while the varying materials show the lack of either taste or consistency. The steering wheel and the leather seats have a smell of mass production compare with those we found in its German or Italian rivals. Fortunately, the driver seat is comfortable, whereas visibility is surprisingly good, especially forward.

The Karma is a nightmare of packaging – the car is so big yet the glasshouse is so small. Furthermore, the battery-containing central tunnel robs the cabin a large chunk of space. Rear seats are nearly as cramped as Aston Martin Rapide's, and the boot is even smaller at 195 liters. Figure in its US$103,000 / £73,000 / €86,000 base price, the Fisker is the least convincing rival to Maserati Quattroporte, Porsche Panamera and Jaguar XJ Supersport.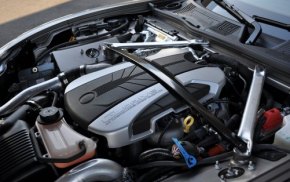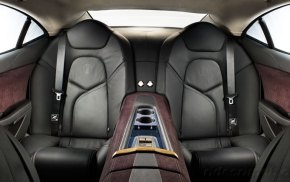 Even if customers can accept its shortcomings in performance, interior and accommodation, they may worry about its unproven reliability. The Karma is assembled by Valmet in Finland, which has wealth of experience building Porsche Boxster/Cayman thus should not be the source of problem. Its problems lie on the development process. A small firm like Fisker lacks the necessary resources and experience to test the car thoroughly and iron out all the problems before reaching customers. As a result, the car shows many electronic and software glitches. The battery, supplied by American company A123, is another source of problems. The first 240 cars were recalled as they found the battery's liquid cooling circuit was misaligned, which could cause leakage and even electric short-circuit. Later on, a Karma embarrassingly died in the test of Consumer Reports, again due to a faulty battery. Each publicized incident becomes a hurdle to sell the car. At the time of writing, Fisker has built about 1300 Karmas, but to meet the original target of 15,000 cars a year will be very difficult. As much admiration we have on the concept, we could not recommend to put your hard-earn money on the car.

Verdict: