| | |
| --- | --- |
| Published on 28 Sep 2016 | All rights reserved. |

The twins Daihatsu Boon and Toyota Passo have always been embarrassing in terms of market positioning. On the one hand, they are not quite as small as K-cars thus cannot be benefited from tax break. On the other hand, they are positioned slightly below Vitz/Yaris which is Toyota's flagship in B-segment. This gave them little breathing space. Worse still, they were never supposed to be a global product, so their presence was limited to the domestic market and, under the badge Perodua Myvi, Malaysia.

The first two generations of the twins were developed and built by Daihatsu but Toyota participated in their planning and design. Since Daihatsu is now wholly owned by Toyota, this partnership is no longer necessary. Therefore, Daihatsu is fully responsible for developing and producing the third generation twins. There is virtually nothing to distinguish the Daihatsu and the Toyota from outside, except the badges. Why not differentiate them to emphasize different characters? Well, because both models get 2 styling derivatives, one more premium (pictured above) and another more ordinary (last picture below). Fair enough. After all, the sales allocation between Daihatsu and Toyota brand is not important as all the profits go to their mother company.


Compared to the last generation, the new car, especially the premium derivative, looks a bit more stylish. However, in terms of packaging it doesn't differ from the previous formula. Its exterior dimensions are virtually unchanged at 3650 mm long, 1665 mm wide and 1525 mm tall. This puts it at the upper limit of A-segment city cars but comfortably below the region of B-segment superminis. Nevertheless, its compact boundary contains an extraordinary wheelbase of 2490 mm, which is 50 mm longer than last time. For comparison, the wheelbases of Fiat Panda and Hyundai i10 are 2300 mm and 2385 mm respectively. Volkswagen Up comes closer, but still trails the Japanese duo by 70 mm. No wonder Daihatsu said it developed the new car in the same way as its K-cars.

Naturally, the new body shell gets stiffer thanks to using thicker gauage steel and reinforced underbody. The additional mass is offset by using lightweight resin to construct the front fenders and tailgate, something learned from Copen. As a result, kerb weight remains the same as before at 910 kg. The underpinning platform evolves from the last generation, which was developed from the first generation debuted in 2004. It doesn't break the class norm of using strut suspensions up front and torsion beam at the rear, plus column-type electric power steering. There is 4WD option like most Daihatsu's K-cars, which is popular to Northern Japan. Nothing innovative in its design and engineering.


Get inside, you will find plenty of room for four adults, something not always true on A-segment cars. It is also benefited from great outward visibility and a high seating position making access easy. Otherwise, there is not much to praise. While the front bench seats are comfortable enough, the rear seat is flat and hard enough to punish naughty children. It does split and fold to expand the very small boot, but lacks the flexibility of many K-cars. The dashboard design is outdated while its plastic is as cheap as those normally seen in K-cars. Switch gears and equipment are toy-grade. Comparatively, Toyota's European A-segment car, Aygo, has a much more appealing interior, although it can't match the Boon/Passo for rear accommodation.

The driving dynamics also disappoints. The third generation car has abandoned the 1.3-liter engine option probably in a bid to space itself further apart from Toyota Vitz. This means the only engine left is the 1-liter Atkinson-cycle triple codenamed 1KR-FE. It is improved from the one introduced 2 years ago, featuring a higher (12.5:1 instead of 11.5:1) compression ratio, increased EGR and dual-port fuel injectors. That said, its peak power and torque remain unchanged at 69 hp and 68 lbft. On the road, you can sense a bit more enthusiasm at lower revs, but overall this is still an engine designed for inner city driving. Ask it to work harder and it screams noisily, thanks in part to the partnership with CVT. On highway, it feels marginal to cope with the car's weight and drag.


The handling is improved slightly by using thicker front anti-roll bar, stiffer rear torsion beam, a quicker steering rack and more rigid steering mounting. The car still rolls a lot in corner, but the roll is now more progressive thus not as scary as the old car. The revised steering tightens its turning radius despite the longer wheelbase, but there is still no steering feel at all. Obviously, the Boon/Passo has no intention to attract keener drivers (the majority of sales in Japan goes to female). That would be okay if it rides more refined. Unfortunately, in order to return better fuel economy figures, it opted for low-rolling resistance tires with stiff sidewall and unusually high tire pressure, which exposes its outdated chassis further to harshness and road noise. When the road gets rougher, the car bounces alarmingly. Turn into a bend quicker and the inside rear wheel bounces off the road. No wonder Toyota doesn't use it to replace Aygo.

In fact, such a poor driving dynamics and refinement should be familiar to the drivers of K-cars. Apart from slightly more space and power, the Boon/Passo is all too close to a K-car. It reflects the limited vision and expertise of Daihatsu.

Verdict:











Boon / Passo



2016

Front-engined, FWD

Steel monocoque
Mainly steel, some resin

3650 / 1665 / 1525 mm
2490 mm
Inline-3, Atkinson-cycle

996 cc
DOHC 12 valves, VVT

-
-

69 hp

68 lbft

CVT

F: strut
R: torsion-beam

-

165/65R14

910 kg

87 mph (limited)

14 (est)

-










Performance tested by: -









General models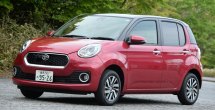 Copyright© 1997-2016 by Mark Wan @ AutoZine