Audi R8






Debut: 2007


Maker: Audi


Predecessor: no







| | |
| --- | --- |
| Published on 9 Mar 2007 | All rights reserved. |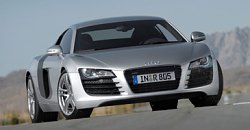 For 4 decades nobody could threaten Porsche 911's domination in the global sports car market, thanks to its combination of engineering excellence, everyday practicality and production quality. It easily fended off every challenge from Lotus, Jaguar and Maserati etc. In fact, the biggest threat to 911 should have come from BMW, as it possesses all the aforementioned qualities yet has the money to develop whatever it want. However, since the failure of M1, BMW has never tried to develop another dedicated sports car to rival Porsche. This leaves a great opportunity to Audi. If it could build a sports car as good as the 911, its image could be lifted above the level of BMW and benefit the rest of the range. Whether it could outsell the Porsche is not important.

Audi's dream of producing its first mid-engined sports car began in 1991, when it launched an aluminum concept car called "Quattro Spyder". Unfortunately, the car did not reach production as Ferdinand Piech, the CEO of Audi then as well as a member of the Porsche family, was afraid that it could hurt Porsche. 12 years later in Frankfurt motor show - by then Piech had already retired from the top job of Volkswagen group, Audi's new boss Martin Winterkorn unveiled a new mid-engined concept car called "Le Mans". Winterkorn was fascinated with the idea of an "Audi 911". He decided to put it into production, albeit in detuned form. 3 years later, Audi R8 was born.



Born from Gallardo



The road to R8 is much easier than that BMW experienced in M1, because Audi has a subsidiary called Lamborghini. Lamborghini Gallardo was largely developed by Audi's engineers, so the latter should have the necessary expertise to realize the car. Besides, the aluminum chassis of Gallardo is produced in Audi's Neckarsulm plant, so R8 could share the manufacturing tooling and parts with its Lamborghini cousin. In fact, Audi made no secret that the R8 is loosely developed from the Gallardo platform. They have similar aluminum space-frame chassis construction, although the Audi's wheelbase is stretched by 90 mm to provide extra luggage space behind the seats, enough for a couple of golf bags. The chassis is also considerably taller than the Lamborghini to give more headroom.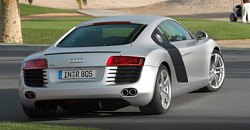 Both cars share similar double-wishbone suspensions (although with unique setting) and basically the same viscous-coupling 4-wheel-drive system. The latter is the best indication for its Lamborghini genes, as Audi's own 4WD system uses Torsen center differential instead. The viscous-coupler ensures the car to feel rear-drive in normal condition. Up to 35 percent of the torque will be sent to the front wheels when the rear wheels start slipping. As for transmission, R8 shares the Gallardo's 6-speed manual box and E-gear semi-automatic, although the latter has been renamed to "R Tronic" to hide its origin.

However, the biggest departure from the Lamborghini is engine, at least at the moment. Instead of a 5-liter V10, the rival to Porsche 911 needs a cheaper mass production engine. What could be better than the RS4's 4.2-liter direct-injection V8 ? it produces 420 horsepower at 7800 rpm and 317 lbft of torque from 4500-6000 rpm. 90 percent of the maximum torque is available from 3500-7600 rpm, yet the turbine-smooth V8 will spin to 8250 rpm redline, thanks to lightweight and Nikasil-coated pistons. All these excellent figures mean Audi needs not to alter the engine for the R8, except converting it to dry-sump lubrication to let it sit lower in the chassis. The engine is fully visible through a Ferrari-style glass screen.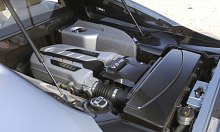 Weight control is not what the R8 did particularly well. This all-aluminum 2-seater weighs 1560 kilograms, only 90 kg less than the RS4 and 85 kg heavier than the steel-bodied 911 Carrera 4S, which is its closest rival. However, the superior power enables it to top 187 mph and accelerate from 0-60 mph in 4.4 seconds, slightly quicker than Carrera 4S.

The R8 employs all-round double-wisbhone suspensions with forged aluminum control arms. Each rear suspension has an additional track-control arm for better control. To provide a smoother ride, there is more wheel travel while springs and dampers are set softer than the Lamborghini. Delphi's Magnetic Ride adaptive damping is a must-have option, as it improves ride quality considerably without sacrificing handling. With or without this option, the R8 handles brilliantly because its weight distribution is better than Gallardo (44:56 versus 42:58), thanks to the smaller engine.



Unique Design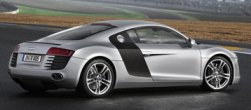 From exterior, you can hardly see any traces of Gallardo. The R8's soft and organic profile is more Porsche than Lamborghini, yet the single-frame grille and the signature black "sideblades" give it a unique appearance. Either side of the single-frame grille is a huge louvered intake, giving the R8 a fire-breathing look. Most special, the headlamps look like to be suspended at the top edge of the huge intakes. These are the world's first full LED headlamps, no wonder they are so narrow yet so bright. Unlike Gallardo, the R8 has a low waist line to give a lighter visual effect. To compensate for the resultant aerodynamic lift, it employs a pair of diffusers and a retractable rear spoiler which raises at speed to generate downforce. Overall, the R8 is an attractive design that combines a coherent shape with some aggressive details.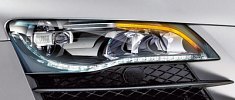 Better still is sit comfort. The cabin is very spacious, offering plenty of head room and shoulder room. Visibility is superb by sports car standard. Wide range of adjustment at the seats and steering wheel ensure excellent driving position. The cabin design, materials and build quality meet the highest standard of Audi. Well, it might lack the bespoke feel of Maserati or Aston Martin, but it feels far more expensive than the 911.



On the Road



From the moment you sit in the comfortable sports seat and engage the light clutch, you realize this is the most friendly mid-engined sports car since Honda NSX. The gated 6-speed manual gearbox shifts cleanly. The V8 is creamy smooth, effortlessly revvy yet surprisingly quiet – so refined that you tend to underestimate the speed you are traveling.


Fast, of course, but the V8 needs rev to realize its performance. It does not possess the explosiveness of Ferrari F430 or Porsche 911 Turbo. Nevertheless, a 911 Carrera S is still beatable. Road & Track found it took 4.3 seconds to accelerate from 0-60 mph and 10.5 seconds to 100 mph. Motor Trend timed slightly quicker at 4.1 and 10.3 seconds respectively. Therefore we can say the R8 is faster than Carrera S by a whisky. In terms of price, the £77,000 Audi is also closer to the Carrera S (£66,000) and Carrera 4S (£70,000) than 911 Turbo (£98,000) and F430 (£129,000). So it is fair to compare with only the normally aspirated 911s.

On the move, you must appreciate the superb ride quality of the R8. With magnetic dampers opted, the R8 is as practical as a long-distance grand tourer as 911. No, it smoothens rough surfaces even better than the Porsche's adaptive damping. High-speed ride and stability are equally impressive. In addition to a generous 90-liter fuel tank, there is no other mid-engined sports cars can serve so well as a cross-continental express.

In corners, the R8 continues to display very well manner. This is a sports car combining mid-engined agility with the merit of 4-wheel-drive traction and confidence-inspiring understeer at the limit. It feels mostly rear-driven, but the 4-wheel traction acts as a safety net so that you can drive it very fast without worrying of losing control. The powerful brakes add to this reassuring manner.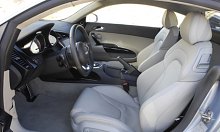 Most controls are lightweight and slick to operate. The steering is responsive, precise and relaxing for its free of kickback. However, it also filtered the messages from the front wheels and resulted in a numb feeling. This is perhaps the biggest weakness of R8. Besides, the clutch engagement can also be more progressive.

However, the most important question is probably this one: can it beat 911 ?

Very close. The R8 is the most agile / precise / entertaining machine ever came out from Ingolstadt. In many ways, it outperforms the Porsche, such as style, quality, comfort and refinement. But perfectionists will still prefer the 911's communicative steering and its ability to play throttle steer. These are the elements that separate a great car and a greatest car. However, with a production volume expected between 3500 and 4000 units annually, the Audi is certainly more exclusive than the 911. Unquestionably, it will be a hit.

The next step could easily be a V10 version to rival 911 Turbo. But now Porsche is the largest share holder of Volkswagen group, will Mr. Wendelin Wiedeking and Dr. Piech allow it to hurt the 911 ? I doubt it.
Verdict:





| | |
| --- | --- |
| Published on 19 May 2009 | All rights reserved. |
R8 5.2 V10

| | |
| --- | --- |
| | The flagship R8 raised many eyebrows, no matter at Zuffenhausen or Sant'Agata. |

Let's call it a Porsche killer. The standard Audi R8 has successfully descended Porsche 911 Carrera S to the second place of mass production sports car ranking. People love its style, its speed, its handling, its superb build quality and user friendliness so much that its production line at Neckarsulm is now running at full capacity of 5,500 cars a year. Nevertheless, Audi wasted no time to celebration. Its next goal is to beat the fastest production Porsche, 911 Turbo. That calls for the service of a 5.2-liter V10 engine. Yes, except bespoke intake, exhaust and electronic mapping, this is the very same unit serving Lamborghini Gallardo LP560-4 !

Undoubtedly, the introduction of R8 5.2 V10 raised many eyebrows, no matter at Zuffenhausen or Sant'Agata. Porsche thinks Audi should not build a car that competes directly with 911 Turbo – bear in mind that Porsche owns majority stakes in Volkswagen group. Somehow, Porsche is not yet powerful enough in the board of Volkswagen, failing to change the mind of Mr. Piech and Mr. Winterhorn, both prepare to strike back the Porsche family at the right time. From this viewpoint, R8 V10 is a logical product of the political dispute between the two parties. In other words, it is a warning signal Piech and Winterhorn deliberately sent to Zuffenhausen.

Lamborghini, the subsidiary of Audi, is unlikely to be amused by this car either. You might remember R8 was derived from the platform of Lamborghini Gallardo. Now even sharing the same powertrain, the car could be seen as the Audi version of Lamborghini. Worse still, the "Audighini" costs only £100,000, same as 911 Turbo and way below the £147,000 Lamborghini. If your father loves you, he should reserve the best for you, shouldn't he ? Unfortunately, the German might think otherwise: if they can do it themselves, why should they reserve the best for the Italian?

Nevertheless, comparing R8 and Gallardo will find the latter still holds a slight advantage to justify its price. For marketing reason or not, Audi claims the V10 engine in R8 produces 525 horsepower instead of 560 even though they are released at the same 8000 rpm, even though its redline is actually 200 rpm higher than the Lamborghini at 8700 rpm. On the road, you will find the Lamborghini version V10 sounds angrier. Its throttle response more violent. Similarly, its suspension is noticeably stiffer, the shorter wheelbase chassis more responsive and the handling/ride more hardcore. It is also slightly faster, thanks to a kerb weight some 120 kilograms less than the Audi.


| | |
| --- | --- |
| | The Lamborghini is a hardcore supercar. The Audi is the one you would choose as an everyday car. |

That doesn't mean the flagship Audi slow. Not a bit. Its 196 mph top speed beats 911 Turbo and equals Ferrari F430. Its 0-60 mph takes only 3.8 seconds according to official figures, which probably translate to faster time in practice. In terms of performance, it is right at the heartland of junior supercar league.

However, what separate the Audi and Lamborghini is not performance but their characters. Compare with Audi, the Lamborghini is a hardcore supercar. The Audi is the one you would choose as an everyday car. It combines high-performance with supple ride, easy control and a truly usable cabin, a rare quality that once made Honda NSX famous. Therefore we are convinced that it actually targets at 911 Turbo.

Comparing the V10 R8 with its lesser sister will find them remarkably close. Externally, the most obvious upgrade is a larger air scoop at each side designed to cool the V10. Other changes are more cosmetic: mesh front grille, full LED headlights, larger blackened areas at front and rear ventilations, stylish alloy wheels and new taillight graphics. Deemed to be stiff enough, the aluminum spaceframe chassis is unaltered. Ditto the suspension geometry (though magnetic adaptive dampers now come standard), tires and brakes - steel or ceramic. This confirm our believe that the original R8 chassis could take on more power.

However, the higher performance level calls for a stiffer suspension setup. Front and rear springs have been stiffened by 20 and 22 percent respectively, along with a thicker rear anti-roll bar and a beefed up rear LSD. On the road, the stiffer suspensions translate to tighter body control while retaining most of the supple ride of the standard R8. The steering also feels firmer and more direct than the original car, if still lacks the communication of Porsche or Lotus. The extra weight of V10 engine (only 31 kilograms and concentrate near the middle of the car) seem to have no negative effect on its superb chassis balance. The R8 continues to reward its driver with a friendly handling. Its 35:65 Quattro system offers superb traction without killing neutrality. Push it right to the limit, it will understeer progressively. Such a good manner is unusual for mid-engined supercars.

Weaknesses? Few. You may say its engine note is not special enough in normal driving. That monotone high-pitch noise is no where as delicious as a Corvette V8 unless you rev it beyond 6000 rpm, where it starts getting frenetic. Similarly, the linear power delivery could be described as lack of character. In the chassis side, hardcore machines from Lamborghini and Ferrari are more accurate and responsive in corners, but that is always a tradeoff between ride and handling. The biggest disappointment is the R-Tronic automated manual gearbox (same as Lamborghini's E-gear), whose shift quality is still poor. Nevertheless, you can always opt for the much better 6-speed manual box.

As an everyday supercar, R8 V10 is unquestionably a better car than 911 Turbo, no matter its engine, chassis, build quality, design or sense of occasion. True, the Porsche is more engaging (and challenging) to drive, but that alone could not lift it above the overall desirability of Audi.
Verdict:





| | |
| --- | --- |
| Published on 16 Oct 2010 | All rights reserved. |
R8 GT

| | |
| --- | --- |
| | Road or track ? that is the question this car should answer. |

Porsche 911 GT3 RS, Lamborghini Gallardo LP570-4 Superleggera, Murcielago LP670-4 SV, Ferrari 430 Scuderia, 599 GTO, Pagani Zonda R... these days most supercars offer lightweight track-oriented variants to hardcore customers who may take their cars to track days. The latest example is Audi R8 GT. Based on the R8 V10, this car is lightened by 100 kg thanks to extensive weight saving measures, and boosts 35 more horsepower at the top end. As a result, it could sprint from rest to 60 mph in 3.5 seconds, 0.3 sec quicker than before. Top speed is lifted by 3 mph to 199 mph. Only 333 units will be built, each charge 40 percent more than the standard R8 V10, making it in the same price range as Ferrari 458 and Lamborghini Gallardo. Is it too much for an Audi ?

The 5.2-liter V10 is basically unchanged from the standard car except tweaked engine management system and a set of new, circular (instead of oval) exhaust pipes. Its maximum output rating (560hp and 398 lb-ft) is exactly the same as the specifications of Lamborghini Gallardo LP560-4, so I assume no magic is needed to achieve the increased output. R-tronic automated manual transmission is mandatory on the R8 GT, predictable for its low production volume.

The aluminum spaceframe chassis is unchanged, although it sits 10 mm closer to the ground. The suspensions run stiffer setup and more camber to enhance cornering prowess. The regular car's adaptive dampers have been discarded for the sake of lightness, though its suspensions are now adjustable (manually) for optimum track performance. Ceramic brakes are standard on this car. However, the standard road tires are unchanged, strange for a track-oriented car.


| | |
| --- | --- |
| | Performance gain is modest, while ride quality is almost too good... |

Audi showed us a long lists of weight saving items. The most important of which is the pair of lightweight glass-fiber-backed seats, which contributed to 31.5 kilograms of reduction. Other notable weight savings include the lighter brakes (-14 kg), lightweight battery (-9.4 kg), simple carpets (-7.9 kg), carbon-fiber tailgate, side blades and rear bumper (-13.3 kg combined), thinner windscreen, polycarbonate rear screen and engine compartment partition (-9 kg combined), thinner front boot lid (-2.6 kg), lighter intake manifolds (-2.3 kg), reduced sound-deadening materials in engine compartment (-2.8 kg) and fixed rear spoiler (-1.2 kg).

That said, at 1525 kg, the R8 GT is still considerably heavier than its stripped-out rivals. In fact, on the track it feels quite tamed. Its handling is a little sharper and more capable than the regular R8, but it won't make you wow. The same goes for the engine and its noise. Despite of reduced sound insulation, it still sounds too civilized. Its volume and urgency are nowhere near its Lamborghini cousin, let alone 911 GT3 RS. The balance of the car is more neutral than R8 V10, but its steering isn't especially sharp, and the extra speed is rather modest. On the positive side, the GT's stiffer suspensions live enough compliance for everyday driving.

Maybe too supple. It would have been better to sharpen the car further, add some spicy flavours to its handling, an angrier exhaust and probably a more exotic appearance. So why didn't Audi do that ? because that would have made another Gallardo Superleggera.
Verdict:




| | |
| --- | --- |
| Published on 27 Oct 2012 | All rights reserved. |
R8 V10 Plus


Good designs are timeless. Audi R8 is already 5 and a half years old, but it still looks great. No wonder the facelift it has received is so subtle that we can hardly spot the differences. Anyway, the focus of this mid-life update is not cosmetic but mechanicals – the introduction of V10 Plus model and S tronic dual-clutch transmission.

The V10 Plus is basically the production version of R8 GT, whose production run of 333 units has been completed by now. Its V10 engine is tuned to produce 550 horsepower, 25 more than the standard V10. A diet program consisting of lightweight bucket seats, ceramic brakes and some carbon-fiber body parts (side blades, front splitter, diffusers and door mirrors) cuts 50 kg. To sharpen its handling further, its suspension has abandoned adaptive dampers for stiffer passive dampers. Ride height has been lowered a little, accompanied with revised front suspension geometry to promote turn-in response at the price of directional stability. This make the car feels a little sharper in bends, while ride quality is slightly harsher on bumpy roads. Still, it is not as hardcore as a Lamborghini Gallardo Superleggera or Porsche 911 GT3 RS.

However, the big news should be the introduction of 7-speed S tronic gearbox, which is available to all engines. Compare with Ferrari California and 458 Italia, the R8 takes an extra 3-4 years to get its first twin-clutch gearbox. Why does it take so long? Because the Audi is a 4-wheel-drive mid-engined machine, whose layout is rare in the sports car industry so that gearbox manufacturers are not interested to develop one for it. Technically there should be no problem, as Ricardo demonstrated when it built one for Bugatti Veyron, but to build one at reasonable cost is another matter. It seems that Getrag (supplier to Ferrari, BMW and Nissan GT-R) and ZF (Porsche PDK) are not interested in the low volume asked by Audi / Lambo. I believe the S tronic used in R8 is developed by Italian niche gearbox maker Graziano, who had finished works for McLaren MP4-12C and is keen to find another low volume customer. After all, the previous R tronic robotic manual gearbox was also supplied by this company.

If you compare the S tronic-equipped R8 with its R tronic predecessor, you will find the driving experience is really transformed. Instead of jerky (or even brutal) gearshifts, you get fast and seamless gearshifts as well as well-judged throttle blip on downshift to match rev. It is no longer a pain to drive the car in traffic congestion. Compare with the standard 6-speed manual gearbox, the 7-speed S tronic cuts 0-60 mph sprint by 0.3 seconds, thanks partly to its launch mode. That means the V10 Plus takes only 3.4 seconds, comfortably in the league of production supercars. No, it still fails to match Ferrari 458 Italia for speed, excitement and handling, or to lesser extent the McLaren MP4-12C, but the Audi is still the most friendly to daily use, bridging the gap between Porsche 911 and the exoticas.

Verdict:




| | |
| --- | --- |
| Published on 31 Jul 2014 | All rights reserved. |
R8 LMX


When I first read the name R8 LMX, it sounded to me like a Le Mans eXperiment edition. Drastic weight reduction and hybrid technology immediately came into my mind. Disappointingly, it actually stands for Laser Matrix and indicates the new laser headlights introduced by the car. We never talk about lighting technology in AutoZine as it has little relevance to performance and driving pleasure. Somehow, Audi values laser lighting tech so much that simply puts it on the badge.

It must be said that, although Audi was the first to announce laser headlights, BMW just beat it to put the technology on its i8 and delivered to some customers in June. Both employ laser systems supplied by lighting giant Osram. Now you must ask what benefits laser brings. The answer is longer range of illumination. Since laser beam is more concentrated than other light, it can be used to illuminate farther distance ahead. In the case of R8 LMX, it works up to 600 meters or double the range of existing LED lights. However, also because of its high concentration it does not spread wide enough to illuminate closer distances. Therefore the R8's headlights also incorporate LED low and high beams to cover shorter ranges, as illustrated in the picture below.

Such a powerful laser beam must be hazardous to view directly. How can it avoid hurting pedestrians and other road users? Engineers developed a complicated solution: a camera located at the rearview mirror monitors the road ahead and detects any objects (whether cars or humans) coming in the way. If yes, then it switches off the laser. Moreover, the laser is programmed to operate at speed beyond 37 mph so that it is unlikely to hit your eyes constantly, reducing the likelihood of injury.


Unsurprisingly, this is not going to be cheap. In fact, it is very expensive. In Europe, the LMX costs €35,000 more than the R8 Plus on which it is based, and the headlights account for the majority. That is a price premium of 20 percent! For a set of headlights, is it worthwhile?

Back to the car itself, it is basically the same as R8 V10 Plus except with an additional 20 horsepower (which is hard to detect actually), slightly wider rear tires and some aero kits, i.e. carbon-fiber rear wing and front winglets borrowed from the late R8 GT. 0-60 mph is improved by a tenth of a second, while top speed is raised slightly to 199 mph. The driving character of the car remains largely unchanged though. It is not as sharp as Ferrari 458 or as insane-fast as McLaren 650S, but it is more refined, more secured and easier to drive. The interior does feel a bit outdated beside 911, although the LMX adds some nice stitching to the Alcantara roof and seat trims. Expect this to be the last version of the R8 before its renewal early next year. Only 99 units will be built to satisfy those fascinating with lighting technology more than everything else.

Verdict:













R8 4.2 V8



2007

Mid-engined, 4WD
Aluminum spaceframe

Aluminum
4431 / 1904 / 1252 mm
2650 mm
V8, 90-degree

4163 cc
DOHC 32 valves, DVVT

VIM
DI
420 hp / 7800 rpm

317 lbft / 4500-6000 rpm

6-speed manual or
6-speed automated manual

All double-wishbones

Adaptive damping

F: 235/35ZR19
R: 295/30ZR19
1560 kg (R Tronic: 1565 kg)

187 mph (c)
4.4 (c) / 4.3* / 4.1** / 4.4***

10.5* / 10.3** / 10.5***

R8 5.2 V10



2009

Mid-engined, 4WD
Aluminum spaceframe

Aluminum
4431 / 1904 / 1252 mm
2650 mm
V10, 90-degree

5204 cc
DOHC 40 valves, DVVT

VIM
DI
525 hp / 8000 rpm

391 lbft / 6500 rpm

6-speed manual or
6-speed automated manual

All double-wishbones

Adaptive damping

F: 235/35ZR19
R: 295/30ZR19
1620 kg (R Tronic: 1625 kg)

196 mph (c)
3.8 (c) / 3.7* / 4.1*** / 3.7****

8.4* / 9.0*** / 8.5****

R8 GT



2010

Mid-engined, 4WD
Aluminum spaceframe

Aluminum, carbon-fiber

4431 / 1930 / 1242 mm
2650 mm
V10, 90-degree

5204 cc
DOHC 40 valves, DVVT

VIM
DI
560 hp / 8000 rpm

398 lbft / 6500 rpm

6-speed automated manual


All double-wishbones

-

F: 235/35ZR19
R: 295/30ZR19
1525 kg

199 mph (c)
3.5 (c)

-









Performance tested by: *R&T, **MT, ***Autocar, ****C&D










R8 V8 S tronic



2012

Mid-engined, 4WD
Aluminum spaceframe

Aluminum
4440 / 1904 / 1252 mm
2650 mm
V8, 90-degree

4163 cc
DOHC 32 valves, DVVT

VIM
DI
430 hp / 7900 rpm

317 lbft / 4500-6000 rpm

7-speed twin-clutch

All double-wishbones

Adaptive damping

F: 235/35ZR19
R: 295/30ZR19
1585 kg

186 mph (c)

4.1 (c)

-

R8 V10 S tronic



2012

Mid-engined, 4WD
Aluminum spaceframe

Aluminum
4440 / 1929 / 1252 mm
2650 mm
V10, 90-degree

5204 cc
DOHC 40 valves, DVVT

VIM
DI
525 hp / 8000 rpm

391 lbft / 6500 rpm

7-speed twin-clutch

All double-wishbones

Adaptive damping

F: 235/35ZR19
R: 295/30ZR19
1645 kg

195 mph (c)

3.5 (c)

-

R8 V10 Plus S tronic



2012

Mid-engined, 4WD
Aluminum spaceframe

Aluminum, carbon-fiber

4440 / 1929 / 1252 mm
2650 mm
V10, 90-degree

5204 cc
DOHC 40 valves, DVVT

VIM
DI
550 hp / 8000 rpm

398 lbft / 6500 rpm

7-speed twin-clutch

All double-wishbones

-

F: 235/35ZR19
R: 295/30ZR19
1595 kg

197 mph (c)

3.4 (c) / 3.2* / 3.2**

7.1* / 7.2**









Performance tested by: *C&D, **MT









R8 LMX



2014

Mid-engined, 4WD
Aluminum spaceframe

Aluminum, carbon-fiber

4440 / 1929 / 1252 mm
2650 mm
V10, 90-degree

5204 cc
DOHC 40 valves, DVVT

VIM
DI
570 hp / 8000 rpm

398 lbft / 6500 rpm

7-speed twin-clutch

All double-wishbones

-

F: 235/35ZR19
R: 305/30ZR19
1595 kg

199 mph (c)

3.3 (c)

-









Performance tested by: -









Copyright© 1997-2014 by Mark Wan @ AutoZine