The Complete Story of 911
---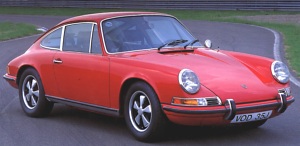 In the memory of Porsche 911 (1963-1998)
Since April 1998, our old friend 911 was dead. Although Zuffenhausen is still selling a car called Nine-Eleven today, all of us know the real 911 no longer lives in the world. Still, it's a miracle that a car could live for 34 years yet remained to be the core model of its maker.

For the memory of this legendary sports car, AutoZine brings you the most complete 911 story on the net. I hope you will enjoy this special and always remember the real 911.
---
Introduction
Unquestionably, Porsche 911 was the most legendary sports car in history. Started life as the successor of Porsche 356 in 1964, the 911 immediately stormed the world by its popularity as well as its speed. In the following 34 years, it displayed what should be called "evergreen", continuously catching the hearts of car lovers of any age (many of whom are even younger than it !), outselling any other sports cars, outlasting its younger sisters including its one-time successor 928, and eventually became the longest producing sports car in history*.

* Excluding the ultra-specialised Lotus Seven and Morgan.


| | |
| --- | --- |
| The 1975 911 Turbo 3.0 | The 1972 911 2.4 |


Whenever talk about the 911, motor outsiders must remember its frog eyes, whale tail and upright windscreen, while enthusiasts may think deeper about its characterful engine note and the challenging oversteering ability. Of course, anyone having experience in driving the turbo 911 would inevitably remember its astonishing acceleration. No matter which kind of people you belong to, you will always find Porsche 911 being an extremely unique car to see and to own.
---
---
Copyright© 1997-2000 by Mark Wan
Return to AutoZine home page