Forget Car of the Century. The best I can do is to present my selection of Cars of the Decade. Being a car enthusiast since the mid-80s, I think my knowledge and ability is well sufficient for that.
As indicated by its name, Cars of the Decade includes many cars - no quota at all. All cars appearing in the 90s and were generally regarded as masterpieces, or having sounded innovations, or being trend setters, are included in the lists. In other words, these cars defined the best memory of the 90s.
It should be noted that 1999 is exempted from the definition of the "decade" because many cars launched during the year are not yet thoroughly tested or evaluated by car journalists, such as the Audi A2 and BMW Z8, which have just been shown in motor show. To complement the loss, 1989 is included in the "decade". In fact, some great cars of the year '89 actually missed many COTD awards in the late 80s. This is a chance for them to regain what they deserved.

1. Mazda MX-5 Miata (1989)


Instead of MGF or Lotus Elan mk2, the MX-5 Miata was regarded as the true successor of British roadster. Pretty, light, simple, affordable but very involving to drive, thanks to its well tuned rear-wheel-drive chassis. It proved that driving fun is out of adjustability and communication rather than grip and speed, that's what many European sports cars had forgotten at the time being. 10 years went by, half a million cars were sold and the redesigned mk2 is still selling strongly. It is the most successful sports car since MGB.
2. Mercedes 500SL (1989)


The SL was nearly unchallenged as the top luxurious roadster during the decade. After 10 years, it still looks extremely up to date. Like the styling, the chassis has not shown its age yet, which is at least as good as Jaguar XK8. Build quality and sense of prestige are still second to none.
3. Honda NSX (1990)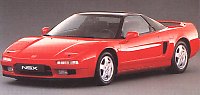 10 years ago, Honda presented us this unique machine. It's an aluminium mid-engined supercar with a small, VTEC-equipped 3-litre V6 good for 270hp. Ran faster than it ought to be. Corners with precision embarrassing Ferrari 328 or 348. The most special is that it is extremely refined, comfortable and easy to drive. Honda stunned the world in one night.
4. BMW 3-Series E36 (1990)



The E36 BMW was the best 3-series among the 4 generations. Quick and marvelous to handle. It's the best driver's sedan and lifted BMW's reputation to new height. Purposeful styling in and out matches its sporty character.
5. Nissan Skyline GT-R R32 (1990)


All Skyline GT-Rs (R32, R33 and R34) are outstanding, but the earliest one worth the most praise. Back in 1990, it had already got computer-controlled all-wheel-drive, all-wheel-steering and twin-turbo straight six good for 280hp. It easily beat other Group A touring cars on race tracks (so that it was banned or added with weight penalty). It's the most sophisticated car in the world to those who cannot afford (or was not lucky to get) Porsche 959. Later GT-Rs were just evolved from this solid basis.
6. Dodge Viper (1992)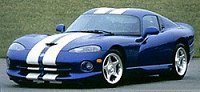 Emerged from a show car, few people would have thought Chrysler really built this wild machine, and developed it so well (at least when hard-top GTS appeared a few years later). The monster 8-litre V10 provides supercar performance and mountain of torque that characterize "muscle cars". Dodge Viper won higher reputation than the Corvette of the decade and attracted thousands of lovers all over the world.
7. Peugeot 306 (1992)



The star small car of the decade was Peugeot 306. Good look, good performance and especially remarkable handling and ride comfort made it unchallenged until Ford Focus arrived at the decade end. The 6-speed GTi is hot hatch of the decade.
8. Subaru Impreza WRX (1992)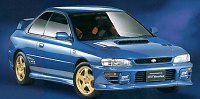 WRX succeeded the Lancia Delta Integrale as the best known A-to-B car of the 90s. Commercially speaking, it is also the most successful car of its kind, with 4-doors, 2-doors, Wagon and many different versions marketed simultaneously. Unlike Lancer Evo, the WRX performed flawlessly since its debut and it appears to the majority. That's why it is selected as COTD instead of the Lancer.
9. McLaren F1 (1993)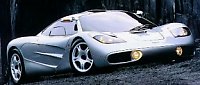 Formula One ace McLaren and its designer Gordon Murray created the fastest road car in 1993. The F1 follows race car's theory to be as light as possible and as powerful as possible. 627 hp pushing 1138 kg of weight resulted in record-setting 0-60mph time of 3.2 sec. With or without rev limiter disabled, it recorded 240.1 and 231mph top speed respectively. It is by far the fastest street car ever appear on this planet.
10. Porsche 993 (1993)


After the dreadful '89 version of 911 (or simply 964), Porsche's ever-green model received a major update in 1993. New multi-link rear suspension improved handling as much as the new nose / headlamp styling suggested. The come back successfully negated sales decline and set sales record for the 911.
11. Ferrari F355 (1994)


Based on the ill-developed 348, Ferrari revived its V8 series by introducing the superb F355 in 1994. Modified chassis and suspensions delivered a completely different handling experience. 5-valve V8 produced 380hp at sky-high rpm. It's the most thrilling and satisfying sports car in the decade.
12. Alfa Romeo GTV (1996)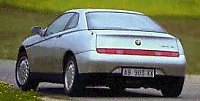 The new GTV is definitely a masterpiece of the decade. Beautiful Pinnifarina design combines with elegant interior trimming. It has a much improved handling, thanks to the new rear suspension, although it rides not so well. The real headache for customers is to decide to buy which versions - the twin-spark 2-litre is arguably the best four cylinder in the industry while the V6 is in the best Alfa tradition.
13. BMW 5-Series (1996)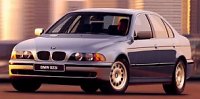 Few car matches the completeness of this 5-series. Fast, refined, comfortable and involving to drive - simply perfect. It has the most communicative steering and the best at-the-limit handling, moreover, the aluminium-rich Z-axle suspension provides good ride comfort yet unmatched by others. Pleasant styling, classy interior … it makes 7-series and S-class unnecessary.
14. Lotus Elise (1996)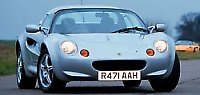 Back to the old theory - enhance performance by lightness - the Elise was the Savior of the troubled Lotus. Revolutionary extruded aluminium chassis (with epoxy and riveted bonding) allows sparkling performance from the ordinary Rover K-series engine. Lightweight also gifted it a sensational handling. It's one of the biggest surprise of the decade.
15. Renault Scenic (1996)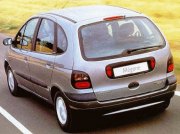 Another revolution during the decade was made by Renault Scenic, the first MAC (Multi-Activity Car) as described by Renault, or the first small MPV in our words. Demand was (and is still) so strong that surprised even Renault itself. Now many other car makers are following the trend set by the Scenic.
16. Alfa Romeo 156 (1997)


It's not easy to beat a BMW 3-series, but Alfa did it with the 156. Behind the beautiful nose is either the best twin spark or V6, mated with either a 6-speed manual, Selespeed or Tiptronic-styled Q-system. The sporty-tuned suspension also helped it to edge out BMW in handling match. Good packaging and ergonomic refresh our memory of what Alfa was.
17. Ford Focus (1998)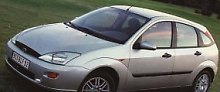 The most accomplished small family car in the decade. Ford Focus has a really innovative "New Edge" styling theme which looked sharp without compromising interior space. "Control-Blade" independent rear suspension gave it outstanding handling and ride. ST170 (SVT) and RS are among the most exciting hot hatches in that era.