Introduction
In the latter half of 1990s, TVR sold over 2,000 cars a year and challenged Lotus seriously as the biggest British sports car specialist. However, since Peter Wheeler sold the company to young Russian Nikolai Smolenski, it went into financial trouble and eventually closed down in 2006. Although Smolenski talked about restarting production, there is no sign whether or when it will be done.

TVR's cars have been renowned for strong performance thanks to their big power and simplicity. On the downside, they were infamous of poor build quality and tricky handling. The last cars got more sophisticated but they also became more costly to build. Like most British sports car specialists, its failure to take on the tightening worldwide type approval and customers' expectation on quality were the prime reasons behind its fall.

Brief History

The TVR story began in 1949 when a young engineer, Trevor Wilkinson, built his first sports car with its own chassis and a Ford engine. However, it took nearly 10 years for the company to be well known, and that was achieved by the Grantura, a short-wheelbase sports car sold in kits form and was available with a variety of engines and running gears. Like many Lotus cars of the time, the chassis of Grantura was a tubular spaceframe, covered with a glass-fiber body to save weight.

The early Grantura was not very quick because of its modest engines. In 1963, American car dealer Jack Griffith
installed a 271hp Ford 289 (4.7-liter) V8 into the lightweight Grantura and created the fire-breathing Griffith. (Same way as Carroll Shelby created Cobra from AC Ace) It established the principles of TVR for the following years - powerful engine, lightweight chassis and lightning performance.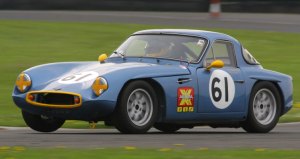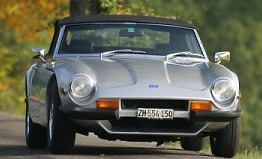 Left: Grantura; Right: 3000M



After a series of bankruptcies and changing hands, TVR was stablised in the hands of new owner Martin Lilley. The Grantura and Griffith were evolved into Tuscan. In the 70s, the Grantura-based models were eventually replaced by a new one, M series, whose Lotus-inspired tubular backbone chassis still serves today's TVRs. Again, various engines could be fitted, such as Ford V6, Triumph straight-six and even a turbocharged Ford V6.

Businessman Peter Wheeler bought TVR in 1982. That decade saw the wedge-shape Tasmin designed by ex-Lotus designer Oliver Winterbottom (no wonder its resemblance to contemporary Lotus Elite and Eclat). When it received the first 3.5-liter Rover alloy V8 with 190hp, it was renamed to 350i. Later on, TVR offered larger and tuned engines to create 390SE (275hp), 420 SEAC (300hp) and 450 SEAC (324hp) - the latter two also got Kevlar bodywork to enable performance beating comtemporary 911 turbo ! On the other hand, a V6-powered car called "TVR S" was offered as entry-level model.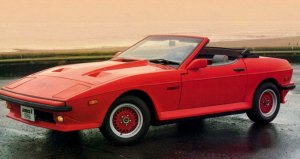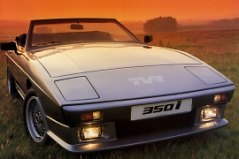 TVR 350i



The 2-tier line up was replaced by a trio in the 1990s. First came the new Griffith, with a stylish smooth body, a larger Rover V8 and even stronger performance. A more civilised variant, Chimaera, was added soon, then followed by a much modified derivative called Cerbera. The Cerbera had stronger chassis and better handling, also the first TVR engine - a high-revving AJP V8 designed by engine specialist Al Melling. A 24-valve straight-six called Speed Six was added in 1998, then the most stunning 800hp 7.7-liter V12 in 1999 (although only a few were built for race cars). Sales rose to over 2,000 cars a year by the late 1990s. That was definitely the peak of the Blackpool sports car maker.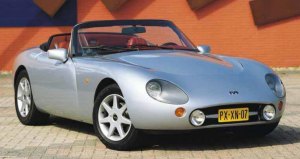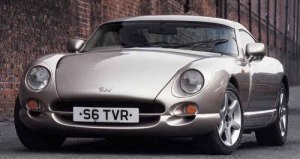 Left: Griffith; Right: Cerbera



In the new millenium, Griffith and Chimaera were replaced by Tuscan and Tamora respectively. The Rover V8 also came to reitirement as it no longer complied with new emission standards. All TVRs switched to the high-power Speed-Six engine.

In the last few years of the Wheeler-era, TVR emphasized more on styling and bespoke interior, as shown in Tuscan, T350C and Sagaris. It also started taming its difficult handling (due to high power, unsophisticated chassis and lack of electronics safety aids) and worked on build quality, albeit rather slowly. It was increasingly obvious that customers no longer tolerated unsafe and poorly built cars. The prices of TVR cars were driven up by the extra engineering which was necessary to satisfy customers as well as stricter legal requirements. They were no longer as bargain as before.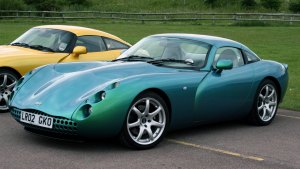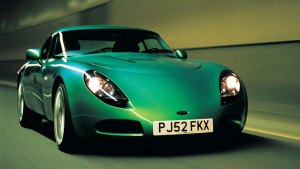 Left: Tuscan; Right: T350C



Perhaps foreseeing its negative prospect, in 2004 Peter Wheeler sold TVR to young Russian investor Nikolai Smolenski, who was only 24. Under the hands of an inexperienced owner, TVR accelerated towards collapse. Deteriorating financial condition forced the company out of business in late 2006. Although there was report that Smolenski sold the company to two American investors in early 2007, it was later on known that he was still in control of the main assets and rights of TVR. A comeback was planned, but nobody knows whether or when it will happen.