Introduction
After decades of decline, MG Rover group finally came to an end on 8 April, 2005. Continuous heavy loss forced the last British-owned big car maker into bankruptcy.

The predecessor of MG Rover was formed by merging UK's biggest car companies such as Austin, Rover, Morris, MG and Leyland. In 1994, its owner British Aerospace sold it to BMW, forming the 7th largest car group in the world. However, Rover did not withstand stiff competition in the mass production car market. It continued losing money thus was eventually axed by BMW.

New owner Phoenix Venture Holding was never likely to be a savior to Rover. Apart from earning substantial money for its 4 directors, Phoenix did little to save MG Rover. Eventually, the company burnt the US$500 million cash loan by BMW and came to a halt. Not just temporary out of business, but a terminal end.

The remaining assets of the company included several valuable brand names: MG, Austin, Morris, Healey and Wolseley. MG was sold to NAC of China afterwards.

Brief History

Rover Group, the largest car maker in Great Britain, was a living history of how a country's auto industry declined. The group had a complicated history because it was formed by a dozen of large and small car makers in different time. Although the name "Rover" was commonly used to refer it in its last years, it was not necessarily the mainstream of the group's history. Instead, I believe Austin was more worthy to the mainstream status. Austin was renowned of producing the Austin Seven (1922-31) which was the most popular British car before the Second World War.

The Rover line started life in 1904 to produce medium price cars. Before that it was a bicycle and motorbike maker. The production rate remained low during the pre-war years - even in its best year, 1939, it produced only 11,000 cars. After the war, it introduced the first civilian 4x4, Land Rover. That was 1948. Within 10 years of production, the 250,000 Land Rovers rolled off the production line and became one of the most important model for Rover.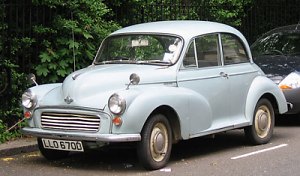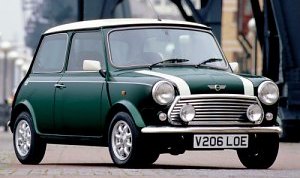 Left: Morris Minor (1948-71); Right: Mini (1959-90)

Another main contributor to the group was Morris, which produced the first car with its name in 1913. Like Austin, the cars of Morris were cheap and simple. The most notable of which was the post-war model Minor, which was the best ever selling British car then. MG, the short write of Morris Garage, was a sports car maker turned from a garage in 1925. It made low price, lightweight sports cars out of Morris' parts. Models such as TC, Midget, MGA and MGB stormed the world from the mid-1940s to the early 70s, helped Britain securing the top spot of global sports car market.

Austin cooperated with sports car specialist Healey to introduce a line of sports cars under the name of Austin-Healey, most notable were Austin-Healey 100 and 3000.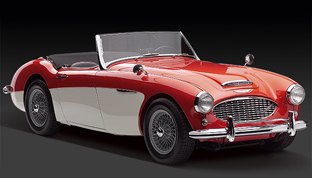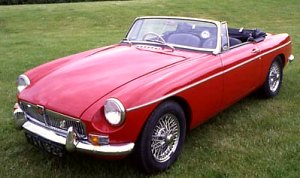 Left: Austin-Healey 3000 (1959-67); Right: MGB (1962-80)

Now come the amalgamation. Austin merged with Morris in 1952 to form BMC (British Motor Corporation), easily became the largest car maker in Britain. In 1959, it introduced one of the all time greats, Mini, in both Austin and Morris badge. Over 5.3 million Minis were produced in the following 4 decades. In later years, racing expert John Cooper even modified it into Mini Cooper and won Monte Carlo Rally in 1964. Meanwhile, the sports car subsidiary of both brands, Austin-Healey and MG (they were once rivals), were produced in the same factory side by side. To avoid internal competition, Austin-Healey received bigger engines and went upmarket, while MG kept producing mass market roadsters, from MGA to MGC.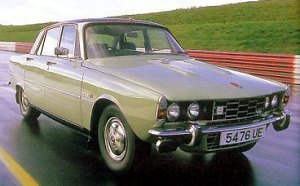 Rover P6 (1963-77)



Rover continued to survive as an executive car and off-roader maker. The model Rover P6 won European Car of the Year in 1963. But that didn't stop the British motor industry from declining. Many car makers, including Rover and BMC, were actually running in loss. In 1967, under the guidance of the government, Rover, BMC, truck maker Leyland and more other small manufacturers merged into a single company which effectively dominated the British motor industry. That company was officially named British Leyland Motor Corporation but more commonly known as "British Leyland". The group had almost 20 brands under its control, including Austin, Austin-Healey, Land Rover, Rover, MG, Triumph, Leyland, Morris, Riley, Jaguar, Daimler and Vanden Plas. Over the next few years the company rationalised its assets and resources, but the financial status was not improved. MG and Austin-Healey passed away in the late 70s under stiff competition from the Japanese sports cars like Datsun 240Z.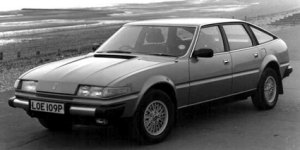 Rover SD1 (1976-86) - last great Rover

Under the leadership of Labour Government, the group was nationalised while Jaguar was sold off. In the unresting 1970s, it was hit by strikes, which resulted in poor build quality and damaged its reputation. British Leyland dropped the Morris name and used the sports car name Triumph to market its saloons also. The TR-series sports cars survived until 1981, by then the saloon division had already lost too much money and was transformed to assemble Honda Civic under license. However, the group soon realised the Rover brand could make the Honda-based cars look more upmarket, so it sent Triumph to grave.

In the 80s, Leyland truck quit the group so that the latter was renamed to Austin Rover, which showed two of the most important brand names of the group. Austin produced cheaper cars such as Metro (developed from Mini), Maestro and Montage. Rover made more modern and prestige cars out of Honda Concerto (Rover 200 and 400), Accord (600) and Legend (800). The Japanese car maker took minority shares in Rover but a full takeover was not considered, so the government sold it to British Aerospace in 1988.


1995 MGF



By the mid-90s, all the outdated Austin models phased out and the brand became effectively dead. The group was therefore renamed to "Rover Group", which built just Rover and Land Rover. Later on, the launch of MGF revived the MG brand while Mini began marketed as a separate brand.

The link with Honda faded out since 1994 as BMW took over the group. In the following 6 years, Munich invested some US$4 billion into Rover, developed Rover 75 and new Range Rover but still failed to turn around it. Continuous loss forced BMW to withdraw in year 2000. Because the industry was already troubled by overcapacity, BMW failed to find any car makers interested to purchase Rover, therefore it sold Rover to a newly formed capital venture called Phoenix Venture Holdings for just £10 - basically just wanted to escape from liabilities as soon as possible. The sale transferred all brands to Phoenix, except Land Rover (which was separately sold to Ford), Triumph, Riley and Mini - the latter 3 are now permanently owned by BMW.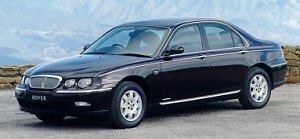 Rover 75 (1999-2005)



In the 5 years managed by Phoenix, sales of the company - now renamed to MG Rover - continued sliding. In 2000, the Rover and MG brand cars accounted for more than 200,000 units of sales a year. By 2004, it slid to just half of that. Lacking money to develop new generation models, MG Rover could only launched MG versions of the existing Rover cars and revamped De Tomaso / Qvale Mangusta to be MG SV, but that could not help its long-term survival. Finally, on 8 May 2005, MG Rover ran out of cash and stopped production. The next day it announced went into receivership. The last British big car maker was dead.