Introduction
No other car makers follow traditions like Morgan. After 100 years, it is still located at the original site and remains a family business. It might look old-fashioned from its cars or its red-brick factory, but it did find a niche in the market, as there are always some rich customers want classic cars and the heritage associated with them. Morgan produces real living history, unlike the fake classic cars from rivals like Wiesmann and Mitsuoka.

Since he took over the family business in 2006, Charles Morgan modernized the technology of its cars (thanks to BMW components) but kept their traditional looks and hand-crafted production method mostly unchanged. While other British sports car specialists went burst one by one, Morgan enjoys increasing sales and the longest waiting list (in terms of delivery time) in the auto industry.

Brief History

Morgan was founded in 1909 by H.F.S. Morgan at Malvern Link of Worcestershire. Throughout the years it remained at that place and managed by the family - H.F.S. himself, then his son Peter Morgan and his grandson Charles Morgan. The first Morgan car was Runabout, a 3-wheeler powered by a Peugeot V-twin engine. In the first 3 decades, Morgan remained a manufacturer of 3-wheelers only.

As 3-wheelers became decreasingly popular over time, Morgan finally introduced its first 4-wheel car in 1936. It was called 4/4, which meant 4 wheels and 4 cylinders. The lightweight Morgan sports car offered good performance for its time. It chassis was made of ash wood frames sandwiched with thin aluminum skins, a lightweight feature still being used by its cars today.

In 1950, the 4/4 was succeeded by Plus 4, whose name implied an enlarged 4-cylinder engine, but it kept the classical pre-war sports car style. Morgan never built its own engines. Instead, it sourced engines from Standard, Conventry Climax, Triumph, Rover and Ford.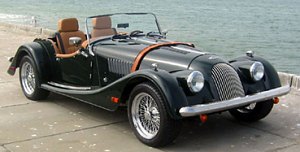 Morgan Plus 8



1968 came the Rover V8-powered Plus 8. This engine, initially displaced 3.5 liters and later on 3.9 and 4.0 liters, provided sparkling performance to the lightweight Morgan. It served the car until as late as 2004 when Rover ceased its production.

Without any ambitious business plans, Morgan has always been satisified to produce cars by hands and in small volume. However, its Plus 4 and Plus 8 became increasingly outdated in chassis technology as the basics had not been changed since 1950. Entering the new millenium, the third-generation owner, Charles Morgan, started making changes. Not only the production facilities were modernized, he introduced an all-new model called Aero 8. This car employed an advanced aluminum tub chassis while preserving traditional ash wood frames in non-stressed area to please its customers. Its proportion and style also resembled the classic Morgan as far as possible, although aerodynamic was enhanced. BMW offered its V8 engines, transmissions and modern electronics, which helped it pass type approval tests in EU and USA. With Aero 8, Morgan was one of the few British sports car specialists improving its business in the first decade of new millenium.