Introduction
McLaren Automotive (previously called McLaren Cars) has a modern headquarters / R&D / production facility at Woking of Surrey that many British sports car specialists would jealous. After a brief run of McLaren F1 and Mercedes SLR, the facility is finally put to good use, building a trio of mid-engined supercars. Thanks to its expertise in carbon-fiber construction and racing chassis technologies, McLaren has very good potential to develop itself into a formidable rival to Ferrari, just like what its Formula One team has been doing for years.

Brief History

Motor racing has always been the core business of McLaren. Bruce McLaren started racing as a driver and then simultaneously as a team owner in the mid-1960s. By the end of that decade, he planned to produce a mid-engined road car named M6 GT. Unfortunately, the project never materialized following his fatal accident in 1970.

3 decades later, the famous Formula One team resurrected the idea of road car production. McLaren Cars was established in 1989 to realize a supercar project called F1. It was designed by ex-F1 designer Gordan Murray and employed a lot of unprecedented advanced features. Moreover, the lightweight machine was propelled by a powerful BMW V12 thus easily became the fastest car in the world. Though winning overwhelming acclaims, its high price and inefficient production resulted in just 100 cars built in 3 years. In 1996, after the 100th car rolled out, the factory was effectively shut down.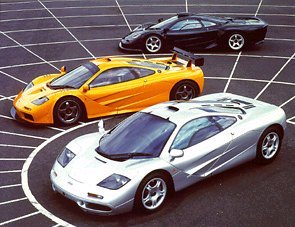 McLaren F1, F1 LM and F1 GT



In 1999, McLaren was asked by its motor racing partner Mercedes-Benz to develop and build its SLR supercar using its carbon-fiber experience. As a result, £300 million was injected into the McLaren group, including £130 million to be spent on the SLR project. In return Mercedes took 40% stakes in McLaren group. McLaren Cars was therefore revived. The SLR went on sale in 2003, but it was compromised in many areas and far less spectacular as the previous F1, no wonder its sales fell short of target. 2153 cars were built until 2010.

However, the Woking factory did not shut down this time around, because McLaren was relaunched as a supercar maker in the same breath of Ferrari. Starting from 2011, it introduced 3 lines of sports cars, i.e. the Super series (MP4-12C / 650S), Ultimate series (P1) and Sport series (570S), accompanied with adequate sales and marketing effort. It aimed to sell 4000 cars per year.