Brief History

Marcos was founded by young engineer Jem Marsh and aerodynamicist Frank Costin in 1959. The name Marcos was the combination of their surnames, although Costin left the company after only 2 years. The early Marcos concentrated on race cars which achieved quite good results in domestic races. In 1964, it built its first road car, Marcos GT. This was a handsome front-engined grand tourer with a lightweight wooden chassis and Volvo 1.8-liter engine. Though not very fast, it would continue to evolve and gather speed in the following 40 years.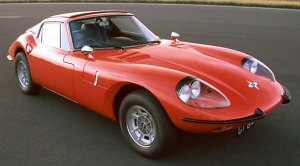 Marcos GT



In 1969, the car switched to steel chassis and more powerful 6-cylinder engines. In 1984, it got a new name, Mantula, and greatly improved performance by Rover 3.5-liter V8 (like contemporary TVR and Morgan). Another evolution to Mantara in 1993 brought Rover 3.9 V8 and hot versions LM500 (with Rover 5.0 V8) and LM600 (with Chevy 6.0 V8). The LM also got massive aerodynamic kits as they were used in European GT racing. 4 years later saw Mantis, basically the same car as LM but with Ford 4.6-liter 32-valve Cobra V8. A supercharged version with an astonishing 500 horsepower and 180 mph top speed completed the evolution in 1999.

The GT was the backbone of Marcos through the years. The company tried to expand its range a couple of times, such as the Mini Marcos of 1965 (a funny small coupe based on the mechanicals of BMC Mini) and Mantis 2+2 of 1970. The former recorded 1300 units of sales but the latter only 32 cars. The failure of Mantis, in addition to the costly investment into a new factory and failure to enter the US market dragged Marcos into its first bankruptcy in 1971.


Mini Marcos



Jem Marsh bought back the rights of Marcos and relaunched the GT family in 1981. However, to save money the cars were available in kits form only until 1993. The company enjoyed some racing success, hence orders from racing drivers, with the LM cars in the mid-1990s. However, the GT was obviously too old as a road car, and it looked outdated. Marcos sold only a few dozens cars a year, which could hardly fund the development of a new car. In 2001, it went into bankruptcy again.

Canadian tycoon Tony Stelliga resurrected the company in the next year. He employed engineer from Prodrive and ex-TVR designer to develop an all-new Marcos, which debuted as TSO in 2004. The car employed powerful Chevrolet V8, tubular spaceframe chassis and glass-fiber body in the fashion of many low-volume British sports cars. Nevertheless, at a time when even TVR failed to survive, how could Marcos ? It went into liquidation again in 2007.