Introduction
Incredibly, since 1973 Caterham has been building basically only one car, Caterham 7, which is based on the 1957 Lotus 7. The timeless Colin Chapman design with its lightweight construction allows Caterham to feed the "trackday cars" market mainly in UK. To sustain the business, Caterham keeps updating its design with newer, highly tuned engines and chassis improvements.

Due to its small volume, its cars only need to undergo Single Vehicle Approval (SVA) scheme in the UK to avoid the costly EU type approval. Many of them are sold in kits form to escape from taxation.

Brief History

The 1957 Lotus 7 was one of the most classic road and track car designs. Its no-nonsense engineering, with a low center of gravity, perfect balance and lightweight tubular spaceframe chassis made it faster than many so-called "supercars" in the real world. After 15 years of service, it finally retired from Lotus' lineup in 1972. However, this was only the beginning of its second life...

Graham Nearn's Caterham was a Lotus dealer. He purchased the rights to Lotus 7 in 1973 and started building the car, now called "Caterham 7". The company kept updating the car whenever a better engine was found suitable to fit into the car. It also kept improving its chassis, suspensions and weight to enhance performance. Although many copycats (most notably Westfield) emerged, Caterham remained to be the best selling among all Seven-lookalikes.

In 1987, Caterham moved its factory from the original site to the larger Dartford factory in Kent.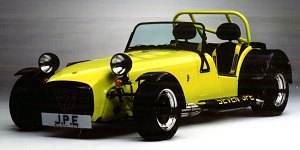 1992 Caterham 7 JPE



Throughout the years, Caterham produced many versions of the 7 with spectacular performance. One of them was the 1992 Seven JPE (Jonathan Palmer Evolution), whose 250hp Opel 2-liter engine and 540 kg kerb weight resulted in a record-breaking 0-100mph-0 time of 12.41 seconds. Others include the 1997 Superlight R (190hp Rover 1.8 K-series / 470 kg) and 1999 R500 (500hp per tone thanks to 230hp 1.8 K-series and 460 kg).

Caterham tried to broaden its appeal by introducing a new car, Caterham 21, in 1995. It was based on the 7 chassis but covered with a modern wind-cheating body and offered more creature comfort. However, in a market overcrowded with good roadsters like Lotus Elise and Mazda MX-5, this Caterham had little space for survival. It was axed after only 4 years.

In 2005, the Nearn family sold Caterham to a venture led by ex-Lotus boss Ansar Ali. In the same year, Caterham introduced the new CSR, which featured a wider body (for more cabin space), double-wishbone rear suspensions (replacing the old de-Dion axle) and a new Cosworth 2.3 engine with 260 hp. This was the most radical update since the 21.