Sales figures

2017: 11,089 units (production: 4849 Bentayga, 2813 Conti GT, 2295 Flying Spur, 595 Mulsanne)
2016: 11,023 units (production: 5586 Bentayga, 3872 Conti GT, 1731 Flying Spur, 628 Mulsanne)
2015: 10,100 units (production: 6213 Conti GT, 3660 Flying Spur, 919 Mulsanne, 96 Bentayga)
2014: 11,020 units (production: 5593 Conti GT, 4556 Flying Spur, 884 Mulsanne)
2013: 10,120 units (production: 5799 Conti GT, 3960 Flying Spur, 1117 Mulsanne)
2012: 8,510 units (production: 6174 Conti GT, 1764 Conti Flying Spur, 1169 Mulsanne)
2011: 7,003 units
2010: 5,117 units (production: 2578 Conti GT, 1914 Conti Flying Spur, 354 Mulsanne, 6 Brooklands, 2 Azure)
2009: 4,005 units (production: 1933 Conti GT, 1358 Conti Flying Spur, 147 Arnage, 106 Brooklands, 93 Azure)
2008: 7,685 units
2007: 10,014 units (production: 6987 Conti GT, 2270 Conti Flying Spur, 357 Arnage, 350 Azure, 8 Brooklands)
2006: 9,200 units (production: 5353 Continental GT, 4042 Continental Flying Spur, 464 Arnage, 177 Azure)
2005: 8,984 units (production: 4733 Continental GT, 4271 Continental Flying Spur, 556 Arnage)
2004: 6,576 units (production: 6896 Continental GT, 790 Arnage)
2003: 1,017 units
2002: 1,210 units
2001: 1,781 units
2000: 1,364 units
Brief History

Bentley was founded by engineer Walter Owen Bentley in 1919 as a sports car maker. Unlike contemporary French and Italian sports cars, W.O. Bentley designed his cars to be heavyweight but sturdy and bullet-proof reliable. His 3-Litre series, including 4½-Litre and 6½-Litre, was massively successful in endurance racing, taking 5 Le Mans victory between 1924 and 1930. Perhaps out of jealousy, Ettore Bugatti described them as "the fastest lorries in the world".

Despite of racing success, the company never returned a profit. In 1925, W.O. Bentley ran out of money and sold the majority stakes of his company to millionaire racing driver Woolf Barnato. Barnato and a few other wealthy racers started using Bentley to realize their racing ambition. They became known as "Bentley Boys". In this way, W. O. Bentley designed race cars for Bentley Boys to race.


1921 Bentley 3-Litre



While racing earned Bentley acclaimed reputation, most customers wanted was luxurious cars instead. Bentley realized the problem very late. In 1930, it finally produced its first luxury car, the 8-Litre, which would give Rolls-Royce a serious challenge. Unfortunately, that was already too late. The Wall Street slump in 1929 hit the world into recession. Barnato's wealth evaporated. Bentley ran into bankruptcy in 1931. By then only 3000 Bentleys of all kinds had been built.

Shortly after that, Bentley was sold to a bidder called British Equitable Central Trust for £125,275. In fact, the secret buyer hiding behind was Rolls-Royce ! It was believed that the objective of the purchase was to eliminate its potential rival. W.O. Bentley left the company he founded and joined Lagonda to continue his engineering career. Since then Rolls-Royce dictated the development of Bentley cars and started merging their products. The marque Bentley became decreasingly significant in the company.

In 1938, Rolls-Royce and Bentley moved its factory from Derby to Crewe where it is still located today. However, for the following few decades, it still relied on traditional technologies and human-intensive production methods. Its products began increasingly outdated.



1952 Bentley Continental R



After the 1952 Bentley Continental R, Bentley cars became effectively rebadged versions of Rolls-Royce models and lost their unique appeal. During this period, the marque was rather forgettable. It did not get the right market positioning until the early 1980s, when Bentley models got turbocharging to offer a performance advantage over RR models.

In 1971, the automotive division of Rolls-Royce was seperated from the aero engine division under the guidance of the British government. They became Rolls-Royce Motor Cars and Rolls-Royce Plc respectively. Rights to the Rolls-Royce trademark went to the aero engine company, but licensed to the car company for use.

In 1980, Rolls-Royce Motor Cars was acquired by military tank maker Vickers.

Entering 1990s, Rolls-Royce and Bentley showed some signs of rerival. Its new generation Continental R and especially the later 400-hp Continental T coupe brought elegant style and speed back to the Bentley camp. Then the new RR Silver Seraph and Bentley Arnage twins introduced modern BMW engines and adaptive suspensions and ZF transmission.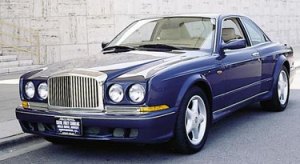 1996 Bentley Continental T



The link with BMW was established because BMW CEO Bernd Pischetsrieder was interested to buy Rolls-Royce in order to complement for its lack of ultra-luxury cars. In 1998, Pischetsrieder finally made an offer to Vickers, but he was soon shocked that Volkswagen group stole the deal with an even better offer. It was later known that Ferdinand Piech was more interested in Bentley and the Crewe factory rather than the Rolls-Royce brand. BMW fought back by securing the rights of Rolls-Royce name from Rolls-Royce Plc, thanks to the business relationship between BMW's aero engine division and Rolls-Royce Plc. Eventually, Pischetsrieder and Piech settled on an agreement that the Bentley brand name and the factory would go to VW, while the Rolls-Royce marque would transfer to BMW from the beginning of 2003. BMW would build another factory in England for producing future Rolls-Royce cars. In this way, Bentley parted ways with Rolls-Royce after more than 70 years together.

In the next few years, Volkswagen invested some

£500 million to renew the Crewe factory and develop new models Continental GT and Continental Flying Spur. They employed up-to-date technologies from Volkswagen and Audi's luxury cars, while benefited from the high quality standards and cost sharing of the German group. Volkswagen also wisely preserved its traditional British style and craftsmanship. The investment finally paid off in 2004 when Crewe recorded its first profit. In 2007, its sales broke the 10,000 units mark, 10 times of Rolls-Royce ! Few other marques could experience such a dramatic revival.