Sales figures

FY2018/17: 5,199,000 units
FY2017/16: 5,028,000 units
FY2016/15: 4,743,000 units
FY2015/14: 4,367,000 units
FY2014/13: 4,323,000 units
FY2013/12: 4,014,000 units
FY2011/12: 3,108,000 units
FY2010/11: 3,512,000 units
FY2009/10: 3,392,000 units
FY2008/09: 3,517,000 units
FY2007/08: 3,925,000 units
FY2006/07: 3,652,000 units
FY2005/06: 3,391,000 units

Reference:
http://world.honda.com/news/2017/corporate.html

Brief History

Soichiro Honda was a legendary man in the Japanese motor industry. The young Honda left school early and worked in a car and motorcycle repairment workshop, where he learned how machines worked and got the skill of building machines. His talent in mechanics became obvious soon, as did his hardworking and self-motivation. By 30 years old, he was already owning a workshop and became a supplier of piston rings to Toyota. However, his sight was set on producing vehicles. This started from 2 wheels...

After World World II, Japan was hit by poor economy and the lack of resources. Honda converted bicycles into motorcycles using some wartime surplus engines. Then he simply built his own engines and eventually the first real motorcycle. In 1948, Honda Motor Company was established with the financial backing from investors.

1950s was a successful decade to Honda. He introduced many new types of motorcycles that came popular in the market. He grew his workforce and engineering power. He opened the doors of export. By 1959, Honda became the world's largest motorcycle maker !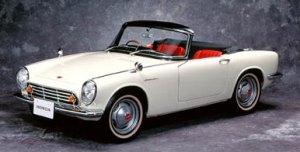 S500 (1963)



Now it was ready to expand into car manufacturing. In 1963, it introduced its first 4-wheel vehicles, the T360 mini truck and S500 mini sports car. The latter was especially interesting as it was powered by a high-revving twin-cam 500cc engine and drove its rear wheels via chains (obviously with strong influence from its motorcycle experience). A big seller it wasn't, but it impressed Western motoring journalists a lot and made Honda known to the world for the first time.

The debut of S500 coincided with Honda's first taste in Formula One racing. Soichiro Honda was never afraid of taking technical challenges. He wanted to use F1 racing to push his engineers forward and improve its technology. After a series of failure, it finally scored a maiden victory in the 1965 Mexico GP, although that was also the only victory it got as a full F1 manufacturer.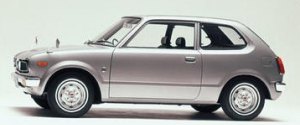 Civic (1972)



In the road car side, the S-series sports car was joined with the company's first mass production car, N360, in 1967. This car was designed according to the newly established "Kei car" category, which meant very small and equipped with a 360cc engine. However, the engineering know-how of Honda gave it respectable power and brisk performance. It became the best selling Kei car in the following 3 years.

But that was only the beginning. In 1972, Honda launched the most important car in its history, Civic. Its advanced features - FF layout, overhead cam engine and all-independent suspensions - were ahead of most of its European rivals, Volkswagen Golf and Alfasud included. Its small engine was powerful yet economical. The 1970s oil crisis and smog control helped its sales to surge in the USA market. Thanks to its patented CVCC combustion chamber design, Civic was the first car passing the new US Federal emission test without resorting to catalytic converter.


Accord Mk 3 (1985)



Following the success of Civic, Honda continued expanding its range with Accord (1976), Prelude (1978), City / Jazz (1981) and Legend (1985). Its cars combined Japanese build quality, economy and convenience with innovative design and advanced technology required by Soichiro Honda. For example, the 1985 Accord featured multi-valve engines with electronic fuel injection and all-round double-wishbone suspensions. Honda also pioneered 4-wheel steering in 1987 and VTEC variable valve timing and lift in 1988. As a result, it grew strongly during the 1980s. It started marketing Acura as its premium brand in the USA and localizing Accord to please American customers. Feeling the pressure of protectionism, it was the first Japanese car maker to establish factories in the United States. This helped Accord to be the first Japanese car topping the US car sales chart.

At that time everything Honda did seemed successful, even on race tracks. Returning to F1 racing as an engine supplier, its V6 turbo, V10 and V12 dominated the F1 world, powering McLaren and Williams to 6 consecutive constructor championship title between 1986 and 1991. Meanwhile, Honda amazed the world by developing the mid-engined NSX, a direct rival to Ferrari 328 / 348 series, just more advanced and user friendly. It remains the definitive Honda today.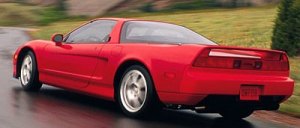 NSX (1990)



Although Honda was successful in the America, it was not as well received in Europe. To break into this market, it invested in the troubling British car maker Rover in the late 1980s. This resulted in a series of Rover models employing Honda engines and components. Nevertheless, it eventually sold the stakes of Rover to BMW and decided to build its own factory in UK.

The whole life of Soichiro Honda was devoted to guiding his company - He test drove every new models until he was 65. Following his death in 1991 at the age of 85, the company bearing his name entered a new era. Japan ran into a decade-long recession which inevitably hit the domestic sales of Honda. New CEO Nobuhiko Kawamoto decided to abandon the engineering-led approach of the founder for a market-oriented approach. As a result, it introduced MPV and Recreational Vehicles like Odyssey, CR-V and StepWGN in the 1990s to capture new customers. This helped it to overcome the recession and overtook Nissan as the second largest car maker in Japan. However, it no longer shone in technical innovations. If Soichiro Honda were still alive, it might not have lost the hybrid technology battle to Toyota.