Brief History

Argentinian Horacio Pagani started his career by working at Lamborghini. He took part in the development of the carbon-fiber chassis research car Countach Evoluzione and styled the production Countach 25 Anniversary. In 1988, he simply set up his own company, Pagani Composite Research, at Modena to make carbon-fiber parts for Lamborghini. 3 years later, it was renamed to Modena Design, which also supplied other supercars and racing specialists, such as Dallara, Aprilia and Ferrari.



Pagani started designing his first supercar in 1992. His countryman and childhood idol, J. M. Fangio, helped him secured the supply of Mercedes-Benz engines. The first production car, C8, was finished in 1998. However, it was little known, so was the company.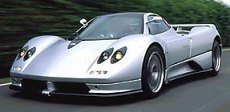 1999 Pagani Zonda C12 6.0



In 1999, the car evolved to C12, which was powered by a 6-liter Mercedes V12. Its beautiful shape raised public interest. An AMG-tuned 550hp 7.0-litre engine joined next year. By mid-2001, Pagani already delivered 20 cars to customers. The supercar business tasted its first success.

In 2002, the V12 was upgraded to 7.3 litres. The next year introduced Roadster version of the car. 2005 came the hottest version, Zonda F Clubsport, which set a new Nurburgring lap record even on a damp circuit.