Sales figures

2017: 51,000 units
2016: 42,100 units
2015: 32,474 units
2014: 36,448 units (23,500 Ghibli, 9,500 Quattroporte, 3,500 GranTurismo/GranCabrio)
2013: 15,393 units (7,800 Quattroporte, 4,700 GranTurismo/GranCabrio, 2900 Ghibli)
2012: 6,288 units (4,789 GranTurismo/GranCabrio, 1,499 Quattroporte)
2011: 6,159 units
2010: 5,675 units (4,223 GranTurimso/GranCabrio, 1,452 Quattroporte)
2009: 4,489 units
2008: 8,586 units
2007: 7,496 units (5,455 Quattroporte, 1,779 GranTurismo)
2006: 5,734 units
2005: 5,568 units
2004: 4,590 units
2003: 2,839 units
FY2001: 1,869 units
FY2000: 2,027 units
1999: 1,538 units
1998: 620 units

Brief History

Maserati was founded by 4 brothers: Alfieri, Ettore, Bindo and Ernesto Maserati. Although Alfieri set up a workshop as early as 1914 to design race cars, the first car bearing their family name did not appear until 1926, yet that was still a race car. Before the Second World War, Maserati was known only as a manufacturer of race cars. Its cars achieved numerous victories, but overall speaking failed to match the mighty Bugatti, Alfa Romeo, Silver Arrow (Mercedes-Benz) and Ferrari of the time. The only exception was the 250F grand prix car, which won F1 world championship in 1957 in the hands of Juan Manuel Fangio. That was also the definitive Maserati race car.


250F (1954)



Owing to financial problem, the Maserati brothers sold their company to Adolfo Orsi in 1937, although they remained serving the company in the next 10 years. Orsi set his sight more in road car business. The first road car, A6 1500, was born in 1947 based on the mechanicals of its race cars. It was then evolved to A6G 2000 in 1954, introducing a twin-cam straight-six engine. However, the Maserati was no where as fast as Ferrari's V12 sports cars nor as cheap as Jaguar XK140, therefore only a handful of cars were sold.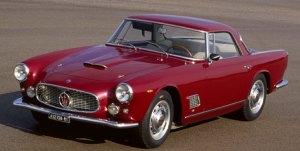 3500GT (1957)



More success was achieved with the 1957 Maserati 3500GT. This elegant-looking luxury 2+2 coupe was powered by a larger, 3.5-liter version of the straight-six. With grace and pace, over 2200 cars were sold in the next few years. It was followed by Sebring and Mistral. 1963 arrived the first Quattroporte 4-door sports saloon, with a powerful quad-cam V8 engine. Maserati established a reputation matching Ferrari and Lamborghini, just biased more towards luxury.



Ghibli (1966)



The next generation of Maserati was even more fascinating. Lamborghini Miura triggered the war of supercars. Maserati responded quickly with the beautiful Ghibli (1966), Indy (1968), Bora (1971) and Khamsin (1973), all powered by the now famous quad-cam V8. In particular, the Bora and its V6 sister Merak were Maserati's first and only mid-engined machines ever made. Undoubtedly, from 1960s to early 70s was the golden age of Maserati.



Bora (1971)



In 1968, Citroen bought Maserati from the Orsi family. The French car maker wanted to share technology with its Italian subsidary, which resulted in Citroen SM powered by Maserati V6. However, the marriage was short-lived, as the 1973 oil crisis hit Maserati hard while Citroen itself also got into financial trouble (which led to its eventual sale to Peugeot). Maserati was received by the Italian government in 1974, then sold to Alejandro de Tomaso the next year.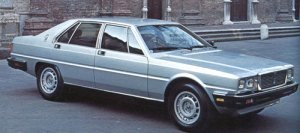 Quattroporte III (1976)



The "Professional Survivor" turned around the company by introducing Kyalami and Quattroporte III, which were based on De Tomaso Longchamp and Deauville respectively to save costs and time. The Quattroporte III was very successful with 2100 cars sold and saved Maserati. Later on, De Tomaso turned Maserati to produce more affordable coupes and saloons base on a single platform. Therefore in the 1980s and early 90s we saw countless of look-alike Maseratis in different names - Biturbo, Spider, 222, 228, 420, 425, 430, Karif, 2.24, 4.24, Racing, Ghibli... all powered by a bi-turbo V6. Even the later Shamal and Quattroporte IV were also derived from the Biturbo platform, despite of using a new bi-turbo V8. They were not great Maseratis, of course, but did help the company to survive.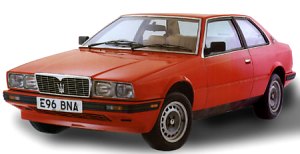 Biturbo (1981)



In 1993, De Tomaso sold half of his stakes in Maserati to FIAT. This seemed to have little effect until four years later, FIAT acquired the remaining 50% via its subsidiary Ferrari. This mean the latter was given the task to rebuild Maserati, its once arch-rival. To avoid internal competition, Maserati was repositioned to produce luxury high performance saloons and grand tourers. The first all-new Maserati engineered by Ferrari was the 3200GT (1998), which clearly returned to form although the engine was still based on the twin-turbo V8 of Shamal. This last link with the old era was finally cut 3 years later, when it was replaced by a Ferrari V8. The brand image of Maserati continued improving with the new Quattroporte in 2004 and GranTurismo in 2007.


3200GT (1998)



As sales increased by more than 10 folds in the last 10 years, Maserati finally became profitable in 2007. Mission accomplished thus Ferrari handed it back to its parent company. Now it is the turn of Alfa Romeo to look after it. Based on its platform, Maserati built 8C Competizione for Alfa Romeo. How it could be benefited from Alfa is yet to be seen.