Sales figures

Sales:
2017: 60,800 units
2016: 67,100 units
2015: 61,700 units
2014: 70,000 units
2013: 72,000 units
2012: 90,000 units
2011: 99,000 units
2010: 99,376 units
2009: 121,551 units

Production:
2008: 113,307 units
2007: 118,036 units
2006: 122,956 units
2005: 115,543 units
2004: 118,201 units

Introduction
Lancia is the premium car division of FIAT. It had a glorious history of innovative engineering, but in recent decades it has lost its shape. After many failed attempts to turn around, its operation is fully integrated with FIAT. All Lancia cars are developed by the mother company based on FIAT platforms, just differentiate from their siblings by more upmarket styling, packaging and trims. As a result, they can hardly compete with offerings from other European premium brands.
Brief History

Lancia was founded by Vincenzo Lancia in 1906 and soon became famous for elegant build and technical innovations. While other car makers were still using straight engines, it had already built a V8 and patented a narrow-angle V12 in the late 1910s. However, the most innovative model was the 1922 Lambda, which is now regarded as one of the engineering masterpieces of pre-war cars. It was the first car in the world to employ a load-bearing body structure and transmission tunnel, which greatly lowered the car compare with conventional body-on-frame construction, hence greatly improved roadholding. It also featured an innovative V4 engine and independent front suspension, both were world's first, too. Lancia set a lot of industrial standards early on.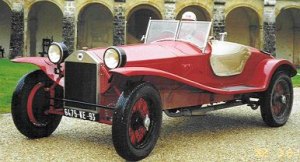 1922 Lambda



1933 saw the arrival of the Augusta, which was the first saloon in the world with a load-bearing monocoque body. The Aprilia of 1934 was among the first to have a body developed in wind tunnel. It also introduced all-independent suspensions and disc brakes. The 1950 Aurelia introduced the first production V6, also a rear-mounted transaxle comprising of gearbox and differential.

Vincenzo Lancia died in 1937 from heart attack. His son, Gianni, took over the company after WWII and began involving motorsport - first in touring car races against Alfa Romeo, then Formula One in the 1950s. However, in the commercial side, the small scale production and pursuit of engineering excellence did not result in profit. Serious financial difficulties led to its withdrawal from motorsport in 1955 (although its innovative D50 F1 car was transferred to Scuderia Ferrari team and won the world championship next year). Gianni had to sell his company to Pesenti, a financial group. In 1969, it was transferred to FIAT.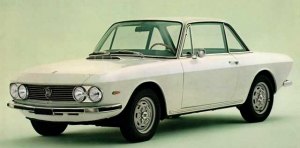 1965 Fulvia coupe



Lancia continued building interesting but hardly mass production cars, such as the 1957 Flaminia executive saloon and coupe (V6, all-independent suspensions and Pininfarina design) and the 1960 Flavia (Italy's first front-drive production car). Things got better with the 1963 Fulvia, with 340,000 copies sold until 1976. It was still a niche player though.

With financial backing from FIAT, Lancia returned to motorsport - but this time rallying. The handsome Fulvia HF won world rally championship in 1972. This was only the beginning. The next weapon was a purpose-built mid-engined sports car called Stratos. It won not only beauty contest but also 3 straight WRC titles in 1974, 75 and 76. After a brief rest (as it let FIAT 131 Abarth to take the limelight), Lancia dominated the rally world again with another mid-engined car, Beta Monte Carlo 037, in 1983 and then the mighty Delta HF 4WD and Integrale series, which won 6 consecutive championships from 1987-1992 !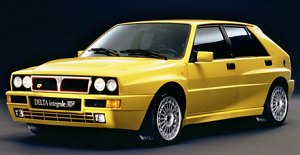 1988 Delta HF Integrale series



Since the Beta in 1972, FIAT started dictating the development of Lancia cars. They gradually merged with FIAT's own product programs, sharing powertrains initially and platforms eventually. For example, Delta / Prisma was derived from the mechanicals of FIAT Strada / Ritmo, Y10 was simply designed by FIAT, Thema shared platform with FIAT Croma, Saab 9000 and Alfa Romeo 164. These cars might lost the traditional character of Lancia, but they sold quite well in the 1980s.

The next generation lineup in the 1990s (Dedra, Kappa and Lybra) was less remarkable as Lancia abandoned its driver's car approach and tried to shift to luxury image. This attempt would not be fulfilled without the right products and quality control. Coupling to its loss of motorsport image and its withdrawal from right-hand-drive market, Lancia became less and less significant in the auto industry. The 2002 Thesis took the right steps towards building a world-class luxury car, but to revive the Lancia brand will take far more effort.