Introduction
De Tomaso has been effectively out of business after its founder and owner Alejandro De Tomaso died in 2003.

Although locating in the same town as Ferrari, Lamborghini and Maserati, De Tomaso never acheived the same kind of respect from car lovers. Its cars were all under-developed and roughly built. Moreover, how could the Ford V8s it used compete with Ferrari or Lamborghini's V12 ? While Porsche, Lotus, Ferrari, Lamborghini and even TVR had their own identity and unique commitment to the sports car industry, De Tomaso seemed undistinguishable and half hearted.

Brief History

Few people admired Alejandro De Tomaso. Through the years he had no intention to contribute something to the sports car industry. No technology breakthrough, no ambition to make the best cars or the most popular cars. We admired Colin Chapman's pursuit for innovation, Enzo's persistent in making the best sports cars, Ferruccio Lamborghini's enthusiasm to challenge Ferrari in his early years, also the hard-working of Maserati brothers. But De Tomaso just wanted to earn the most profit out of the least investment and effort. The story began in 1955...

Having involved in a political crisis in his home country, Argentinian Alejandro De Tomaso escaped to Europe, arrived Italy in 1955. He wanted to be a top racing driver, so he joined Maserati starting as a mechanic. He didn't achieve what he wanted before marrying American lsabelle Haskell, whose family was wealthy but herself was a keen racing driver (surprise ?). With money, De Tomaso started his racing career as well as building his own racing cars, sometimes also sold a few cars to others. Like what he experienced times to times in his subsequent life, he did not succeed and soon he changed his interest - this time to road cars.



Vallelunga



In 1963, He built this first car, Vallelunga, a little mid-engined sports car powered by Ford Cortina engine. We don't know how he managed to sell 58 units, but obviously much below the number originally planned. He changed his mind quickly, stopped developing the flawed Valleluna and started working on his first supercar, Mangusta. Funding came from his wealthy brothers-in-law. Dallara helped engineering the car based on Lotus backbone chassis, powered by Ford V8 and covered with Giugiaro's design. Again, the car was criticised for underdevelopment, especially the chassis flexing. Four hundred cars were sold before De Tomaso changed his mind again. The car was axed because he had a big plan to produce another supercar for Ford - the Pantera.



Mangusta



Ford was generous for offering its Cleveland V8 at a low price and even offered sales and aftersales service in its dealers. This was made possible just because Henry Ford II wanted to add an Italian exotic brand to his empire. Having refused by Enzo Ferrari, he might be surprised to see De Tomaso was even more eager for the deal than Ford itself. With support from Ford, De Tomaso dreamt of earning huge profit out of the least investment. However, this also meant Pantera was another compromise. The steel monocoque body was chosen for easy maintenance (and to please Ford) instead optimal performance. The American V8 was no way to match the Ferrari and Lamborghini V12. And there were many other problems due to the lack of quality concern.



Pantara



Because of the low price, it managed to sell around 7,200 Panteras in 20 years until 1994. De Tomaso might managed to earn some profit, but also earned him a name of the worst supercar maker. During this long period, he lost interest in the company bearing his name and would gamble on other investments. He acquired Maserati from Italian government and then the coachbuilder Ghia. Then he sold the latter to Ford. During the De Tomaso era, Maserati's reputation declined to the lowest ever level but the "professional survivor" still kept the company running until he sold it completely to FIAT in 1997. Another investment in small car maker Innocenti was also sold to FIAT. As seen, Alejandro De Tomaso was never concentrated on his sports car business. He was too flexible. He seized every opportunity to make money, mostly by buying and selling other car makers.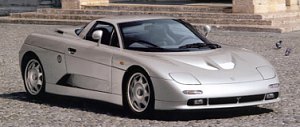 Guara



After selling Maserati, De Tomaso concentrated back on its own cars. The Pantara was replaced by Guara in 1994, but only 50 cars were ever sold. A more ambitious project was a front-engined targa-top sports car called Bigua. It was developed by Maserati engineer Giordano Caserini with funding came from the Qvale family, an American importer for European sports cars. However, dispute between De Tomaso and Qvale resulted in the latter took over the car and renamed it as Qvale Mangusta.

After surviving from an acute stroke in 1993, the old De Tomaso did not fully recovered. He eventually died in 2003 at the age of 74. The company bearing his name also came to an end the next year.