Sales figures

Production:
2017: 150,722 units
2016: 93,117 units
2015: 65,000 units (est)
2014: 68,000 units
2013: 74,000 units
2012: 101,000 units
2011: 132,000 units
2010: 112,000 units
2009: 101,600 units
2008: 103,097 units
2007: 151,898 units
2006: 157,794 units
2005: 130,815 units
2004: 162,179 units
2003: 182,469 units
2002: 187,437 units
2001: 213,638 units
2000: 206,836 units

Brief History

Alfa Romeo's history can be split into 2 periods - pre-war and post-war. The pre-war Alfa was more a sports car specialist and racing team without involving mass production. It was established in 1910 by a group of Italian car enthusiasts who called themselves "Anonima Lombarda Fabbrica Automobili" (ALFA). They acquired the Italian factory of Darracq (a French car maker) and started building cars in the Portello district of Milan. Not much was achieved until the company was bought by Nicola Romeo in 1915, who donated the second word of the company's name.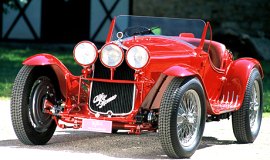 1927 Alfa Romeo 6C series



Because it involved too many other business, including machine tools and military equipment, the car division was largely unknown until the mid-1920s, when it created a string of sports car masterpieces - firstly the 6C series (with straight-6 engines), then the superfast 8C series (with supercharged straight-8). These cars employed advanced technology such as hemisphere combustion chambers, double overhead camshaft and superchargers. They were sold as rolling chassis to customers who could order some beautiful bodyworks from Touring of Milan, Zagato and Pininfarina.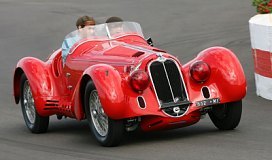 1935 Alfa Romeo 8C 2900B Mille Miglia



From the mid-1920s to the early 1950s, Alfa Romeo's Grand Prix team, once ran by Enzo Ferrari, stormed the motorsport world with P2, P3 and 158. It also won countless of road races like Mille Miglia and Targa Florio. As a national pride, Alfa got the support of Italian dictator Mussolini - the same way as Nazi supported the works Mercedes-Benz and Auto Union in the same period. As it ran into financial trouble, the government simply bought it through a state-owned company in 1933. Since then Alfa never bankrupted again.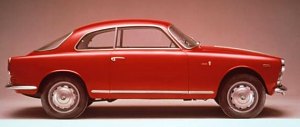 1954 Alfa Romeo Giulietta Sprint



However, after the war the government's policy changed and wanted Alfa to go mass production at the Milan plant and the new plant at Naples, southern Italy (called "Alfasud" or Alfa South). A compact sedan called 1900 was born and regarded as the first modern sports sedan in the world. But the state-owned Alfa did not realise the potential of this kind of car which would lead to the success of BMW in later years. It was more concentrating on the little Giulietta coupe (designed and bodied by Bertone) which is now regarded as one of the best classic cars like the pre-war models. Its success was repeated by Giulia coupe (GT and GTV), much larger in size as well as in sales number. Then came the romantic Duetto roadster which would become the evergreen Spider and was featured in Dustin Hoffman's film "The Graduate".


1963 Alfa Romeo Giulia GT / GTV



However, the sedan range was never as successful as the niche models. Giulia sedan (1960s), Alfetta (1970s), Alfasud (also 1970s), Alfa 90, 75 and 33 were not produced in really "mass" amount compared with other mainstream car makers. The Alfasud was to be an ambitious project. It was a brilliant concept as a front-drive small hatchback like the still-born VW Golf, but ruined by poor quality control and other problems caused by the bureaucracy within the company. The government no longer wanted to subsidise the loss-making Alfa and was finding a new partner. It turned out to be a joint venture with Nissan but was soon discarded. Finally it was sold to local giant and rival FIAT in 1986.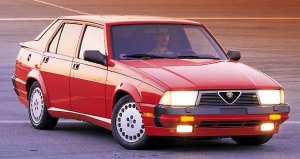 1985 Alfa Romeo 75 - last rear-drive Alfa



FIAT axed the rear-drive Alfa 90 and 75 and replaced them with Alfa 155, which was nearly a rebodied FIAT Tipo. Platform sharing also spread to other models - 164 (share with FIAT Croma, Lancia Thema and Saab 9000) and Alfa 145/146 (also FIAT Tipo). Fans of Alfa once thought the its tradition and character would eventually disappeared, until the arrival of new GTV and 156 in the mid-1990s. Under the leadership of FIAT boss Paolo Cantarella, Alfa regained its own character and re-established itself as a sport premium brand like BMW.


1995 Alfa Romeo GTV



Nevertheless, the sales of Alfa continued shrinking in the 2000s as its German rivals became ever stronger no matter in products and image. Alfa knew it had to improve its build quality and make a return to the USA market.