Brief History

Ettore Bugatti was perhaps the greatest artist in automotive history. He was born in an artistic Italian family and graduated from Fine Arts Academy in Milan. Although he also demonstrated talents in engineering, the way he created his cars was more art than calculation.

Ettore Bugatti started his career by building motor tricycles. He made his first 4-wheel car, Type 1, in 1901. Then he served several small car makers and designed a few more cars for them. In 1909, Bugatti founded his own factory in Molsheim, a town in France near the border of Germany. Meanwhile, he completed his 10th car, Type 10, and sold 10 units that year. Next year, 75 units of Type 13 were sold.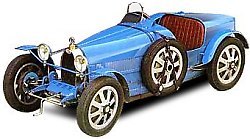 1924 Type 35



However, Bugatti's fame was established in racing tracks instead. He designed many GP cars, from Type 13 "Brescia" (powered by a straight-four with 4 valves per cylinder) to the world-beating Type 35. The latter won more than a two thousand races and is still the most successful racing car ever. Bugatti insisted all his cars, even racing cars, should look beautiful and elegant. This explain why Type 35 is one of the most valuable classic cars today.

If his racing cars were elegant, his Grand Tourers and luxurious cars were even more so. Type 57, especially in the rare "Atlantic" bodywork, were extremely expensive but it had no scarce of customers. Type 41 "Royale" with its 4.3 meters wheelbase and 13-liter engine made made today's Mercedes and Rolls-Royce seemed small and cheap in comparison.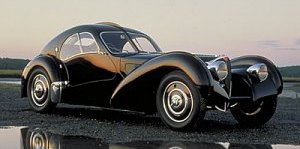 1935 Type 57SC Atlantic



During 1920s and 30s, Bugatti had established itself as the finest automotive marque in the world - only Hispano-Suiza and Rolls-Royce could match its superior status. This prestige went away together with Ettore Bugatti, who died in 1947. The company made some cars after WW II but no great things were created. Eventually it was absorbed by Hispano-Suiza and transformed into an aero engine maker.

Fast forward to 1987, Italian tycoon Romano Artioli purchased the Bugatti name and planned to revive it. A modern factory was built in Modena, Italy ("the capital of supercars"), therefore changing Bugatti to an Italian car maker. Ex-Lamborghini Countach engineer Paolo Stanzini was employed to design a stunning new supercar called EB110, the name implied that the car debuted 110 years after the birth of Ettore Bugatti. This 4-wheel-drive, mid-engined, carbon-fiber machine was powered by a 60-valve V12 fed by 4 turbochargers ! Like the pre-war Bugattis, it was elegantly built and well developed. Meanwhile, Artioli also acquired the troubled Lotus from General Motors. Unfortunately, the slump of supercar market in early 1990s drove Bugatti into bankruptcy again. Just 150 EB110s were built.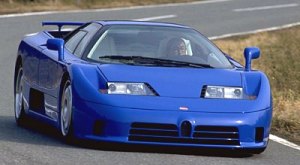 1992 EB110



In 1998, Volkswagen purchased the marque. 5 years later, a new factory was opened in Molsheim, the original site of Bugatti. It became a French company again, albeit belonged to a German group.

After some long delays, Bugatti Veyron EB16.4 finally went into production in 2005. It had an even more spectacular specifications than EB110 - 1001-horsepower quad-turbo W16 engine and a record-breaking 253 mph top speed. The car was engineered purely by Volkswagen in Germany, so the resurrected Bugatti became merely a production plant and sales office rather than a complete car maker.



2005 Veyron EB16.4