Sales figures

Group sales:
2017: 6,930,123 units
2016: 6,488,867 units
2015: 5,901,888 units
2014: 5,619,918 units
2013: 5,105,836 units
2012: 4,454,933 units
2011: 3,968,953 units
2010: 3,582,628 units
2009: 2,724,635 units
2008: 1,826,158 units
2007: 1,690,542 units
2006: 1,344,073 units
2005: 1,056,387 units

2017 sales by subsidiaries/brands:
Shanghai Volkswagen: 2,063,077 units
Shanghai GM: 2,000,187 units
SAIC GM Wuling: 2,150,018 units
Roewe & MG: 522,036 units

2016 domestic sales by models:
Volkswagen Polo: 180,138 units
Volkswagen Lavida: 548,131 units
Volkswagen Santana: 318,340 units
Volkswagen Passat: 188,214 units
Volkswagen Lamando: 143,145 units
Volkswagen Phideon: 3,307 units
Volkswagen Toureg: 242,160 units
Skoda Fabia: 12,272 units
Skoda Rapid: 94,676 units
Skoda Octavia: 155,098 units
Skoda Superb: 41,692 units
Skoda Yeti: 26,350 units
Chevrolet Sail: 140,283 units
Chevrolet Cruze: 189,106 units
Chevrolet Cavalier: 50,786 units
Chevrolet Malibu: 85,180 units
Chevrolet Trax: 37,636 units
Chevrolet Captiva: 21,956 units
Buick Excelle (old Daewoo Lacetti): 105,033 units
Buick Excelle (old Opel Astra): 370,375 units
Buick Verano: 177,202 units
Buick Regal: 69,300 units
Buick LaCrosse: 80,966 units
Buick Encore: 71,945 units
Buick Envision: 275,383 units
Cadillac ATS-L: 37,636 units
Cadillac XTS: 33,291 units
Cadillac CT6: 5,830 units
Cadillac XT5: 34,775 units
Wuling Baojun 310: 50,021 units
Wuling Baojun 630: 13,616 units
Wuling Baojun 560: 321,555 units
Roewe 350: 42,583 units
Roewe 360: 82,861 units
Roewe 550: 17,295 units
Roewe 750: 9 units
Roewe 950: 5,104 units
Roewe RX5: 90,033 units
MG MG3: 11,828 units
MG GT: 17,325 units
MG MG6: 2,210 units
MG GS: 48,937 units

Reference:
http://www.saicgroup.com/english/investor_relations/sales_volume/index.shtml
http://www.qqbenz.com/
http://www.qichexl.com/a/xiaoliangpaixing/

Brief History

Under planned economy, the state-owned forerunner of SAIC was founded in 1955 to produce tractors, diesel engines and generators etc. By 1978, new communist party leader Deng Xiaoping started an economic reform. Shanghai City Tractor & Automotive Industry Company, as how it was called, was selected for experiment. It signed an agreement with Volkswagen group of Germany to produce cars in China. In 1983, the first Volkswagen Santana - derived from old generation Passat - rolled off the production line in Shanghai.

The company was renamed to Shanghai Automotive Industry Corporation (SAIC) in 1990. Three years later, Santana, still the sole model produced there, reached an annual production rate of 100,000 units. The booming China market was hungry for cars !


Volkswagen Santana (1983)



Later, SAIC set up another joint venture with General Motors to produce Buicks, Cadillac and Chevrolet. Thanks to its unique financial and political strength in China (as SAIC was owned by Shanghai city government), it was able to partner with two of the world's biggest car makers. The ventures taught it the know-how of mass production process and quality control, but it still lacked its own competence in research and development.

As the Chinese government pushed for consolidating its automotive industry, SAIC found equipping itself as a fully competent manufacturer became essential. In 2004, it purchased Korean SUV specialist Ssangyong. The same year saw it tried to take stakes in the troubled MG Rover. This did not materialize, but eventually it acquired the intellectual property of Rover 75 and K-series engines as the Britsh firm went burst. Two years later, it installed a production line in Shanghai to build a Rover 75 clone called Roewe 750.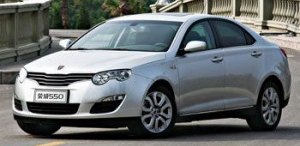 Roewe 550 (2008)



SAIC did not have good relationship with another Chinese car maker, Nanjing Auto, as the latter rivalled it for bidding MG Rover. Nevertheless, under the guidance of government, it acquired Nanjing in late 2007, through which it got MG brand and production equipments for MG TF sports car.

Based on the still-capable Rover 75 platform, SAIC employed Western consultants to develop Roewe 550 in 2008. This could be seen as the first real SAIC car. However, until today we have yet to see a car developed by its own.