Sales figures

Group sales:
2017: 2,001,036 units
2016: 1,650,095 units
2015: 1,299,660 units
2014: 1,172,310 units
2013: 1,004,615 units
2012: 712,154 units
2011: 740,394 units
2010: 724,222 units

2017 sales by brand:
Honda: 705,000 units
Toyota: 442,400 units
Trumpchi: 508,600 units
Fiat/Jeep: 222,332 units
Mitsubishi: 117,400 units

2016 domestic sales by model:
Honda Fit: 113,597 units
Honda City: 70,837 units
Honda Crider: 87,399 units
Honda Accord: 136,245 units
Honda Crosstour: 6,124 units
Honda Odyssey: 45,228 units
Honda Vezel: 164,076 units
Honda Avancier: 9,456 units
Toyota Yaris L: 63,443 units
Toyota Levin (Corolla): 159,071 units
Toyota Camry: 100,611 units
Toyota Highlander: 92,000 units
Mitsubishi ASX: 35,146 units
Mitsubishi Outlander: 16,655 units
Mitsubishi Pajero: 4,087 units
Fiat Viaggio/Ottimo: 12,699 units
Jeep Renegade: 24,207 units
Jeep Cherokee: 105,009 units
Trumpchi GA3: 741 units
Trumpchi GA3S: 7,533 units
Trumpchi GA5: 3,401 units
Trumpchi GA6: 12,746 units
Trumpchi GA8: 2,909 units
Trumpchi GS4: 326,906 units
Trumpchi GS5: 7,526 units
Trumpchi GS8: 9,006 units

Reference:
http://www.gagc.com.cn/investor/sale_jsp_catid_400_434_311.html
http://www.qqbenz.com/
http://www.qichexl.com/a/xiaoliangpaixing/

Introduction
GAC (Guangzhou Automobile Group) is a state-owned medium-size car maker located in Southern China. It is most known for producing Honda through its joint-venture with the Japanese car maker, but it also has similar joint-ventures with Toyota, Mitsubishi and Fiat. In recent years it started building its own vehicles using the brand Trumpchi, but the commitment was limited and this showed in sales results as well. In late 2012, it reached an agreement with Chery to use the latter's platforms. Hopefully this can compensate for its lack of R&D capability.

Brief History

Guangzhou Automobile Group was founded in 1997 by the Guangzhou city government. Initially it formed a 50:50 joint-venture with Honda to produce Accord locally. As the market was starved with well-built mid-size cars, the Accord became popular quickly. Seeing its success, GAC formed more JVs with Toyota (2004), Fiat (2010) and Mitsubishi (2012).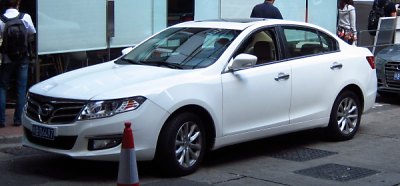 Trumpchi GA5 taking part in "Transformer 4"



In 2008, it set up another subsidiary called GAC Motor to build its own vehicles under the brand "Trumpchi". The first product, Trumpchi sedan, was built on the old Alfa Romeo 166 platform purchased from Fiat, completed with its own packaging and engines. The car was later revamped and renamed to GA5, featuring in Hollywood movie "Transformer 4". Later on, the line was joined with the smaller GA3 and SUV GS5. Nevertheless, sales remained disappointing.