Sales figures

Group sales:
2017: 2,872,456 units
2016: 3,063,403 units
2015: 2,776,514 units
2014: 2,544,055 units
2013: 2,120,018 units
2012: 1,756,580 units
2011: 1,663,841 units
2010: 1,901,800 units
2009: 1,425,777 units (production)
2008: 861,377 units
2007: 857,700 units

2016 domestic sales by models:
Ford Escort: 296,867 units
Ford Focus: 225,924 units
Ford Mondeo: 103,274 units
Ford Taurus: 34,043 units
Ford Ecosport: 42,393 units
Ford Kuga: 115,083 units
Ford Edge: 123,690 units
Mazda 3: 136,493 units
Mazda CX-5: 49,147 units
Suzuki Alto: 12,507 units
Suzuki Swift: 19,324 units
Suzuki Alivio: 21,896 units
Suzuki SX4: 11,851 units
Suzuki Vitara: 41,175 units
PSA DS 4S: 1,739 units
PSA DS 5LS: 3,151 units
PSA DS 5: 1,229 units
PSA DS 6: 10,004 units
Changan Benni: 50,968 units
Changan Alsvin V3 (old): 35,982 units
Changan Alsvin: 72,440 units
Changan Eado: 156,372 units
Changan Raeton: 4,533 units
Changan CS15: 77,943 units
Changan CX20: 10,908 units
Changan CS35: 172,712 units
Changan CX70: 80,636 units
Changan CS75: 209,353 units

Reference:
http://www.changan.com.cn/investor/jbqk/cxsj/
http://www.qqbenz.com/
http://www.qichexl.com/a/xiaoliangpaixing/

Introduction
ChangAn is one of the big 4 Chinese car manufacturers. Like most other car makers in China, it started producing civilian cars through forming joint-ventures with foreign car makers, firstly Suzuki, then Ford and Mazda. In recent years, it started producing its own designs with the help of Western engineering consultants. In 2015, it sold in excess of 900,000 passengers cars with its own brand, more than any other Chinese car makers.
Brief History

According to ChangAn, its history can be traced back to an arsenal founded in 1862, when China was still in Qing Dynasty. Through the years, ChangAn had been a military-owned enterprize producing machine tools and military goods. However, when China started economic reform in the late 1970s, it could no longer rely on government subsidy for survival. In the mid-1980s, it introduced Suzuki's minivans and trucks for production locally. This relationship was upgraded to a joint-venture, ChangAn Suzuki, in 1993, which introduced Suzuki Alto. 8 years later, it formed another joint-venture with Ford group to produce Ford, Volvo and Mazda models. By the mid-2000s, its annual production exceeded 600,000 units a year, placing it in the top 5 of Chinese car makers.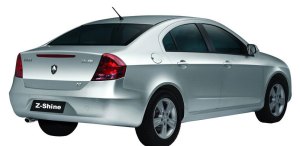 Z-Shine (2008)



In the late 2000s, ChangAn started employing European engineering consultants to develop its own cars, such as Benni (minicar), Alsvin (B-segment), CV8 / Z-shine (C-segment) and Joice (MPV). The next stage would be to build its own R&D capability.

In late 2009, under the guidance of the central government ChangAn absorbed the automotive operations of AVIC, Hafei and Changhe. The former name phased out soon, while the latter was transferred to BAIC in 2013.