Sales figures

Group sales:
2016: 2,847,000 units
2015: 2,480,000 units
2014: 2,401,000 units
2013: 2,164,000 units
2012: 1,700,898 units
2011: 1,541,000 units
2010: 1,500,000 units
2009: 1,240,000 units

2016 domestic sales by subsidiary/brand:
Beijing Hyundai: 1,142,016 units
Beijing Benz: 317,069 units
Beijing Auto: 457,082 units
BAIC Yinxiang: est 330,000 units
Foton (commercial vehicles): 531,109 units

2016 domestic sales by model:
Hyundai Verna (old): 116,513 units
Hyundai Verna: 40,389 units
Hyundai Elantra (old): 253,804 units
Hyundai Elantra: 132,210 units
Hyundai Mistra: 148,254 units
Hyundai Sonata: 35,998 units
Hyundai ix25: 113,468 units
Hyundai ix35: 71,938 units
Hyundai Tucson: 176,698 units
Hyundai Santa Fe: 22,438 units
Mercedes C-class: 105,400 units
Mercedes E-class: 57,439 units
Mercedes GLA-class: 66,909 units
Mercedes GLK-class: 70,204 units
Mercedes GLC-class: 17,096 units
Suzuki Wagon R: 29,238 units
Suzuki Liana: 11,756 units
Beijing Auto E-series (EV): 18,587 units
Senova D20: 3,071 units
Senova D50: 25,210 units
Senova CC: 554 units
Senova D70/80: 1,034 units
Senova X25: 81,359 units
Senova X35: 74,182 units
Senova X55: 31,298 units
Senova X65: 8,372 units
Yinxiang S2: 4,124 units
Yinxiang S3: 98,377 units
Yinxiang S6: 45,345 units

Reference:
http://www.baicmotor.com/en/ir/?back=1
http://www.baicgroup.com.cn/news_1.php
http://www.qqbenz.com/
http://www.qichexl.com/a/xiaoliangpaixing/

Introduction
BAIC (Beijing Automotive Industry Holding Co. Ltd.) is a state-owned manufacturer established by the Beijing city government. It is primarily known for producing Hyundai cars through a joint-venture. Because of this relationship, the streets of the capital city are flooded with Hyundai Elantra and Sonata taxis. Apart from Hyundai, it also runs a JV with Daimler to produce Mercedes for the consumption of local market. Another subsidiary, Foton, is a commercial vehicle manufacturer.

In terms of production volume, BAIC is ranked one of the top 5 car makers in China (together with SAIC, ChangAn, FAW and Dongfeng), but its own brand cars are the weakest among them. With little investment and expertise in vehicle development, it chose a short-cut by buying existing platforms and technology from the defunct Saab, including the intellectual property of the old 9-3 and 9-5. Based on the latter it developed the D-Series sedan with the help of Fioravanti (design) and some newly recruited German engineers. However, whether these outdated technologies can survive the increasingly stiff competition in the domestic market is really doubtful.

Brief History

Beijing Auto was founded in 1958 to manufacture military trucks and offroaders. Following the economic reform launched by Deng Xiaoping, it formed the first joint-venture with AMC/Chrysler in 1984 to produce Jeep for government and civilian use. The second joint-venture was established in 2002 with Hyundai, which quickly became the flagship of the company, contributing to the majority of its sales and profit. 4 years later, the Jeep factory was converted to produce Mercedes.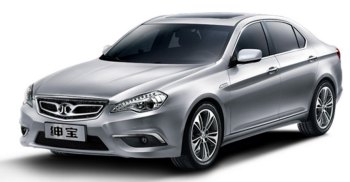 Senova D-series (2013)



The Chinese government has intention to consolidate the nation's auto industry. Those having their own brand cars and technology are supposed to have greater chance to survive the selection. Unfortunately, BAIC realized this later than its rivals. When most rivals had already developed their own cars, BAIC was still relying on its joint-ventures. As a short-cut solution, it bought the old Smart Forfour platform (together with the Mitsubishi engine) from its partner Daimler and, probably with the help of the latter, redesigned it to be the E-series hatchback. Meanwhile, it tried to acquire the collapsing Saab from GM, but turned out getting the intellectual property rights of the old 9-3 and 9-5 rather than the brand and company. In 2013, the 9-5-based D-series executive sedan went on sale in China.

Also in 2013, BAIC group absorbed the struggling Changhe Auto which produced some outdated Suzukis.

In 2014, BAIC acquired the revived German brand Borgward through its subsidiary Foton. The Borgward cars are built in China.