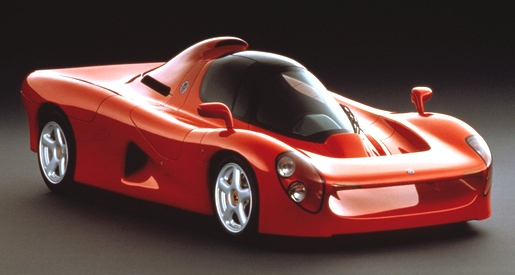 Ferrari and McLaren usually claimed their supercars inspired by Formula 1, but when it comes to transferring F1 technology to road use, none of them could compare with Yamaha OX99-11. This Japanese supercar actually employed a detuned version of the Yamaha 3.5-liter V12 that powered the contemporary Brabham and Jordan F1 race cars. Moreover, its chassis design was also closer to F1 machines than any other road-going supercars ever built. Unfortunately, the ambitious program turned out to be an unfulfilled dream…
It was the early 1990s. The automotive world was enjoying a supercar boom which saw super-expensive exotics like Jaguar XJR-15 and XJ220, Bugatti EB110, Cizeta V16T, Dauer 962LM, Lister Storm, McLaren F1, Vector W8 and some new nameplates you had never heard before. Everybody wanted to repeat the success that Ferrari F40 and Porsche 959 enjoyed a few years back. Yamaha was one of them. The Japanese motorcycle manufacturer had been supplying F1 engines for some time. Its latest engine for the 1991 season was OX99, a 70-degree 3.5-liter V12 having specifications remarkably close to Ferrari's, not just the cylinder count but also 5 valves per cylinder. The race engine produced 660 hp at about 13000 rpm, but it failed to match its rivals in both outright power and reliability, so it was uncompetitive on the racing circuits. Perhaps Yamaha felt unhappy with the lack of racing success, it turned its vision to build a supercar based on the F1 engine. The car was called OX99-11.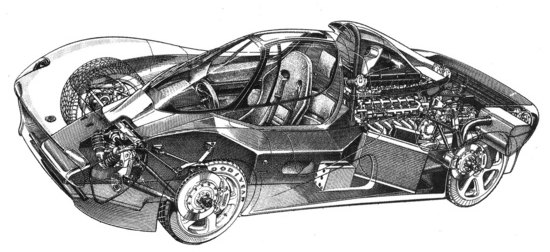 Yamaha had little experience of building cars (Toyota 2000GT was long time ago), let alone one so exotic, so it handed the project to its UK subsidiary, Ypsilon Technology, which was originally established to service F1 engines. The development was contracted to British engineering consultant IAD, which in turn employed some ex-F1 engineers to help.
While the car looked like a Group C endurance race car, its construction underneath the skin was actually like an F1 single-seater. The main structure was a carbon-fiber monocoque cockpit. The driver seat was located centrally – a feature preceding McLaren F1 – and a passenger seat was mounted right behind it. The second seat was so close to the front that the passenger would see nothing other than the backrest, and his legs would be placed either sides of the driver in the same way as motorcycle passenger (this arrangement was also used by
LCC Rocket
). Interestingly, the glasshouse was shaped like a jet fighter's. In addition to the prominent front spoiler that connected between the headlamps, the OX99-11 had one of the most distinctive shapes ever seen. The glasshouse was made of plexiglass (polycarbonate), and its rear half was a single gullwing door opened to the right side to give access to the cockpit. As in F1 practices, the V12 was bolted directly to the carbon-fiber monocoque and acted as load bearing for the transmission and rear suspensions. The transmission was an FF Development 6-speed manual transaxle, completed with limited slip differential and a multi-plate clutch. All corners employed double-wishbone suspension with inboard spring and damper operated via pushrod. In short, everything followed F1 practices. Ridiculously, the outer skin was made of hand-hammered aluminum sheets like Aston Martin. Ypsilon actually employed some Aston guys to do so. It was very well made, showing a high quality that most rare exotics lacked.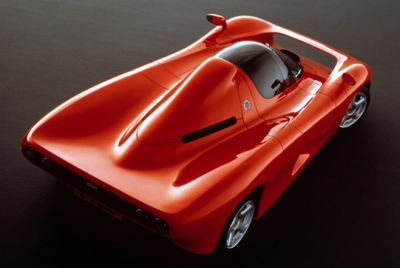 The V12 breathed through a top-mounted air box and intake duct like F1 cars. For road use, it was detuned to 400 hp at 10,000 rpm. Its specific output of 114 hp per liter was still easily higher than anything in the normally aspirated world, as was its record-breaking maximum rev. However, 400 horsepower was not a big deal even then, and its undisclosed torque should be overwhelmed by its larger capacity rivals. Meanwhile, the original weight target of 1000 kg was obviously unrealistic, as the prototypes weighed between 1100 and 1150 kg. As a result, its performance should be lower than expected. In a year's time McLaren F1 would raise the bar to 627 hp and 1138 kg. This was definitely a bad news to the stillborn Yamaha.
As the development was hit by troubles, Yamaha rethought the program. It became clear that it would be impossible to sell a supercar without a prestige nameplate for a jaw-dropping £900,000, especially when the world had entered economic recession. Consequently, it axed the program after 3 prototypes had been built. This evaluation turned out to be right, as the supercar bubble would burst shortly and drag many small players into bankruptcy. Sadly, we would never know how the OX99-11 would drive if it was completed. Perhaps it would have NVH problems even more severe than Ferrari F50, or it would break down as frequently as Brabham BT60, but in no doubt it would offer a driving experience closest to F1.
Note: this is the last piece of puzzle. After nearly 5 years of work (and delay), the reconstruction of Classic Car Archive is finally finished! Thanks for your patience! - Mark Wan on 10th Feb 2014.