If you love watching Hollywood's World War II movies like me, you won't be a stranger to Willys Jeep. This is the most frequently featured car on the big screen. During the war time, American built around 640,000 Jeeps. They were extensively used on all battle lines, providing basic transport to soldiers and officers.
The story started in mid-1940. US Army needed a small, all-terrain transport for the use on battleground, and it needed it quickly because it was about to take on Germany on the Western front. Many American car makers were invited to submit proposals, and 3 of them entered the final round of bidding. They were Bantam, Willys-Overland and Ford. The Army gave them only 49 days to develop the first prototypes for evaluation. Bantam's design was the most advanced and was initially preferred, but Willys-Overland had the best engine, whereas Ford had the largest production capacity. In the end, the best solution was chosen: the Bantam design was given to Willys to modify its car for mass production, while Ford was contracted to build the Willys car under license, providing additional capacity that the Army needed. Ultimately, Willys built 360,000 units of them from 1941-45, while Ford contributed another 280,000 units. The military vehicle was officially called MB by Willys or GPW by Ford, but they got a nickname soon, Jeep.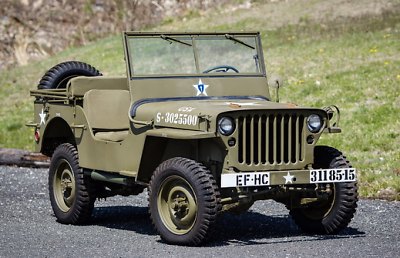 To serve on battleground, the Jeep was designed to be no-nonsense, easy to service and highly reliable. It was also very compact, measuring shorter than 3.4 meters and had a folding windscreen so that it could be airlifted or shipped in mass number. It seated 3 or 4 in a pinch, but 2 more rear passengers could sit atop the rear wheel wells. The engine was Willys 2.2-liter side-valve four-cylinder, nicknamed "Go-Devil", producing 60 gross horsepower and 105 pound-foot of torque, exceeding the military's requirements. Theoretically it could run up to 65 mph on road with the 3-speed synchromesh transmission. Offroad capability was achieved with a transfer case which split torque to both the front and rear rigid axles. Nevertheless, it did not tackle offroading as good as the forthcoming Land Rover because of its relatively small size and shorter suspension travel.

After the war, Willys continued to build and develop the Jeep for civilian use. This resulted in the CJ (Civilian Jeep) series that lasted until 1986. Before that, the company was already sold to AMC (American Motors Corporation), and eventually Chrysler. Therefore Jeep is owned by Chrysler today. In total, more than 1.6 million Civilian Jeeps were produced until it was taken over by Jeep Wrangler.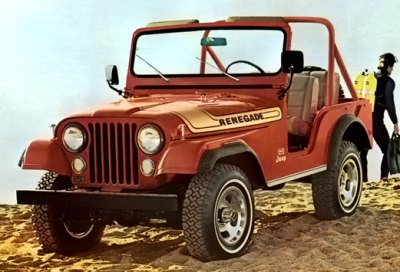 1971 CJ-5, still looked very much like the original MB.