Being known for practicality, reliability and safety, Volvo has never really built a sports car or a grand tourer throughout its history. However, in the early 1960s it came close to do so. The P1800 was a stylish 2+2 coupe that made people think about a poor man's Ferrari. Its proportion and its egg-crate grille were reminiscent of the 1956 Ferrari 250GT Boano, while the sharp tailfins had strong influence from Detroit. The car was designed by young Swedish stylist Pelle Petterson under the guidance of Italian design maestro Pietro Frua. Interestingly, Petterson's father Helmer was the creator of PV444, which brought Volvo the first mass production success a decade ago.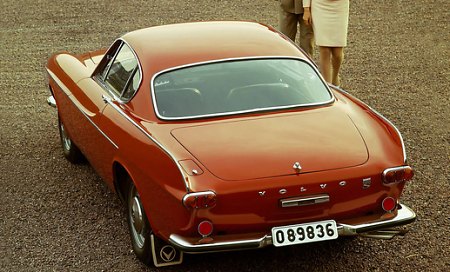 The P1800 was built on the platform of Volvo 122S Amazon saloon, so its mechanicals were fairly conventional. Its front suspension was double-wishbone type, while the rear was a rigid axle on coil springs. Braking was provided by Girling discs up front and drums at the back. The Amazon's 1.8-liter pushrod four-cylinder engine was tuned up slightly, running a 9.5:1 compression ratio and fed by twin-SU carburetors to produce 90 horsepower (or 100 hp gross as known to American). Although it wasn't powerful, it was known for bullet-proof durability as it was derived from a Volvo truck engine and had 5 main bearings. The transmission was a 4-speed manual gearbox with an electrical-operated overdrive, which allowed the coupe to cruise happily at 90 mph. Outright performance, however, was not as remarkable as it looked. It topped about 105 mph and accelerated from rest to 60 in 13 seconds. Likewise, the handling was average due to its saloon underpinnings.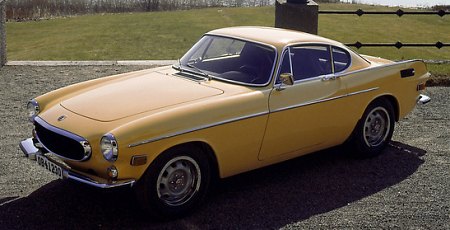 Contemporary reviews complained for some ergonomics flaws as the seats were mounted too low and the dash/steering wheel too high. The cabin was a little short of headroom due to the low roofline, while rear seats were suitable to only children or luggage. On the plus side, the beautiful body work was well built, feeling strong and well insulated, especially after production shifted back to Sweden in 1964 – previously, Volvo contracted the assembly to Jensen in Britain, which subcontracted the bodywork production to another British coachbuilder. The car was renamed to 1800S (S for Sweden) as a result. Further changes included a larger, 2.0-liter engine (again came from Amazon) in 1968 and the addition of Bosch electronic fuel injection in 1970. This brought its power up to 120 hp, top speed to 115 mph and cut 0-60 mph time to under 10 seconds. It was renamed again to 1800E, where E referred to the German word for injection. Nevertheless, by this time its chassis became really outdated.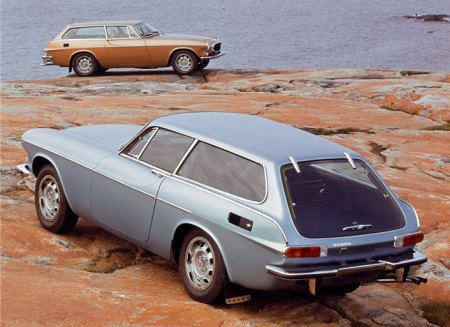 In 1971, Volvo followed Reliant Scimitar GTE to introduce an estate version of the coupe. It was called 1800ES. An extended roof allowed improved rear headroom (though legroom remained tight) and luggage space. With the rear seat folded it offered an expansive loading area. Access to the boot went through a stylish, frameless glass tailgate. That was one of the first "shooting brakes" appeared on the market.

Neither the coupe nor the shooting brake was considered to be a good driver's car. In fact, they were quite slow and bulky to steer by the standard of sporty cars. Like many Volvos built before the era of Ford ownership, they were more renowned for reliability and durability. A 1966 coupe holds the world record of driving mileage, clocking a staggering 3 million miles as of late 2013. It rewrites the meaning of "timeless".