The all-alloy 5-cylinder engine was developed with the help of Porsche. It was part of a modular family which also gave birth to the 3-liter straight-six of 960. It was available in either 2.0-liter or 2.4-liter displacement, equipped with DOHC 10-valve or 20-valve heads. The 2.4-liter 20V engine produced a respectable 170 hp in a free-revving manner, accompanied with an enthusiastic sound that only a 5-pot can produce.
Even better was the turbocharged T-5, or known as 850 Turbo in some markets. Its 2319 c.c. engine was assisted by a Mitsubishi turbocharger to produce 225 horsepower, a very high figure for its size at the time. This gave it very strong performance – a top speed of about 145 mph and 0-60 mph sprint just shy of 7 seconds. Beefed up suspensions and brakes brought a handling better than any non-M-badge BMWs. It was praised for superb body control and balance, impressive grip and quick steering. Inevitably, the powerful front-wheel-drive machine displayed some torque steer and it would spin the front wheels if pushed in slow corner. Still, it was a keen driver's car that begged people to drive hard. The faster it ran the better its damping felt and the keener its chassis responded.
The same character could be found on the following T-5R. Basically, it was a T-5 with all the optional equipment installed – not just sportier wheels, tires and spoilers but also all the safety and luxury equipment. Offsetting the extra weight was a revised ECU, which allowed 30 seconds of overboost to 240 hp. The T-5R was produced as a limited edition to celebrate the 850's participation in British Touring Car Championship, in which the TWR-run 850 Estate surprised spectators with strong results. Like the race car, the road-going T-5 and T-5R changed very much our perception on Volvo.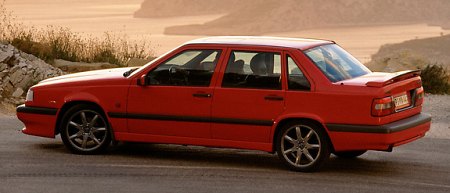 850R
The T-5R was a big success. Originally Volvo planned to build 2500 cars in both saloon and wagon form, but since demand outstripped supply it eventually raised the total to 5500 cars. Thanks to the success, Volvo became confident to offer the performance model on permanent basis, albeit in a different name, 850R. The new car got a modified engine (including larger turbo and intercooler) to produce an extra 10 horsepower and 37 pound-foot of torque. Besides, it added a Torsen LSD and viscous coupling to the front axle to tame the wild power. This should be the fastest 850 of all.
Since 1996, the whole 850 line was renamed to S70 and V70. It continued to live for 4 more years, then it was partially replaced by the S80-based V70 estate. Until today, Volvo has yet to build another car with so strong driver appeal.