If Volvo 240 was a brick, then the 760/740 series must be a tank. Introduced in 1982, this new model became the trademark of Volvo in the 1980s thanks to its angular wedge shape. Initially, it was criticized for looking too much like American luxury cars (most notably Cadillacs), but people soon realized that the shape fitted well into the philosophy of Volvo, delivering a strong sense of solidity, safety and roominess. Consequently, it sold well alongside the enduring 240. That was the golden era of Volvo.

By contemporary standards of prestige cars, the 700 series was quite large and heavy. It measured 4785 mm in length and 2770 mm in wheelbase – the latter was 120 mm longer than its direct predecessor, 264. Volvo said it was slightly lighter than that car and had a lower drag, but a Cd ranging from 0.39 to 0.40 was nothing to be proud of. On the plus side, the interior was really roomy. It also offered very comfortable seats, high build quality and excellent all-round visibility. The fully galvanized steel body was unusually rust-resisting as it needed to cope with Scandinavian roads on which a lot of salt was applied in winter. Like 240, it was known for durability.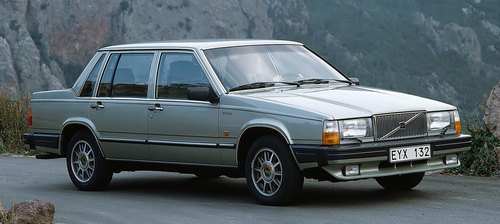 The 700 series was divided into 3 model lines – the luxury 760, the more affordable 740 and the special 2-door coupe 780. The 760 was first to be launched in 1982. It was originally available with 6-cylinder engine exclusively, i.e. a 2.8-liter PRV V6 developed in conjunction with PSA and Renault, which explains the middle digit of its name. Power ranged from 156 to 170 hp depending on years. In contrast, the 740 was powered by 4-cylinder engines only, starting from the 2.3-liter SOHC unit first seen on 244 GLT. Predictably, both models were hampered by their heft and blocky shape thus their performance were rather modest. In 1983, a turbocharged version of the 2.3-liter four was added to the 760 to improve its performance, though it rendered the nomenclature meaningless. The borderline between 760 and 740 got even mushier when the latter was offered with the same turbo power a few years later, so what separating them was only equipment level. The 2.3 turbo was generally a good and dependable engine, thanks to a pretty strong output (173-182 hp) and little turbo lag. It enabled the big saloon to launch from rest to 60 mph in a very respectable 8 seconds. The V6 was smoother but nowhere as quick.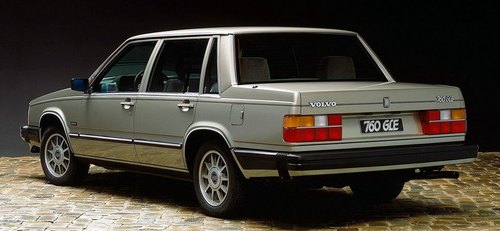 When all-independent suspension was considered to be a norm in the 1980s, surprisingly, the 700 series still rode on live axle rear suspension (whereas the front was a pair of MacPherson struts). It was not a carry-over from the 240 but an all-new design with more sophisticated locating linkages. Its handling was actually pretty good, with good balance and directional stability despite of pronounced body roll in corner. The rack-and-pinion steering delivered decent feel. Ride quality was considered to be good on motorway, but the live axle returned a busy ride on ridges and large bumps in town. This lack of refinement was largely sorted out by a new multi-link suspension when the 760 received a facelift in 1987 (740 got the same changes a couple of years later). That said, the large Volvo was never considered to be as good as its German rivals to drive. Instead, it sold on the traditional merits of Volvo, i.e. space, safety and durability. Some 1.2 million copies were sold during its 10 years lifespan, then followed by another 700,000 units of 940/960/S90/V90, which was its light evolution. The line finally bowed out in 1998, replaced by S80.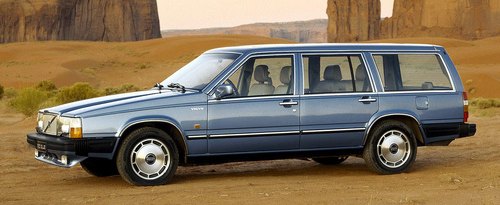 What about 780? Like its predecessor 262C, the 2-door coupe was designed and built by Bertone in Italy. All body panels and glass were new, resulting in a slightly sleeker shape. It was a true 4-seater, offering remarkable space and comfort for rear passengers. Access to the back seat was made easy by an electric sliding front seats, which also automatically returned to its memorized position. Unfortunately, the car was no lighter than its 4-door sibling and it was powered by the same V6 or 2.3 turbo (the 200 hp 2.5 V6 turbo of Renault Alpine GTA was considered but never materialized), so it wasn't a real competitor to BMW 635CSi or Mercedes SEC. Just over 8500 cars were sold and most destined to the USA.