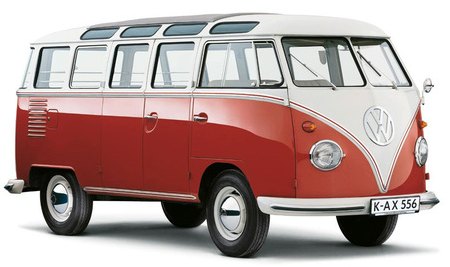 Volkswagen Type 2 had a special place in automotive history. Decades before the term "minivan" and "multi-purpose vehicle" emerged, it had already offered the same attributes – it seated 9 people in 3 rows of bench seats; It offered countless of derivatives for different purposes, including cargo van, camping van, ambulance and pickup truck; Some versions had removable seats to allow expansion of luggage space; Moreover, it was built on a passenger car platform so that it was easy to drive, to maintain and economical to run.

Quite unbelievably, the Type 2 was built on the Type 1 (Beetle) platform, sharing its 2400 mm wheelbase, the same running gears and engines. At that time Volkswagen was still very much a large factory building a pre-war Porsche design instead of a proper manufacturer. It did not have huge resources and a large parts pool like Detroit or some British manufacturers. Neither had it got an independent engineering capability. To diversify its range, everything had to be built on the Beetle platform. To make room for a people carrier, the platform was modified with wider tracks and mated with a body that was both longer and wider. The front seats were mounted right above the front wheels, liberating a lot of space for the 2nd and 3rd row. Above the rear engine compartment there was a luggage area, although loading it through the hatchback door was made difficult by its height. The passengers got on board from the pair of hinged doors on the kerb side. There were 6 windows provided at each side. In addition to the split windscreen, rear screen and (on some models) the skylight windows, as many as 23 windows could be found on the car! This guaranteed a light and airy ambience.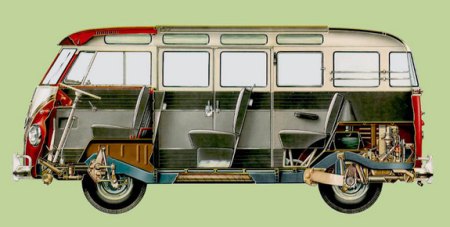 You might question how the small Beetle engine could propel a people carrier. Yes, the early 1131 cc flat-four might be good for only 25 horsepower, but it was mated to a tall final drive ratio and the car was surprisingly light at just over 1 ton. Moreover, the body shell was shaped like a bullet train to cut drag, so its real-world performance was bearable. Things improved gradually in the following years as it adopted the larger 1200, 1300 and 1500 engines from Beetle.
On the market, the Type 2 was more widely known as Transporter, Kombi or Microbus. Many people simply called it Bus. Predictably, its unprecedented combination of high people capacity, flexibility and low prices was found to be hugely popular in an era young people pursuing new lifestyle, as you can see its presence in many Hollywood movies filmed during that period. In 17 years, the first generation (dubbed T1) sold 1.8 million copies. After that, the German plant at Hanover switched to build the second generation (T2), which was boxier and less attractive. Overseas production in Brazil continued until 1975. The Type 2 opened a new era in automotive history.