Volkswagen Karmann Ghia (1955)

Platform sharing seems to be a modern trend in automotive industry. However, more than half a century ago Volkswagen already masterminded the art of platform sharing, and it went deeper than we can imagine today. From the Beetle platform it created derivatives as diversified as the Microbus and the Karmann Ghia coupe/roadster. All shared the same 2400 mm wheelbase, the same backbone floorpan, torsion-bar and swing-axle suspensions as well as the same air-cooled flat-4 engine. In other words, these cars were virtually different bodies bolted on the same floorpan!

As implied by its name, Karmann Ghia was designed by Italian coachbuilder/design house Ghia and produced by German coachbuilder Karmann, which had been building convertible version of Beetle for VW. Its shape might look a bit strange today, but put it in the context of its time (i.e. mid-1950s) you need a Porsche 356 or BMW 507 to beat it in beauty contest. Its elegant nose was welded from multiple pieces of steel sheets and then hand-polished to perfection. The production process was human intensive, but the build quality was excellent. The side windows were frameless and all glasses were curved. The 2+2 interior looked upmarket. There was none of the mass production feel of Beetle.

The K-G was never meant to be a true sports car like Porsche 356. Its engines were fully identical to those of the contemporary Beetle, so it was underpowered and very slow. The early 1200 model offered only 30 horsepower and took as many as 35 seconds to go from 0-60 mph, although its smaller frontal area did allow a higher top speed than Beetle at about 70 mph. Like its platform donor, it got a number of power upgrade in the following years: 34 hp in 1960, 40 hp 1300cc in 1965, 44 hp 1500cc in 1966 and eventually 50 or 55 hp 1600cc from 1970. In terms of handling, the car cornered slightly better than the Beetle, but its swing-axle rear end had a tendency to oversteer if the driver pushed too hard and suddenly lifted off mid-corner. Fortunately, it did not get more power.
That was why the Karmann Ghia was always sold for style, affordability and ease of maintenance. Being priced a lot cheaper than Porsche and Alfa Romeo, it attracted nearly half a million units of sales until production ceased in 1974.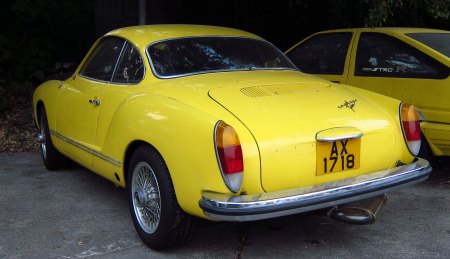 Specifications
| | | | | | |
| --- | --- | --- | --- | --- | --- |
| Model | Karmann Ghia 1200 | Karmann Ghia 1200 | Karmann Ghia 1300 | Karmann Ghia 1500 | Karmann Ghia 1600 |
| Year of production | 1955-60 | 1960-65 | 1965-66 | 1966-70 | 1970-74 |
| No. produced | All: 468,808 units | All: 468,808 units | All: 468,808 units | All: 468,808 units | All: 468,808 units |
| Layout | Rear-engined, Rwd | Rear-engined, Rwd | Rear-engined, Rwd | Rear-engined, Rwd | Rear-engined, Rwd |
| Engine | Flat-4, ohv, 2v/cyl. | Flat-4, ohv, 2v/cyl. | Flat-4, ohv, 2v/cyl. | Flat-4, ohv, 2v/cyl. | Flat-4, ohv, 2v/cyl. |
| Capacity | 1192 cc | 1192 cc | 1285 cc | 1493 cc | 1584 cc |
| Power | 30 hp | 34 hp | 40 hp | 44 hp | 50 hp |
| Torque | 56 lbft | 60 lbft | 69 lbft | 73 lbft | 82 lbft |
| Gearbox | 4M | 4M | 4M | 4M | 4M |
| Weight | 810 kg | 820 kg | 830 kg | 840 kg | 870 kg |
| Top speed | 69 mph* | 75 mph** | 79 mph | 82 mph | 86 mph |
| 0-60 mph | 35.5 sec* | 30.0 sec** | - | - | 17.5 sec** |
* Tested by Sports Cars Illustrated
** Tested by Road & Track
---
Copyright© 1997-2014 by Mark Wan @
AutoZine