Some background history first. Volkswagen's partnership with Karmann started as far back as 1955 when it commissioned the German coachbuilder to produce Karmann Ghia. It was a huge success, selling nearly half a million cars until 1974. Then it continued feeding Karmann with the first and second generation Scirocco, which sold 500,000 and 290,000 units respectively. However, the next product, Corrado, was much less successful. From its birth in 1988 to its demise in 1995, only 97,521 cars were built. The Corrado was by no means a bad car. Actually it was pretty good in terms of pure driving pleasure. Among all versions, the ultimate VR6 was even considered by many motoring journalists to be an all-time great. For example, Autocar said it "rewrote the affordable coupe rulebook" and was "one of the best front-wheel-drive cars of all time"; Evo magazine said it was "still to be bettered for all-round ability and appeal" some 10 years after its birth; CAR magazine even named it as one of the "25 cars you must drive before you die".
The first Corrado started life as a spin-off from the Golf Mk2 platform. It shared the 2470 mm wheelbase and most of the mechanical components fore of the firewall, while the torsion-beam rear suspension came from Passat. Its body shell looked rather conservative compared with its predecessor Scirocco. Its flat nose and high waistline did not contribute much to beauty either. Nevertheless, it was more slippery with a drag coefficient of 0.32. The early engine was a 136 hp 1.8-liter 16V from Golf GTI. Soon it was joined with a 1.8-liter 8V engine with G60 supercharger. Output jumped to 160 hp and 166 lbft, but it never looked so powerful on the road. Contemporary road tests found it took 8 seconds or so to do 0-60 mph. Instead of performance, the Corrado was more renowned for good handling.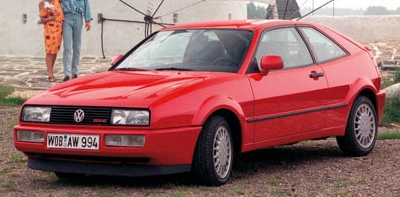 The fact that the G60 engine was not up to the job was obvious, and this hurt its sales. In 1992, Volkswagen finally found a solution. The Golf III had just introduced a revolutionary engine called
VR6
, which stood for German words "Vee Reihenmotor" or "V-inline" in English. It ran a 15-degree V-angle so that the 2 banks of cylinders were closely packed together. This allowed the engine to be made as compact as an inline-4 and fitted perfectly to the transverse application of front-wheel-drive small cars. The Corrado employed a slightly larger version of VR6, displacing 2861 c.c. Even though it lacked contemporary 4-valve technology, it managed to produce a remarkable 190 horsepower and 181 pound-foot of torque. This gave the small coupe a class leading performance, i.e. 145 mph top speed and 0-60 mph in 6.4 seconds. In fact, it was almost as quick as a Porsche 968! Moreover, the VR6 engine was smooth, flexible and good to listen, bettering than any other mainstream V6s and turbocharged fours of the time. It was mated with a manual gearbox whose gearchange was slick, precise and short-throw.
The chassis was equally impressive. Its handling was fluent, accurate, predictable and impeccably balanced. The steering was quick, precise, feelsome and uncorrupted by torque steer except under hard acceleration. The ride, like Golf GTI, was firm but well damped and composed. It made you wonder that FWD is possible to beat the best RWD as long as you get the setup right.
Surprisingly, the Corrado was also highly practical. Despite of its compact size – 4050 mm long only, much shorter than Nissan Silvia 200SX, Toyota Celica, Opel Calibra and Ford Probe – it offered enough rear seat space for average size adults. Its packaging efficiency was outstanding. The front seats were supportive and comfortable for long journey. Although the Passat-sourced dashboard looked uninspiring, ergonomics were hard to fault. In addition to the composed ride, excellent engine refinement and surprisingly good fuel economy, it was virtually an unbeatable package.

So why didn't it sell? Let me quote the words of CAR magazine: "Why one of the great cars of the decade should be consistently outsold by inferior rivals has to be one of the great mysteries".