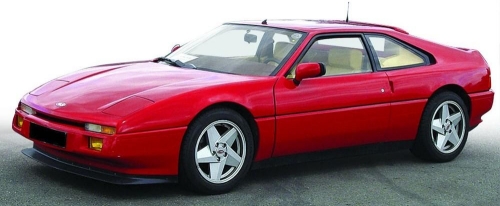 Venturi 200
France gave birth to some of the most prestigious sports car marques in the early days of automotive history, such as Bugatti, Delahaye and Talbot-Lago. However, by the time the country emerged from WWII, its sports car industry disappeared. Alpine was the only exception in the 1960s and 70s, but its influence was completely overshadowed by Porsche and many British sports car makers. Renault took over Alpine and guided it towards building grand tourers. By the 1980s, there were no longer any French-made 2-seat sports cars available.

At this time, two Frenchmen, designer Gerard Godfroy and engineer Claude Poiraud, left contract manufacturer Heuliez to pursue their sports car dream. With financial backing, they founded MVS (Manufacture de Voitures de Sport, or simply "sports car maker"). Godfroy designed a very stylish mid-engined sports car with some influence from BMW M1, Lotus Excel and Ferrari 328 GTB. This was the first MVS Venturi. It employed a chassis made of steel tubes and box section reinforcement. Suspension was provided by double-wishbones up front and multi-link at the rear. The body shell was made of glass-fiber like Lotus to save weight. Aerodynamic drag was an excellent 0.31. The first production engine and gearbox came straight from Renault Alpine GTA, i.e. a 2.5-liter PRV V6 turbo with 200 horsepower and 5-speed transaxle, but the combo was turned 180 degrees such that the engine was mounted longitudinally in the middle of the car while the gearbox extended aft of the rear axle. The Venturi looked big, but it was actually very compact with a length of 4090 mm, width of 1700 mm and a wheelbase of 2400 mm. Kerb weight was quoted at 1180 kg, so performance should be comparable to the GTA V6 turbo, which was pretty good for its time.


Venturi 200
Venturi 260
By the turn of the decade, a more powerful 2.8-liter engine was introduced. Still based on the PRV V6, it was modified with a longer stroke, higher lift cams, new exhaust and revised ECU mapping. The Garrett T3 turbo provided up to 0.95 bar of boost pressure, lifting maximum output to 261 hp and peak torque to over 300 lbft. The car was called Venturi 260. Performance was significantly improved, even though the claimed top speed of 168 mph and 0-62 mph time of 5.3 seconds were a bit optimistic.

The 260 was usually compared with Renault Alpine A610 and Lotus Esprit SE by motoring magazines. Most were amazed that it delivered superior handling and real-world performance than its highly acclaimed rivals. Yes, there was considerable turbo lag below 3000 rpm and an intrusive turbo boom once it was on, but if you kept the engine revving, its explosive mid-range punch would make the Venturi felt significantly faster than its rivals. The chassis was even better. There was virtually no understeer to speak of. Turn-in was sharp and instant. It felt superbly balanced and very agile, more so than the Lotus. The steering was race-car sharp, being light yet ultra-sensitive and precise. The gearshift was short, light and fast. The suspension was supple enough on regular roads yet it resisted body roll. Its Michelin MXX tires provided tremendous grip and traction out of corner. No wonder Performance Car magazine described it as "a racer's car; comfortable and easy to drive yes, but one that's built to go very, very fast in the right, highly skilled and committed hands", while CAR magazine described it matched Ferrari 348 for performance and bettered it in handling.


Surprisingly, the Venturi also scored maximum marks in its cabin. Crafted with large pieces of walnut and Connolly leather, it was no less luxurious than an Aston Martin. While most switch gears came from large manufacturer's part bins, they were well integrated and the overall build quality was superb. The very adjustable electric seats enabled perfect driving position and great comfort, although it might lack some lateral support. Unlike other contemporary mid-engined sports cars, this car provided plenty of cabin room and it had no pedal offset at all. Well before Honda NSX, it discovered that supercar performance and handling do not necessarily compromise everyday usability.
Although the car was great, MVS remained small and largely unknown. In 1989, its majority stake was sold. Under the new owner, it took steps to expand. In 1990, the company name MVS was dropped in favour of Venturi. Next year, it moved to a new factory and aimed to build 400 cars a year. In the next few years, it also expanded to motorsport, joining FIA GT racing and even organized its own one-make series. In 1994, the race car was converted to road use with the name 400GT.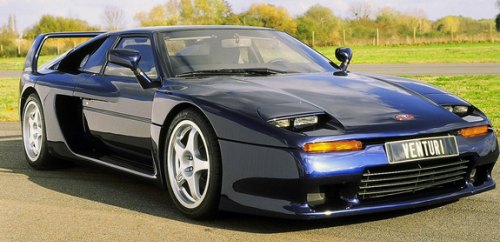 Venturi 400GT
The 400GT was still based on the same architecture of the existing Venturis, but it was widened considerably and its wheelbase lengthened by 100 mm. The massive aero kits made it look like a Ferrari F40 – and drew some criticisms, of course. A striped out interior helped it to shed 100 kg. The engine was based on the 3.0-liter V6 of Renault Safrane Biturbo, but it got 2 large turbos running at 0.95 bar and 2 intercoolers to produce 408 horsepower. It was good for 180 mph and 0-60 mph in 4.5 seconds. That's the league of Ferrari F355, if not exactly F40. Only 15 cars were built. This was the fastest car ever built by France. Besides, it was also the first ever road car to adopt carbon brake discs, much earlier than its Italian and German rivals.

Atlantique 300
In 1996, Venturi updated its core road car model to Atlantique 300. This was the first (and only) time the original design was thoroughly updated. It became much smoother, sleeker and looked very much like a Ferrari 348 or F355. Its wheelbase was extended to 2500 mm while the width grew to 1840 mm, although the chassis was constructed in the same way. Predictably, most of the body work was again made of composites, while the roof and doors were aluminum. Drag coefficient was kept at 0.31.
The early engine was PRV 3.0-liter sohc V6 turbo, like Renault A610, but as usual it adopted a larger turbo to generate more punch (281 hp and 310 lbft) at the price of turbo lag and noise. In 1998, it changed to the new Peugeot-Renault 3.0-liter 24-valve V6, and the single turbo gave place to two smaller turbos. This improved its response and refinement a lot. Output increased to 310 hp, though peak torque dropped a little due to lower boost pressure adopted. This car was capable to top 170 mph and accelerate from rest to 60 mph in 4.7 seconds, nearly good enough to match Ferrari F355 and Lotus Esprit V8.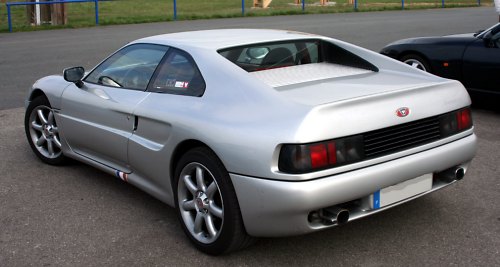 Atlantique 300


The Atlantique 300 kept the superb handling of the old car intact while it improved further on ride quality, refinement (especially the Biturbo, whose power delivery was smoother) and build quality. It was one of the few mid-engined sports cars in history that also served the role of a comfortable grand tourer equally well. Unfortunately, even with such a great quality the Venturi failed to attract more buyers from the camps of Porsche and Ferrari. In 2000, it ran into bankruptcy again. It was resurrected later on, but this time as an electric car maker. In total, around 600-700 cars were built in its 15 years history, so sad.