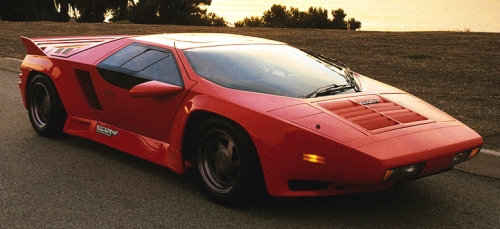 Vector was perhaps the most controversial supercar ever known. There were many debates over its wild performance claims as well as the unusual technologies it employed. Can it beat the exotic supercars from Italy? And more ridiculously, will it be actually built? Many these questions were raised and unanswered throughout the 1980s.

American car designer and engineer Gerald Wiegert built the first Vector prototype in 1977. Its philosophy was quite fascinating: since the USA had never built a supercar, Wiegert thought he could create one based on the most sophisticated aerospace technology of his home country. Its semi-spaceframe, semi-monocoque chassis had chrome-moly steel tubes and aluminum panels bonded together by epoxy and rivets in aircraft style. The floorpan was aerospace aluminum honeycomb. The unstressed body was made of carbon-fiber, Kevlar and glass-fiber. The aluminum brake calipers had 4 pistons. The interior featured 4 electroluminescent displays like aircraft… Outside, Wiegert gave it an exotic shape that eclipsed even a Lamborghini Countach – low, wide, wedgy and scissors doors, it had everything needed to appeal to millionaires. Its name was self-explained from its vector shape. This prototype was called Vector W2, where W represented its creator and 2 was the number of turbochargers employed by its V8 engine. That engine sat tranversely amidship, not right on the rear axle, so to achieve a good balance. It was claimed to produce in excess of 600 horsepower (when a Lamborghini had "only" 375 hp then). Top speed was once claimed to be an incredible 242 mph.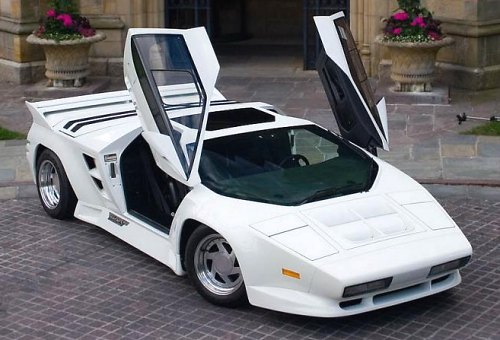 Somehow, the Vector would spend the next 13 years in prototype stage, as Wiegert struggled to raise enough funds to build it. It was featured in various advertisements, including the Winston cigarette ad I used to watch on TV in my childhood. In 1990, it finally made to production. The name was revised to W8 to represent the cylinder count. The 6.0-liter pushrod V8 was based on GM's small block but heavily modified with race-prepared aftermarket parts, such as aluminum head and block, forged pistons, forged crankshaft, stainless steel con-rods and valves and a dry-sump lubrication system. A pair of Garrett turbochargers was added together with a large aluminum intercooler. The 6-liter displacement was doubled over the twin-turbo V8 of Ferrari F40, so it allowed the turbos to run at rather light pressure yet able to claim a world-beating 625 horsepower and 630 pound-foot of torque. Top speed was revised to a more realistic, but still record-breaking 218 mph.

Unfortunately, that speed was never verified. The test car provided to magazines struggled to reach the claimed 7000 rpm redline – something unsurprising for a pushrodder. Moreover, Vector said its aerodynamic package had not been developed for top speed run yet, so it rejected the attempt. Acceleration, however, was found to match Ferrari F40. Road & Track timed 0-60 mph in 4.2 seconds, while 100 mph was reached in 8.3 seconds.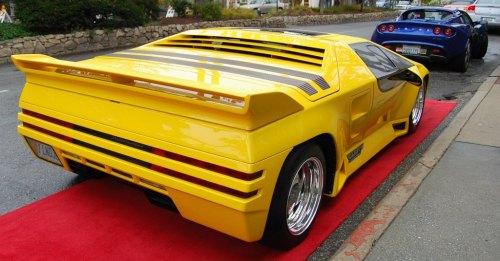 Part of this seamless acceleration was attributed to the lack of gearchange. Ridiculously, the Vector employed a GM-sourced 3-speed automatic as it failed to find an alternative to withstand its tremendous torque. The first gear could take the car right up to 70 mph. Second went straight to 137 mph, whereas 3rd was responsible for up to the 218 mph top speed. The automatic made it easier to drive than conventional supercars, but its refusal to shift to 3rd on regular roads could be frustrating.

Another weak point was the De Dion tube rear suspension, something no one would expect on a modern sports car, let alone one at such high performance level. Although contemporary road tests said its ride was quite supple, I suspect on more demanding roads the non-independent rear axle could hamper handling.

American magazines were generally impressed with the Vector's strong grip, lack of body roll and good balance. Its steering was too light and lack of self-centering, but the turn-in was sharp enough. It would display mild understeer at the limit, so the handling was never scary. In fact, the car was rather easy to drive by supercar standards, thanks to its automatic gearbox, light steering (despite of heavy brake pedal) and a good driving position. The cabin was much roomier than Lamborghini's. The seats were closely packed together in the middle, so the pedals were only slightly offset. Build quality was excellent. All components and materials were top-quality items, while fit and finish was better than its Italian rivals, surprisingly. It had a "built-to-last" feel. Owners would find it to be very reliable and easy to maintain, too.

But this also means the Vector was very costly to build. Wiegert built only 19 cars (including a couple of prototypes) in 3 years. Even though its price was raised to half a million dollars, it was still made at a loss. As a result, he introduced Indonesian firm Megatech as new shareholder to finance the company. A new generation model called Avtech WX-3 was being developed based on the old car. It claimed even wilder numbers – the 7-liter push-rod V8 was said to produce 700 hp in naturally aspirated form or 1200 hp with twin-turbo. Performance of the latter was supposed to be 260 mph top speed and 0-60 mph taking only 2.6 seconds… although not many people believed. However, before that car was developed, Megatech kicked out Wiegert together with most engineers to stop bleeding. By then the Vector program had already spent US$50 million. Megatech tried to turnaround the company by sharing platform with its another new investment, Lamborghini. This resulted in the M12, which was practically a Lamborghini Diablo dressed in a WX-3-derived body shell. It wasn't a real Vector, of course. However, that attempt was proved to be yet another failure. Production came to a stop in 1999 with only 17 cars built. Consequently, Vector rested into history togther with America's first supercar dream.