With a total sales of more than 250,000 units, Triumph TR series ranked just behind MG A/B/C to be the most popular open-top sports car in the world from the 1950s to the mid-1970s. Together with MG, Austin-Healey, Jaguar and Lotus, they defined the golden period of British sports car industry.
The British was so successful because they knew how to make sports cars affordable by using off-the-shelf components. It must be noted that Triumph was not an independent car maker but actually the sports car brand of Standard Motors, one of the ancestors of British Leyland group. Benefited by Standard's mass production parts pool, the first TR2 was built in 1953. Its frame chassis was adapted from Standard Flying Nine small car, including the independent double-wishbone front suspensions with coil springs and rigid rear axle on leaf springs. Its relatively large, 2-liter ohv four-cylinder motor was derived from the larger Standard Vanguard sedan, with hotter carburetors and increased compression ratio to squeeze out a remarkable 90 horsepower. That was way more than the 63 hp offered by an MG TF and, even the later MGA struggled to match it. Funny enough, the large 4-banger had its roots founded on tractors, so it generated a lot of vibration and noise at high rev, but it did produce good low-down torque hence better tractability at low running speed than MGA. Moreover, its partnering gearbox had 4 closely stacked ratios plus a driver-controlled, electrically engaged overdrive ratio. The former allowed responsive acceleration while the latter enabled good top speed and low fuel consumption when cruising on motorway. Motor magazine recorded 107 mph and 0-60 mph in 12 seconds, considerably faster than all MGAs except the rare and expensive twin-cam. The Triumph therefore got a strong reputation for high performance at affordable price.
The TR2 was not perfect. Apart from the aforementioned crude engine, its handling and ride were also quite crude. Bumps in corner could unsettle its back end. The steering was heavy at low speed. The bodywork also lacked the beauty of MGA. Viewing it today, its combination of an empty mouth, frogeyes and semi-integrated front wings looks really strange. However, back in 1953-55 people thought it look modern, at least compared with the ancient MG TF. Anyway, the Triumph was sold largely for its strong performance and reliability. Back then, such qualities could only be otherwise available on pricier sports cars like Austin-Healey 100, Jaguar XK or Porsche 356.
In 1955, the TR2 evolved to TR3. Changes were relatively minor though. Externally, the empty mouth was added with a recessed "eggcrate" grille, which unfortunately did not improve the aesthetic by any. The engine was improved to 95 horsepower thanks to revised ports and larger-choke carburetors. Later on it would be lifted further to 100 hp, though at the cost of fuel economy. In 1956, the car introduced Girling disc brakes to the front. This advanced feature improved its braking performance a lot thus was the biggest advantage over its predecessor.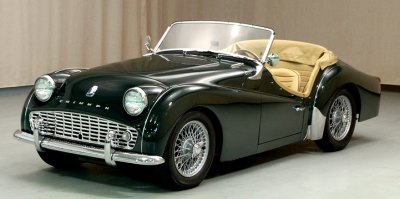 In 1957, the styling was finally corrected with a full-width front grille. The car was still called TR3 officially, but many referred it to TR3A in order to distinguish from the earlier car. There was virtually no mechanical improvement, but the new seats and interior trims were welcomed revisions. Sales of the TR3 and TR3A took off in United States and drove its annual output to over 10,000 units.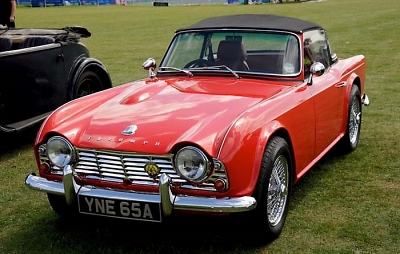 Despite of the facelift, TR3A was still far from a modern design. Triumph also knew its weakness. That's why it commissioned Italian design maestro Giovanni Michelotti to design the next TR4. Michelotti retained some oddness at its face, in particular the eyelid-covering headlamps, but the boxier body did look cleaner and more modern. Its larger width also liberated interior by a couple of inches. Mechanically, the TR4 remained largely a TR3. Its chassis was only lightly adapted to give wider tracks. The engine was bored out to 2138 cc and produced 100 hp. The gearbox finally had synchromesh on all gears. The most important upgrade was the steering, which switched from old-fashioned cam-and-lever to rack-and-pinion to reduce friction and improve feel. Performance was largely unchanged, as were the crude engine, ride and handling.
In 1965, it became TR4A. The engine was tuned to produce 105 hp and the exhaust a bit quieter. Big news was the ditch of live axle rear suspension for independent semi-trailing arms and coil springs. This improved ride comfort and roadholding a lot, but the extra softness also led to more roll and understeer, thus many hardcore enthusiasts preferred the old axle. Anyway, the TR4A sold just as well as its predecessors.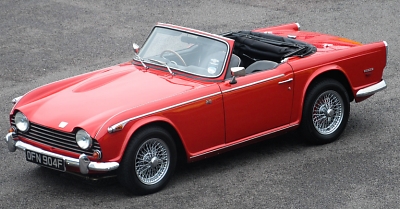 Having sorted the steering, gearbox and suspension, Triumph worked on the engine. TR5 of 1967 introduced a 2.5-liter ohv straight-six, derived from Triumph 2000 sedan. It got not only higher state of tune but also a Lucas mechanical fuel injection dubbed PI (Petrol Injection). The result was a remarkable 150 hp output, accompanied with lots of low to mid-range torque. Magazines found the car was good for nearly 120 mph and needed just over 8 seconds to sprint from 0 to 60 mph. That was simply amazing for an affordable roadster, even stronger than Austin-Healey 3000 and MGC. Moreover, the straight-six also brought the smoothness that the TR series had long cried for. The only problem was the fuel injection tended to be unreliable.
For the USA market, however, Triumph sold a cheaper version called TR250 instead. It had the fuel injection replaced with conventional carbs and detuned to comply with emission regulations. The result was 110 horses and a performance closer to the TR4. That said, the extra refinement and flexibility were still beneficial.
Nevertheless, the TR5 was not sold in large numbers because it was soon replaced with TR6 in 1969. The new car was restyled again, this time by German design house / coachbuilder Karmann. The headlamps were pushed to the far sides and linked with a wider grille. It might appear right for the fashion of 1970s, but today it looks a bit lack of character. At the back, the "chop-off" Kamm tail was also chosen for fashion rather than timeless beauty. The rest of the car was basically the same as TR5, with the same 150 hp 2.5-liter PI engine or detuned carburetor version for the US market. Following the demise of Austin-Healey 3000, the TR6 had virtually no rivals on the market. Nissan/Datsun 240Z offered similar performance and bettered it in many other aspects but it was a coupe. Fiat 124 Spider twin-cam was slower and less relaxing to drive. Ditto the pricy Alfa Romeo Spider. TR6 therefore enjoyed a good life, selling 92,000 units until its ultimate retirement in 1976. British Leyland replaced it with the advanced-looking TR7 coupe, but that car turned out to be a flop and put an end to the Triumph sports cars breed.