Japanese car makers first got the recognition of the world by making some fabulous yet inexpensive coupes, GTs and sports cars. They killed British sports car industry and seriously wounded Porsche. However, the global market of these cars was shrinking while the competition among Japanese themselves got increasingly intense. By the mid-1980s, it was already clear that the best time had been over. As exchange rate of yen continued climbing in the 1980s, it was harder and harder to make money out of sporty cars. Therefore, they decided to enter luxury car market. The first one to do so was Honda, which established Acura brand in the US market and started selling the V6-powered Legend. It met with surprising success, but in essence it was more an upscale Accord than a truly luxury car. More ambitious were the country's No. 1 and No. 2 car makers, Toyota and Nissan. They had the resources to try something really great enough to challenge the best luxury cars in the world, namely Mercedes S-class and BMW 7-Series. It sounded incredible at that time, because the Japanese had not even built something to rival Mercedes E-class and BMW 5-Series yet. Anyway, that happened in 1989 with the launch of Lexus LS400 and Infiniti Q45.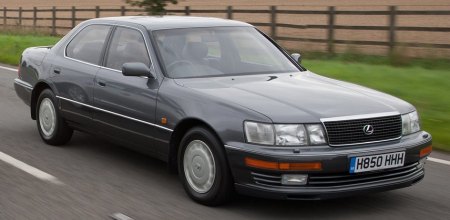 The duo aimed at the same segment, but their interpretation couldn't be more different. The Infiniti resembled Jaguar XJ6 in looks and adopted a sportier route, with sportier chassis setting and a more powerful V8. In contrast, the Lexus followed the convention to focus on comfort, refinement and build quality. Its exterior and interior design was a bit conservative because it was inspired by the classical
Mercedes S-class W126
, which was already 10 years old when the Lexus arrived. However, in terms of engineering and build quality, the LS400 was simply magnificent. Its drag coefficient was a class-leading 0.29. Its panel gaps, paint finish and assembly quality were impeccable, even eclipsing its European rivals. Its 4.0-liter DOHC 32-valve V8 was incredibly smooth and quiet, thanks to impeccable internal balance and a hydraulic engine mount. If you didn't read the tachometer, you wouldn't know the engine was idling. Its 4-speed automatic transmission changed gears with a responsive and seamless manner that no one could match because its electronic brain communicated with engine management system to match rev before each gearshift. On the run, the Lexus' ride was very smooth and quiet. It set new standards for cabin noise level. Handling might not be as strong as Infiniti or BMW, but it was competent enough, whereas the advanced V8 offered a respectable 250 horsepower, allowing better than average performance. Toyota's first attempt at the luxury car market was already good enough to knock out its European established rivals. Even the critical European magazines had to admit its superiority. "This is a car that gave all of the established European and American luxury car makers a huge fright. Astonishing drivetrain smoothness and refinement combined with German-bashing build quality. Lack of prestige track record can only be a problem for so long. This car's headed for greatness", commented Autocar. Meanwhile, in the all-important American market, Car and Driver ranked it first against Mercedes 420SEL, BMW 735i, Jaguar XJ6 Sovereign, Audi V8 Quattro and Infiniti Q45, and it won by a sizable margin.
Maybe it would not be so surprising if you knew the effort and resources Toyota put into the project – some 6 years of development, 1400 engineers and 2300 technicians, 450 prototypes, 900 engine prototypes, 15 months of test drive, 2.7 million km of test mileage (including on Germany's Autobahn, American roads and in the deserts of Arizona, Middle East and Australia) and a budget in excess of US$1 billion. It just wanted to win regardless of price. However, such investment paid off in sales. Thanks partly to the open-minded character of American buyers, partly to adequate sales and marketing effort at that country, it sold an incredible 42,800 units there in the first year (1990), outselling any rivals in the class. By the time the first generation ended in 1994, its cumulative sales in the US reached about 160,000 units (note: Toyota did not release global sales figures, but it is believed that the US market consumed more than half the production, while the Japanese version, badged Toyota Celsior, took a minority share). It also promoted Lexus to be the best selling luxury car brand in the USA!
The second generation LS400 arrived in late 1994 was a natural evolution of the original car. Its styling was subtly revised, with a shoulder line rising gently around the C-pillar towards a slightly taller boot. The class-leading drag coefficient was reduced further to 0.27. Brilliantly, Toyota managed to cut its weight by 70 kg while lengthening wheelbase and improving rear legroom noticeably (partly thanks to a reshaped fuel tank and a more compact rear suspension). The interior was revamped, too. The engine was improved by 10 hp and 10 lbft of torque thanks to modified injection and higher compression ratio. New transmission software made gearshifts even smoother and quicker. Further performance gain was found in the 1997 revision, which used VVT-i technology to pump horsepower to 290. Capable of 0-60 mph in 6.7 seconds and a regulated top speed of 155 mph, the car became as quick as it was refined. When the Mk2 retired in year 2000, some 277,000 units of the first two generations had been sold in the USA. It fulfilled the dream set out by its creator, earning huge profit and changing people's perception on Japanese cars forever.