Everybody knows Nissan 240Z was the first Japanese GT to succeed on the international market (read USA). However, 2 years before that, Toyota launched the first attempt with its 2000GT. In many ways, the 2000GT was classier and more sophisticated than the 240Z. It was even a match to the best Jaguar and Porsche of the time, namely E-Type and 911. If not because of its hefty price and a less than prestige brand, its production run would not have ended up with only 351 cars (including prototypes), and history could have been rewritten.
Following a string of victories in domestic motor racing, Toyota felt that it was possible to challenge the best sports cars of the world. Therefore it started the 2000GT project in 1964. It bought a number of possible rivals to study, including Jaguar E-Type, Lotus Elan and Porsche 911, and came up to the conclusion that copying the Lotus' backbone chassis, the Jaguar's twin-cam straight-six and the Porsche's all-synchromesh 5-speed gearbox. As for exterior design, it consulted the E-Type as well as Ferrari 250GTO – as did many sport GTs of the time – to result in a very sleek, low-slung and fastback body. Most people found it stunningly beautiful, although some might find the nose a bit messy and the small details not elegant enough. To comply with California's new safety regulations that set minimum height for headlights, it opted for a pair of pop-up headlights in addition to Sport 800-style glass-covered headlights.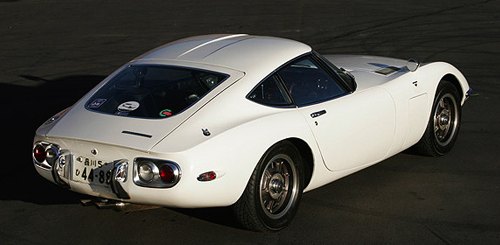 The 2000GT was really head-turning on the street. It looked extremely low and compact. The glasshouse sat close to the rear axle in the fashion of contemporary sports cars to allow the engine to be mounted completely behind the front axle and benefit weight distribution, which was a remarkable 48:52 with driver aboard. The semi-monocoque body shell was made of steel, with the exception of glass-fiber tailgate. It contributed to the chassis strength, reducing twist and flex on the steel backbone chassis. The latter looked almost the same as that of Lotus Elan, with an X-shape structure and vertical extensions to mount the suspension springs and dampers. Using backbone chassis allowed a low door sill hence easy access to the cabin. It was also much cheaper to build than a full monocoque for small quantity because it didn't need big pressing machines and expensive dies.
Better than many rivals, all its suspensions were independent double-wishbone type. The upper wishbones were pressed and fabricated in steel, while the lower ones were tubular steel. As a Japan's first, it adopted all-round disc brakes. The lightweight magnesium wheels were shod with rather narrow Dunlop tires that measured 165HR15. Steering was provided by a quick-ratio rack-and-pinion device. Overall kerb weight was 1120 kg, a fair bit more than a Porsche 911S, but lighter than Jaguar E-Type by about the same margin.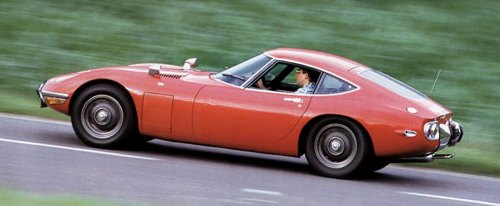 But the engine could be more problematic, as Toyota had less expertise in engine development. Fortunately, it got a helping hand from Yamaha, the company best known for motorcycles and pianos. Yamaha had just gained valuable experience in developing a GT car for Nissan. Somehow, the project was terminated (as Nissan chose its own path to realize the Z-car) and Yamaha turned to Toyota. Toyota was not interested either, but it found Yamaha's expertise in engine technology attractive, and its facilities/technicians were suitable to the small scale production that the 2000GT required. Therefore an agreement was signed for joint-development and outsourcing production.
For the powertrain, Toyota picked the 1988 cc, 7-main bearing straight-six from its Crown saloon as the basis, then Yamaha added an aluminum cylinder head with twin-overhead camshaft and cross-flow architecture. It produced 150 hp gross power, or about 130 hp DIN (though it was never rated to European scale). The straight-six ran smoothly and delivered its power linearly, even though it was not as punchy as the 2-liter boxer of 911S (180 hp gross SAE or 160 hp DIN) or the much larger Jaguar straight-six (4.2-liter and 265 hp gross). It redlined at a remarkable 7500 rpm, eclipsing many motors of today. The 5-speed gearbox was not as slick as Porsche' (which invented synchromesh), but it was still quick and short enough to deliver a positive feel.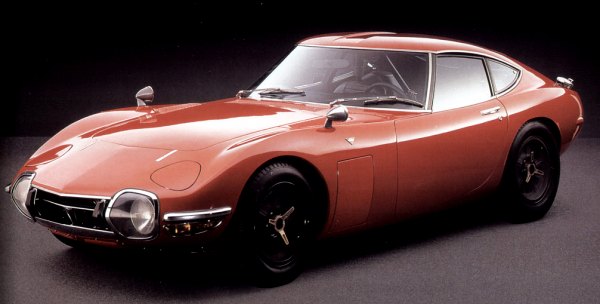 Most contemporary road tests found the car good for about 130 mph and acceleration from 0-60 mph in about 10 seconds. The high top speed was undoubtedly benefited from the slippery shape – although it was never tested in wind tunnel, calculation found it had a theoretical drag coefficient of only 0.28. No wonder the 2000GT broke many endurance speed records in Japan. As for acceleration, it was rather slow by class standard. Porsche and Jaguar typically led it to 60 mph by 2-3 seconds, which was a lot indeed. However, the 2000GT was far more capable in corners. Its chassis was remarkably agile and well-balanced thanks to the optimum weight distribution. Cornering attitude was neutral. It showed little understeer at corner entry, and there was just not enough power to induce oversteer at exit. Therefore it was easy and safe to drive fast. The steering was light and quick. The linear power also aided handling. Meanwhile, its ride quality was impressive. Thanks to the low center of gravity and high-roll center contributed by its sophisticated suspension, it was possible to adopt softer springs and long suspension travel to achieve a supple ride that was rare among high-speed GTs, while body roll remained limited. No wonder Road & Track called it "one of the most exciting and enjoyable cars we have driven" and a worthy competitor to 911S. The only niggles were the slightly doubtful stopping power from the disc brakes and the modest grip generated by the narrow tires. Both were made by Japanese suppliers under license from Dunlop. That said, its lovely balance and agility more than made up for its lack of cornering power.


With a low roof line, the 2000GT was inevitably cramped for tall people. Those over 5' 10" would find their heads rubbing against the roof liner, but those fitted into the cabin would find it surprisingly comfortable and even luxurious. Its rosewood dashboard was probably benefited from the craftsmen and woods that made Yamaha pianos and violins. The interior was well equipped. Build quality was excellent, good enough to shame Jaguar. Owners would also find the Toyota remarkably reliable in the following years. In addition to its low volume production, no wonder Toyota had to command a price equaling the 911S and considerably more than the E-Type. Unsurprisingly, in those days most people found that price tag nonsense for a car bearing a Japanese badge. Had it happened 23 years later, the story could have been different. Whenever we mention the successful story of Honda NSX, we should remember the countless of preceding attempts that paved the way for its success, and those attempts started as early as 1967.