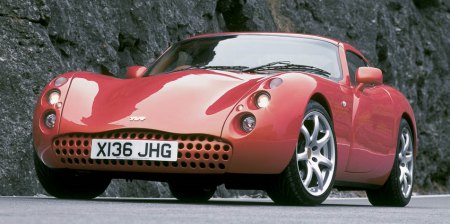 Early Tuscan

TVRs in the 1990s were characterized by raw performance. This continued to the new millennium, but now more emphasis was put on styling and exclusivity as Peter Wheeler wanted his cars to match Porsche for desirability. The first of these cars was the 2000 Tuscan.

This was the third time the name Tuscan was used – the first being the Grantura-based model introduced in 1967 and the second was the Tuscan Challenge racing car built in the late 1980s. The new Tuscan attracted eyeballs with its Moby Dick-style appearance. It was incredibly smooth and curvy yet delivered an unusual sense of power, just like Moby Dick. The circular mesh grille, vertically stacked round headlights, cascading bonnet, clamshell boot lid and motorcycle-style exhausts all looked very stylish and different to others. The interior was no less special. While other cut-price British sports cars employed mass production bits from Ford, Rover or Vauxhall etc., it had a bespoke instrument pod made of brass and aluminum and shaped like a parking meter. The instrument moved together with the adjustable steering column so to ensure clear reading. The metallic buttons and switchgears were all machined by TVR itself, so it looked easily more exclusive than Porsche, even though it lacked the consistent fit and finish and modern equipment of its German rival.

Late Tuscan
As before, the TVR employed a tubular steel backbone chassis and all-double wishbone suspensions. As it had a compulsory Targa roof, a rollover bar was built behind the seats to reinforce the chassis. The use of straight-6 engine allowed the front chassis to be made narrower thus improved passenger foot room. The body work was made of glass-fiber reinforced composites with honeycomb sandwich structure. This allowed it to save some 30 kg and made possible the highly curved shape. The whole car tipped the scale at 1120 kg, some 230 kg lighter than the contemporary 911 GT3. Meanwhile, the 4-liter 24-valve straight-six produced 360 horsepower and 310 pound-foot of torque, eclipsing the hot Porsche as well. No wonder it could sprint from rest to 100 mph in 9.5 seconds, and top speed should be around 180 mph. Not quite as quick as the Cerbera V8, but very close indeed. In fact, it was one of the 8 fastest cars in production then according to my original report.
The Speed Six engine, debuted on Cerbera a couple of years back, was developed by Al Melling with a small budget. It was surprisingly good, being smooth, responsive and sang like a Lamborghini Diablo V12! The Borg Warner 5-speed manual had a short and mechanical-feeling, if heavy gearshift. This mean the performance was easy to access.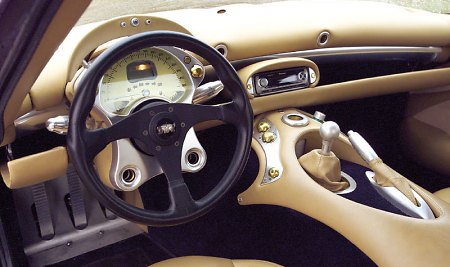 Tuscan
Like all TVRs, the Tuscan was far from perfect. It was loud, unrefined and unreliable. Its braking was strong enough but lacking ABS was a big let down. Its suspension tuning was flawed. The springs were too soft to provide adequate control on uneven surfaces. On bumpy roads the suspensions might even bottom out or induce bump steer. On the other hand, the steering was obviously too quick with just 1.7 turns from lock to lock, so quick that it could be nervous sometimes and difficult to control fluently. Besides, the tail could be wayward under hard throttle or on wet surfaces, lacking the confidence you would find on a Porsche Boxster S. TVR improved the tuning over the years, but it would never have these problems completely rectified.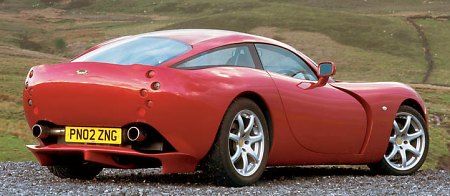 Tuscan R (T440R)
During its 6 years life, the Tuscan introduced a few derivatives:
Tuscan 3.6
: 3.6-liter version Speed Six with 350 hp and 290 lbft. It was a little smoother and cheaper.
Tuscan S
: the 4.0-liter engine was tuned to 390 hp and 330 lbft with hotter camshafts, lighter con-rods, sequential fuel injection and 12.2:1 compression ratio. Thinner composite body cut 30 kg. Suspension was retuned to improve body control and the front geometry modified to cut bump steer. Larger brakes were fitted, too.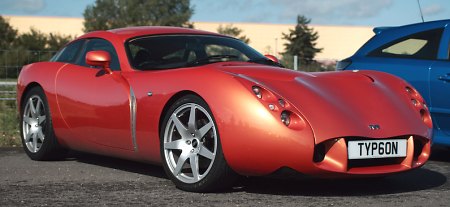 Typhon
Tuscan R or T440R
: launched in 2003, it was a vastly modified model. It employed many technologies learned from the Cerbera Speed 12 program. The chassis had its wheelbase lengthened by 200 mm and width extended by 70 mm to improve stability and allowed a large fuel tank for GT racing. The tubular backbone was reinforced with carbon-fiber parts and aluminum honeycomb floor so that chassis rigidity was more than doubled. Full carbon-fiber body work helped reducing weight further. The engine was enlarged to 4.2 liters and produced 440 hp – with a specific output exceeding 100 hp/liter! Meanwhile, the new body was tested in wind tunnel (a first for TVR) and lowered the drag coefficient to 0.32. This guaranteed a place in the 200 mph Club, although the claimed top speed of 215 mph was probably too optimistic. The T440R was 50% more expensive than Tuscan S at £76,000. It is believed only a few examples were built. One car was fitted with a 580 hp supercharged 4.0 engine, sequential 6-speed gearbox and was called
Typhon
.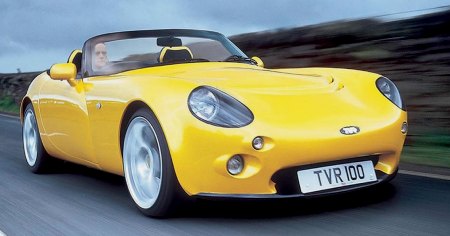 Tamora
Besides, a few other models were developed from the Tuscan platform.
Tamora
was a smaller, entry-level TVR roadster that replaced the Chimaera. It was 300 mm shorter and 100 mm narrower than the Tuscan, although wheelbase was identical. Fitted with the destroked 3.6-liter Speed Six, which lost 10 horses and 20 pound-foot of torque, its performance was less wild thus less prone to oversteer and wheel spin. The result was a more accessible machine, while its performance was still a lot faster than Porsche Boxster, with 170 mph+ top speed and 0-60 in less than 4.5 seconds. The Tamora saved costs by adopting a simpler interior, smaller wheels, tires and brakes.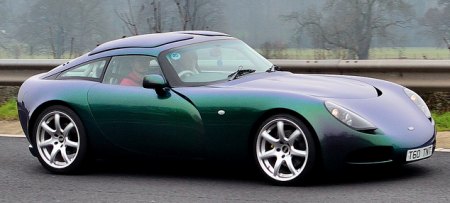 T350C
If you think the styling of Tamora a bit boring, a better option could be the 2003
T350C
. It was basically a Tamora converted with a stylish coupe and fastback body. There were a lot of styling highlights, such as the cheese-like diffuser panel, L-shape taillights and sweeping front end. This car really lifted TVR to the forefront of automotive fashion, something hardly imagined for a company so small!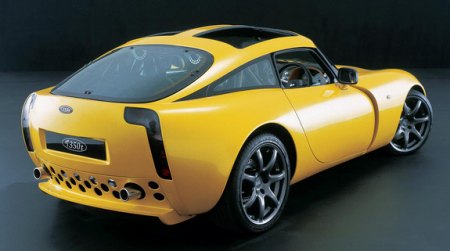 T350C
The T350C had the same engine as Tamora, so it was no quicker except at top speed, where its close roof should lift the bar to around 180 mph. To enable it to take on GT racing, its suspension was set slightly stiffer, while 18-inch wheels and wider, lower profile tires were fitted.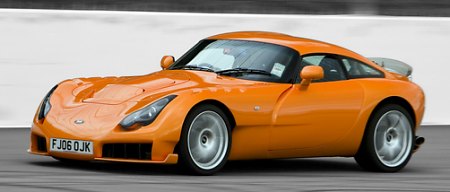 Sagaris
The last variant,
Sagaris
, was launched in 2003. It was built around the compact T350C, but everything went more aggressive, no matter the styling, aerodynamics or performance. Its bonnet and flanks incorporated a lot of louvers to aid engine cooling and enhance downforce. The roof at the driver side incorporated a dome to accommodate a driver wearing helmet. A gurney wing made of transparent perspex was fitted to its tail. The chassis was set 25 mm lower and incorporated 50 mm wider tracks. The suspension spring rate was stiffened by 3 times, while the chassis was strengthened with a standard roll cage.
The Sagaris had the 3.6-litre Speed Six replaced with the 4.0-litre version used in the top Tuscan. With 12.2:1 compression, forged aluminum pistons and forged steel con-rods, it produced 406 horsepower and 349 lbft of torque. As the car weighed just 1078 kg, it had a power to weight ratio higher than exotics like Ferrari F430, Ford GT and Porsche 911 GT2. The big straight-6 was a double-edge sword, being torquey from low to mid-range and very powerful at the top end. It revved smoothly and eagerly towards 7500 rpm, though accompanied with a thunderous roar. Throttle response was very sharp, too. As you can predict, the Sagaris was lightning quick on the road. TVR claimed it took only 3.7 seconds to go from rest to 60 mph and 8.1 seconds to 100 mph. Top speed was 185 mph. In fact, with so little weight over the rear tires, it would be difficult to find sufficient traction to realize the claimed 0-60, as subsequent road tests showed.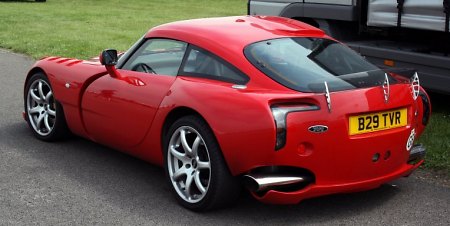 Sagaris
Anyway, once the car was rolling, the acceleration was breathtaking. It felt light and responsive. A quicker-shifting 5-speed gearbox and better positioned clutch and throttle pedals made the Sagaris more intimate to drive, as was the 2.0-turn, quick and communicative steering. The enlarged brakes were powerful enough for using on track days. The wider tracks and stiffer suspensions give it much better body control than Tamora and T350C, with little pitch and roll. Yes, it rode harsh on broken surfaces, but not to the extent that knocking your eyeballs out, unlike many other race-purpose road cars. Moreover, the stiff suspensions reduced front wheels movement, so the steering was now less sensitive to road irregularities.

However, it was not to say the Sagaris easy to drive. Like Tamora, it had a Hydratrak limited slip differential between the rear wheels, but it was no way as advanced as Ferrari's E-diff. If you applied too much throttle, the tremendous power would light up its rear tires and ruin the balance. This was a common problem for all TVRs. To tame it, you had to learn how to modulate its throttle and steering smoothly. The Sagaris was fun to drive, but it also demanded respect from its driver.

The Sagaris was the last TVR built under the ownership of Peter Wheeler. In 2004, he sold the company to young Russian investor Nikolai Smolenski, who took only 2 years to ruin the much admired British sports car marque and shut down its factory. Never before we had seen a car maker faded away with a lineup so fresh, so outstanding and so characterful. The Sagaris witnessed the best and the worst of the time.