Inside, the cabin was both stylish and special. Wooden dashboard and leather upholstery continued to make it look properly British. The simple manual soft top dropped easily into the space behind the seats.
The Griffith rode on classic double-wishbone suspensions at all corners. Unlike Porsche and Lotus, you would not get much modern technologies on the TVR. Peter Wheeler hated electronics like ABS and traction control (even power steering was not offered in the first few years) – perhaps he actually hated the development costs involved – so the Griffith was definitely more demanding to drive than its established rivals. This was especially true as the car was so light and powerful. It weighed just over a ton, but it was served with some very powerful tuned Rover V8s, including 240 hp 4.0-liter, 280 hp 4.3-liter and eventually 340 hp 5.0-liter unit. Unsurprisingly, performance on straight line was mind-blowing. The 4.3 model was measured by Autocar to sprint from 0-60 in 4.7 seconds and 0-100 mph in 11.1 seconds, while 5-liter model (Griffith 500) was even good for 4.2 and 10.2 seconds respectively. At that time, it was faster than any production Ferraris, including F355 and 512TR!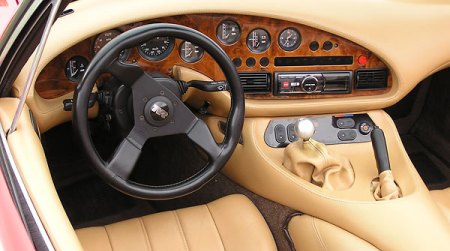 The combination of strong torque and light back end means the Griffith struggled for traction, although a skilled and disciplined driver would be able to tame it. Its unassisted steering was very heavy at low speed. The suspension was stiffly sprung, while the damping lacked fineness. It demanded the driver to put more effort and concentration onto the driving. The V8 clearly overwhelmed the chassis, especially the 5-liter. However, it was fun to drive in a raw way. The V8 sounded fantastic, and the straightline performance alone was a good reason to buy it. In addition to the beautiful looks, the Griffith was able to serve TVR for a full decade without much revision. In total, over 2300 units were built.
Running in parallel to the Griffith was Chimaera. It was basically a more civilized version of Griffith, with softer suspension setting, a larger boot, more traditional styling and some lower power engines to attract less hardcore drivers. Much of the underpinning was shared with its sister. While the Griffith was compulsory with 5-liter engine from 1994, the Chimaera still offered a 240 hp 4.0-liter and 285 hp 4.5-liter alternatives at lower prices. With less power to cope, it was easier to drive yet still provided giant-killing performance. That was why it was capable to outsold its sister by 3 to 1 in later years. In total, over 5000 Chimaeras were built, making it the most popular TVR of all time.