On paper, the Cerbera didn't look much different from traditional TVRs. It was built on a tubular steel backbone chassis, dressed in glass-fiber body, rode on all-round double-wishbone suspensions and powered by a 4.2-liter V8 – all sound normal. Yes, it was a coupe rather than roadster, and its wheelbase was stretched from the Griffith/Chimaera's 2281 mm to 2566 mm to make room for 2 rear seats. However, the roof and 2+2 cabin were not really what made it special. It was the engine. Instead of traditional Rover, this one was a homegrown V8 dubbed AJP8. It was designed by British racing engine expert Al Melling, co-developed with TVR engineer John Ravenscroft and built by the Peter Wheeler-owned company itself (they contributed their initials to the AJP name). It was an all-alloy unit with a strange Vee angle of 75 degrees. Like Ferrari F355's V8, it employed flat plane crankshaft to cut weight and allow a 7000 rpm redline, although at the price of some smoothness. Its enthusiasm for rev offset the restriction of its SOHC 2-valve heads and resulted in very good output, i.e. 350 horsepower at 6500 rpm and 320 pound-foot of torque at 4500 rpm.
The Cerbera 4.2 did not quite match Griffith 500 in terms of power-to-weight ratio, but its output figure was real (note: TVR used to overrate its versions of Rover V8) and its combination of wider tires and linear power delivery resulted in better traction, therefore it was able to outgun its 2-seat sister. Its fixed roof also allowed it to claim a spectacular top speed at 185 mph, which is not unbelievable judging from the fact that it took just 21 seconds to reach 150 mph.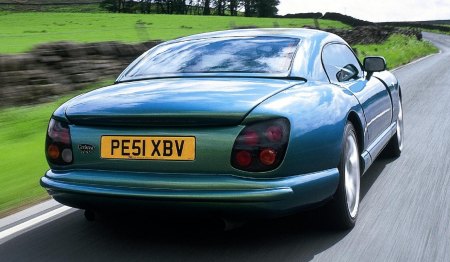 Just a year later, TVR introduced an even more powerful 4.5-liter AJP8. Its 420 hp rating might be a little optimistic, as the car was hardly faster than the 4.2 version in road tests. Its tuning biased towards the top end thus low to mid-range torque actually suffered a little. Autocar was not happy with the 4.5 and thought the smaller engine was more lively on the road.
In 1998, Al Melling and John Ravenscroft worked again to produce the 3rd engine option – 4.0-liter AJP6 or simply "Speed Six". It was a straight-six with modern dohc 24-valve head (finally). Not as revvy as the flat-crank V8, but it was still remarkably powerful at 350 hp while offering the smoothness of Porsche boxer. The Cerbera Speed Six was barely slower than its sisters. It took 4.5 and 10.2 seconds to go from 0-60 and 0-100 mph respectively. Top speed was estimated to be 180 mph. It was intended to be easier living, so it adopted softer suspension springs and dampers, higher profile and narrower tires to improve ride quality.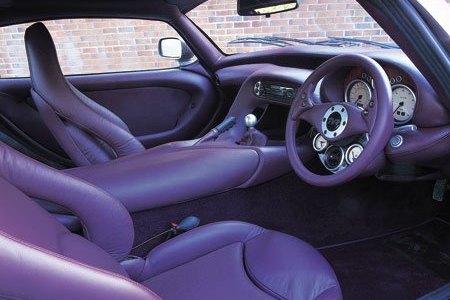 Contemporary comments said the Cerbera was the best engineered TVR yet. Its handling was more refined, thanks to a stronger chassis and better traction. The steering remained heavy and quick to the point of nervous though. The ride was much improved from the short-wheelbase Griffith and Chimaera. Gearshift of the Borg Warner 5-speed gearbox was made lighter and easier to manage since the introduction of 4.5. Build quality and fit and finish also improved quite a lot over the years, although owners still had to put up with its lack of reliability. They also had to accept the compromise of lacking ABS or any electronic driver aids. Apart from engine, the biggest improvement over other TVRs of the time was the interior. It got bespoke instruments and the interior design was really special. There was plenty of space inside, and the rear seats were really capable to carry short adults for a short trip, unlike those on Porsches. However, what made the Cerbera famous was still its spectacular performance. It is still in the mind of car enthusiasts.

The relationship between Speed 12 and Cerbera was about as thin as Porsche 911 GT1 and the production 911. In other words, it was just another car happened to be clothed in Cerbera's shape. The original idea was to build a few race cars for FIA GT series and Le Mans, and by the way sell a handful of roadgoing cars to wealthy customers at £245,000 each. Of course, to justify the supercar price it needed to be very fast. Al Melling mated a pair of his AJP6 engine at 90 degrees to become a monstrous 7.7-liter 48-valve V12. Its output was initially quoted at 800 hp and 650 lbft, but after further development the final figure should be closer to 900 hp. This made the Speed 12 the most powerful supercar until Bugatti Veyron. The power was sent to the rear wheels through a racing sequential 6-speed gearbox. As for performance, initial claim talked of 240 mph and 0-60 in 2.9 seconds, good enough to topple McLaren F1!
The Speed 12 had a race-inspired chassis completely irrelevant to Cerbera. It was constructed of a steel roll cage and aluminum honeycomb floorpan. The body shell was made of carbon-fiber. The whole car weighed about 1000 kg. Massive skirts, spoilers and diffusers should give it the necessary downforce to storm Le Man's Mulsanne straight at over 200 mph.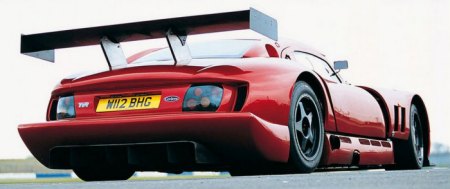 Unfortunately, the car had a short competition life. Owing to the change of rules that washed away its hope, TVR cancelled its racing program. The road car plan was also aborted as Peter Wheeler thought it was too difficult to drive on the road. After all, the Speed 12 was so powerful yet lack of traction control and ABS to contain its power. It would be difficult to find buyers unless TVR spent a lot more money to develop it further, which was not financially viable. However, the story had not ended just yet. In 2003, TVR resurrected the remaining chassis and some parts from the racing cars and built one road car for a customer. This car, as pictured here, was a bit different to the original prototype, with racing-derived aero kits and cooling and a further developed engine. No official specification was announced though, and the car had never undergone independent road test, so all the wild numbers remained unproven. This has to be one of the rarest and most mysterious supercars in history.