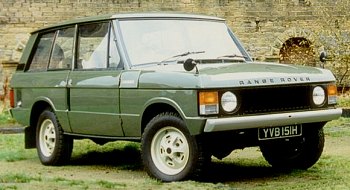 The 1970 Range Rover was the pioneer of luxury SUVs. Before it, 4x4 offroaders, including Land Rover, were no more than workhorses for the wilderness. Rover believed there was demand for a high-quality offroader that could be driven with comfort on regular roads, while preserving the unrivaled offroad ability of Land Rover. Its vision paid off in the following 20 years – the Range Rover remained unchallenged in the marketplace until the 1990s. Successfully attracted a lot of wealthy customers (including the royal family) who would otherwise bought Jaguars or Mercedes, it greatly lifted the image and market positioning of Land Rover, turning it into "Jewel of the Crown" of British motor industry.
The first Range Rover differed a lot from contemporary Land Rover. Its design was clean and tasteful, thanks to large window area and clamshell bonnet. Its packaging was far more efficient (driving position was no longer cramped). For offroad robustness, it retains the body-on-ladder-frame structure, but the elliptic leaf springs of Land Rover were replaced with coil springs to improve ride comfort. As for powertrain, the seriously underpowered engines of Land Rover gave place to the new Rover 3.5-liter V8, whose patent had just been purchased from Buick. This all-alloy V8 was actually lighter than Rover's own straight-six engine, yet it produced more power and torque. Of course, don't expect the strong performance of today's performance SUVs. In the early 1970s, 0-60 mph in 14 seconds was considered to be adequate for a large car. In the following years, the V8 would gain power and capacity to match the progress of industrial norm. A late Range Rover could top 110 mph and sprint from 0-60 mph in 10 seconds or so.
The 4WD system of Range Rover was also more advanced than Land Rover. It got permanent 4WD from the outset. The center differential could be locked up manually to deal with slippage. From 1992, the manual lockup was replaced with modern viscous coupling.
The early Range Rover was not too luxurious, admittedly. It offered only 2 doors, and the interior was well-built rather than well-equipped. Still, it sold well in an unchallenged environment. Entering 1980s, it began climbing upmarket. Leather and wood trimmed cabin became standard, as was automatic transmission. 4-door body was added in 1981, boosted rear passenger space and would eventually replace the 2-door. Electronic fuel injection entered in 1985, greatly improving horsepower. ABS joined in 1990. Adaptive air suspensions and long-wheelbase model arrived in 1992. These mods kept the car competitive until its replacement in 1996. Today, Range Rover is still seen as the definitive name of luxury SUVs.