Series 1
It is hard to imagine how the ancient-looking Land Rover can survive for more than 60 years, outlasting Mini, 2CV and Beetle. By modern standards, its performance and refinement are horrible. Its driving position is flawed, leg and elbow room are cramped. Comfort and safety features are very limited. For sure, its unrivaled offroad ability is still a strong selling point, but I guess most important to its evergreen sales is its iconic status. Even more so than the American Jeep, the Land Rover is the symbol of 4x4 offroaders in most people's mind. Its wide exposure in African deserts or Australian wilderness, its extensive use by armies of British Commonwealth countries, United Nation, NGOs and wildlife film makers throughout the years gave people a strong impression of its tough explorer image. Moreover, with the backing of 60 years heritage, its ancient look is actually a positive asset.
The original Land Rover was designed to be tough, easy to repair and capable to run on whatever surfaces. It had large ground clearance and suspension travel to overcome big rocks. A two-speed transfer case in combination with 4-speed manual gearbox allowed it to climb steep slope. All its body panels were made of aluminum-magnesium alloy so that they never got rust. Later on, a variety of wheelbases and bodyworks were available to suit different purposes. Some were even capable to seat 12 people (tightly) ! No wonder it was soon proved to be hugely popular in the UK, Africa, Australia and the Middle East, no matter for military or civilian applications. By the way, the Land Rover was used as the patrol fleet of Hong Kong Police from the 1960s to 1990s, so we have special feeling about it.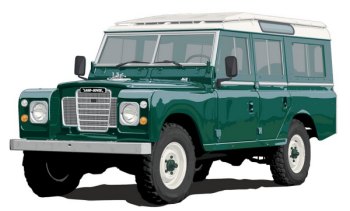 Series 3
During its long history, Land Rover evolved a few times. Series 2 arrived in 1958 with engine upgrade and some minor mechanical changes. Series 3 of 1971 got round shoulders, fully synchromeshed gearbox and new dashboard. However, the biggest change came in 1983, the Land Rover 90 and 110 (named after their approximate wheelbase in inches) had their leaf-spring suspensions switched to coil springs, improving ride comfort. These cars were renamed to "Defender" in 1990 in order to distinguish from the second Land Rover model, Discovery (now Land Rover became a marque). The last evolution was introduced in 2006. It got a new turbo diesel engine from Ford, refinement to exterior design and, finally, a revamped interior that it cried for decades.
Throughout the years, Land Rover updated its engine offerings many times. These include the most popular 2286 cc four-cylinder petrol, 2.5-liter five-cylinder turbo diesel (Td5) and the range-topping Rover 3.5-liter V8. None of them produced satisfactory performance because they were tuned to be tough and to tolerate low Octane fuel commonly found in developing countries.
2006 Defender
Like the air-cooled 911, the Land Rover evolved slowly and continuously during the past 60 years. It has never undergone a complete changeover, so today's Defender still preserves much of the character and flaws of the original. It is a living history.
Updated on 2016-01-29:
Today, the living history has finally come to the end. The 2,016,933rd or the last Defender has rolled off the production line at Solihull plant, ending the 68 years of production. JLR gave up updating the car as it would be economically infeasible to comply with safety regulations to come into force, such as those requiring airbags.