The trend-setting Espace let Renault to dominate the European MPV market for as long as 10 years. Thanks to its success, Renault became more adventurous when exploring new concepts. In 1996, it brought another innovative concept to the market. Megane Scenic was the world's first Multi-Activity Vehicle (MAV). It was not exactly an MPV because it offered only 5 seats, but its interior layout was as flexible as Espace, which was perfect to transport a small family to picnic, biking or skiing, to buy furniture or to move house. Most important, it was derived from the underpinnings of Megane family hatchback so that it could be far more competitively priced than MPVs. As a result, the Scenic became a sales hit. Within 3 years, it annual sales rose to the level of nearly 300,000 units a year, accounting for half the sales of the whole Megane family. Because of this success, it was made an independent nameplate later on (though mechanically remained Megane-based).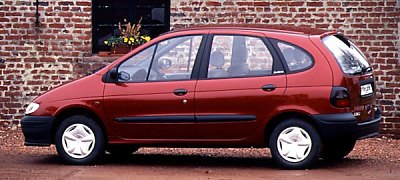 The Scenic rode on Megane's struts and torsion-beam suspensions, employed the same steering, brakes, engines and transmissions. That was nothing sophisticated to the class, but what it excelled was packaging. It was made much taller to afford more interior space, even with an elevated floor and seating level considered. Its flat floor eased foot room. There were countless of big and small storage spaces in the cabin, including underfloor and underseat storage. The parcel shelf in the boot could be adjusted to 2 height levels. The 3 independent rear seats were mounted on rails to allow sliding back and forth individually to alter luggage space or leg room. The middle one could be folded into a large table. 2 more flip tables were available at the back of the front seats. The rear seats could be folded, tumbled forward or completely detached to free up luggage space. A flat load space and large tailgate enabled big stuffs to be loaded easily.
As in MPVs, the driver seated high on the Scenic to have a good view on the road. Large windows and twin-sunroof made the cabin feel light and airy. The rear passengers seated higher still in theatre style so that they could see the view forward.

Performance from the early 8-valve 2-liter engine was adequate, while ride and handling was car-like, if a bit uninspiring. The 1999 facelift introduced a more advanced 16-valve and intake-VVT engine with 140 hp, which improved performance considerably. RX4 arrived in 2000 as a tough, 4x4 offroader derivative. The first generation Scenic dominated the segment it pioneered for nearly three years before its first immitator arrived. It remained very popular throughout its 7 years life, selling nearly 2 million copies.